Walk with Hope: Support Our Annual Fund
Thursday, November 18, 2021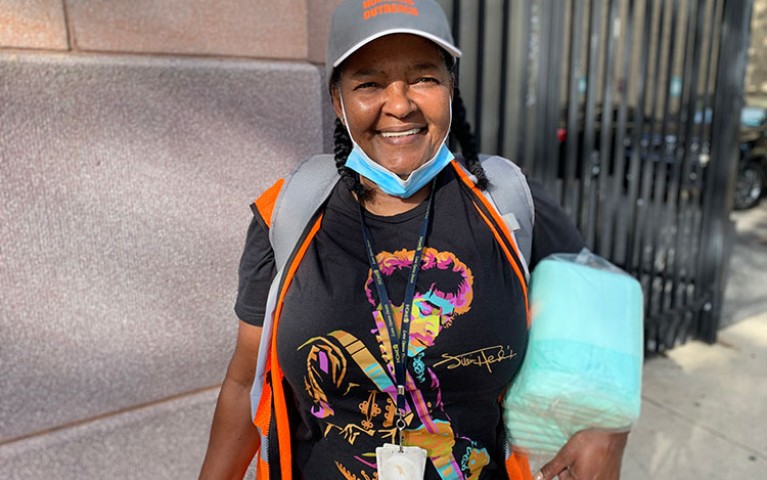 " I can't walk for you, but I can walk with you." – Monique Taylor
Dear Friends, 
On a dangerously hot August afternoon, while doing street outreach in Kensington, Monique Taylor saw a familiar face. A young woman was taking shelter beneath the tracks at Kensington and Lehigh Avenues and, in a vulnerable moment, called out, "Monique, I messed up and didn't make it to my intake appointment." With empathy, understanding, and, above all, hope, Monique explained that her appointment could be rescheduled and that help was there when she was ready to take the next step toward recovery and a place to call HOME.
When the reply came that she was "scared" of that first step, Monique gave a familiar response at Project HOME:  "I can't walk for you," Monique said. "But I can walk with you." 
Throughout the COVID-19 pandemic, your strength, support, and solidarity have strengthened our belief that we can be the first major city to end and prevent chronic street homelessness. When we walk hand in hand with hope - like Monique and the woman she helped that day in Kensington - we can overcome any obstacle and bring everyone HOME. 
Within these pages, you will see powerful and inspiring stories and the tangible impact of your continued compassion. You have opened new doors, provided empowering education and employment, and moved us closer to a city where everyone has a place to call home.
While these are challenging times, we know that you're walking together with us every step of the way HOME. Thank you for every story of hope that you make possible. Your leadership, support, and encouragement right now are what inspire us every day and moves us forward.
 
Sincerely,



Give A Gift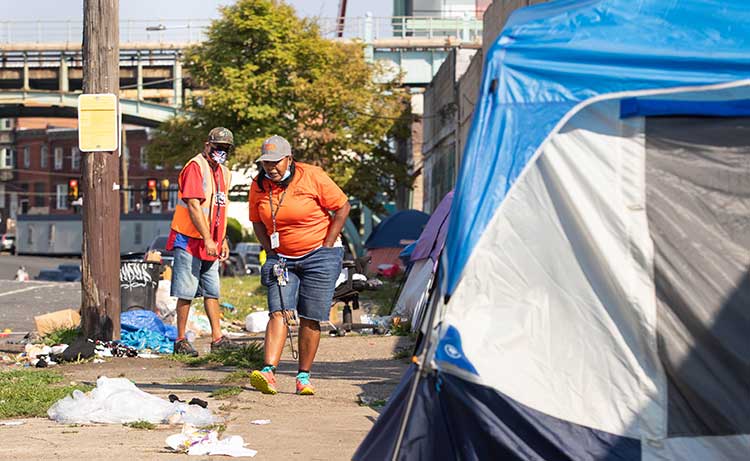 "People hear or read about Kensington, and they have already made up their mind," reflects Monique. "But to me, the whole area is like a book. You may not like the cover, but you get to the pages and find beautiful words, pictures, and stories. People's lives are in jeopardy, and I hate to lose anyone."
Monique has quickly become a picture of resourcefulness in Kensington and is known for her ability to pull from her own experiences in recovery to connect with those living with substance use disorder on the streets. Save for her fierce commitment to the Project HOME mission, Monique could otherwise be a poet. She creates a vivid picture of the realities of homelessness in Philadelphia and Kensington. As she speaks, a hope-filled masterpiece unfolds about life in recovery and the miracles she witnesses daily. 
"The people I meet may feel free on the streets, but they are not free from their drug of choice," says Monique. "They do understand that something greater than shelter is required – they know they need a community." 
Project HOME is continuing to build that community - with your help - by increasing our outreach and services in Kensington and engaging essential staff like Monique. Monique provides leadership as part of the Mobile Medical team in Kensington that will eventually operate out of our long-term recovery residence in Kensington that will be finished next summer. Each day the team meets immediate medical needs, like wound care, and provides access to housing, food, and supportive health care, like behavioral healthcare and medication-assisted treatment for opioid use disorder. 
"I see myself in everyone. It's like a mustard seed to help someone – it can carry you a lifetime," says Monique. "Helping anyone through outreach is a two-way street. They help me, too." 

Housing costs are soaring in our region. Median home prices are up nearly 20 percent since the pandemic's start, which is driving up rents, too. As you read this, rent has reached a two-year high across the country and in our city. We know that more permanent, supportive, affordable housing is needed to eliminate and prevent chronic street homelessness – you are helping us get there.
 
Last year, we finished renovations and opened Maguire Residence, our first residence in Kensington. Maguire Residence revitalized an entire city block and created 42 apartments for formerly homeless individuals committed to recovery. 
In September, Peg's Place added 40 apartments, bringing Project HOME to 976 affordable and supportive units of housing for persons who have experienced homelessness. Peg's is recovery-focused, low-barrier housing (pets are welcome!), empowering adults to break the cycle of chronic street homelessness.
We are making progress on the long-term recovery residence in Kensington, where Monique and her colleagues will soon have their offices. This will be a hub of recovery-focused resources, including eight respite beds and 54 efficiency apartments. When someone is ready for recovery, they will be able to come right in and access all the behavioral health, employment and education, and healthcare services housed within.
 
Our ability to continue breaking new ground, building new housing, bringing new hope, and saving lives, especially over the past year, would be impossible without your unwavering support. We have plans for more Housing, Opportunities for Employment, Medical Care, and Education — and we need your help to make them a reality and make Philadelphia a place where everyone is HOME.

Giving Hope
Have you considered making a monthly contribution? By giving monthly to Project HOME, you're helping our outreach teams save lives every day. 
You can also support Project HOME's annual appeal by recommending a gift through your Donor Advised Fund. 
Make a gift of $1,989 or more; you will join Project HOME's "1989 Society," a community of donors dedicated to accelerating Project HOME's mission.
Does your company provide a matching charitable donation? Many employers will help you make your gift go twice as far by matching your gift.
For information on how to donate via wire transfer, stock transfer, or ACH payment, please contact Sungbin Kim at [email protected].
Providing Recovery Care: Project HOME in Kensington
Project HOME's outreach and healthcare services are teaming to bring resources directly to folks in need in Kensington.