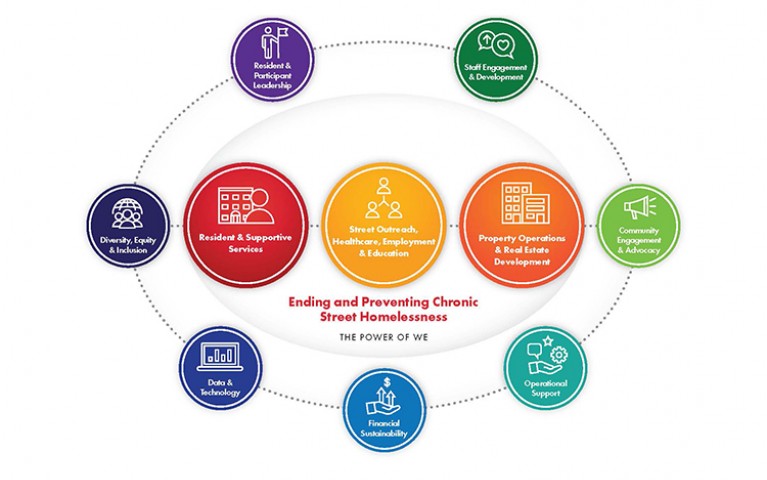 We are excited to launch our new three-year strategic plan – "The Power of We." This plan is the result of a year of listening and feedback, and it is developed by and for our community. We hope that you see yourself and your work in its pages.
Unlike our previous Strategic Plans, this new plan goes beyond alignment within our typical structure of Housing, Opportunities for Employment, Medical Care, and Education (HOME). It focuses on creating strong interdepartmental collaboration and communication - the power of we.
Highlights from this plan include:
"Silo-busting" and making sure we are working across teams and departments and implementing an Internal Communications plan
Developing tools, resources, and operational support for staff and residents to feel good about their work and do it well
Investing in staff and resident development and leadership
Infusing the goals of our Diversity, Equity, and Inclusion plan into all that we do
Implementing strong feedback loops to continually improve our work
This strategic plan is called "The Power of We" because we are all engines and problem solvers, highlighting challenges and developing solutions as we implement this plan. For more than 30 years, when there has been a crisis, we have joined forces with others to find solutions. The moment we are currently living in has reaffirmed this. Our fundamental belief in the dignity and potential of every human being has guided our work. Through this strategic plan we recommit ourselves to continue striving to end chronic street homelessness; because none of us are home, until all of us are home.