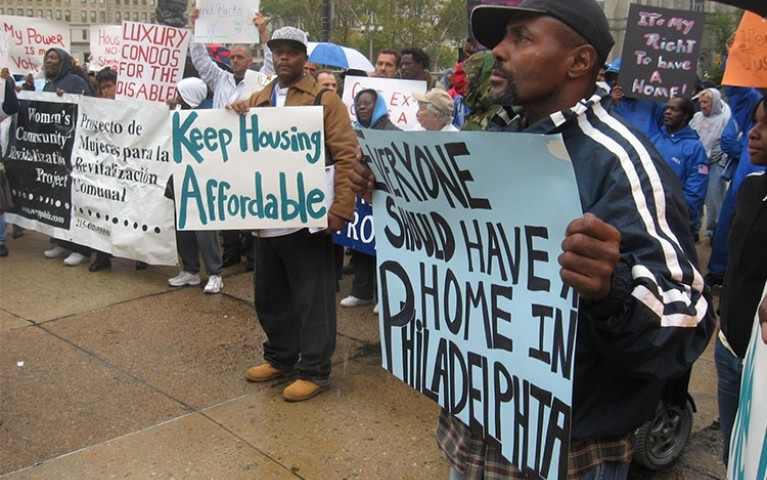 Ending homelessness and alleviating poverty in Philadelphia cannot be achieved alone; the work must be a shared effort. We are proud to call the organizations below—and the people who make them possible—partners in our joined effort.
Bethesda Project
Covenant House Pennsylvania
City of Philadelphia Office of Emergency Shelter and Services
Dignity Housing
Episcopal Community Services
Hall Mercer
Homeless Advocacy Project
Horizon House
Mental Health Association of Southeastern Pennsylvania
Pathways to Housing PA
People's Emergency Center
Philadelphia Association of Community Development Corporations
Public Health Management Corporation
Philadelphia Unemployment Project
Resources for Human Development
Ready, Willing & Able
SELF, Inc
The Simple Way
Women's Community Revitalization Project
Better Choices Budget Coalition
CeaseFire PA
Housing Alliance of Pennsylvania
PA Voice
Pennsylvania Health Access Coalition
Pennsylvania Budget and Policy Center
100,000 Homes Campaign
Center on Budget and Policy Priorities
Corporation for Supportive Housing
National Alliance to End Homelessness
National Center on Family Homelessness
National Coalition for Homeless Veterans
National Coalition for the Homeless
National Health Care for the Homeless Council
National Housing Conference
National Law Center on Homelessness and Poverty
National Low Income Housing Coalition
National Resource Center on Homelessness and Mental Illness
National Student Campaign Against Hunger and Homelessness
NETWORK, A National Catholic Social Justice Lobby
U.S. Department of Housing and Urban Development
Vote for Homes Coalition is a nonpartisan advocacy effort focused on the issues of affordable housing, living-wage jobs, and quality services in Philadelphia.
AchieveAbility
ActionAIDS
ACTION United
Alpha Phi Alpha Fraternity, Inc., Zeta Omicron Lambda Chapter
American Friends Service Committee
Arch Street United Methodist Church
Back on My Feet
Bethesda Project
Calcutta House
Catholic Social Services
Catholic Social Services St. John's Hospice
Church of the Advocate
Civic House, University of Pennsylvania
Coalition Ingenue
Depaul USA
Dignity Housing
Disabled in Action
Drueding Center Project Rainbow
Episcopal Community Services
Ex-Offenders Association of PA
Family Shelter Support Team
Friends Rehabilitation Program, Inc.
Habitat for Humanity Philadelphia
Homeless Advocacy Project
Hope Outreach Ministries United Church of Christ
Horizon House
Housing Alliance of Pennsylvania
Impact Services Corporation
Institute for the Study of Civic Values
Interfaith Advocates
League of Women Voters of Philadelphia
Liberty Resources, Inc.
LIFT Philadelphia
Lutheran Settlement House
Mental Health Association of Southeastern PA
Mercy Hospice
My Place Germantown
New Kensington CDC
Northwest Philadelphia Interfaith Hospitality Network
PathWaysPA
Pathways to Housing PA
Pennsylvania Prison Society
People's Emergency Center
PHMC Nurse Family Partnership
Philadelphia Association of Community Development Corporations
Philadelphia Beauty Showcase National Historic Museum
Philadelphia Higher Education Network for Neighborhood Development (PHENND)
Philadelphia Senior Center
Prevention Point Philadelphia
PRO-ACT (Pennsylvania Recovery Organization Achieving Community Together)
Project HOME
Public Health Management Corporation
Ready, Willing, and Able
Resources for Human Development
RHD-Ridge Center
RHD Visitation Homes
SELF Inc.
SHARE
Tenant Union Representative Network
The Salvation Army
The Time is Now to Make a Change
Travelers Aid Society Philadelphia
United Communities Southeast Philadelphia
United Way Southeastern Pennsylvania
Women Against Abuse
Women of Hope-Lombard
Women of Hope-Vine
Women's Community Revitalization Project
Women's Law Project - WomenVote PA
WOMEN'S WAY
X-Offenders for Community Empowerment
Young Involved Philadelphia