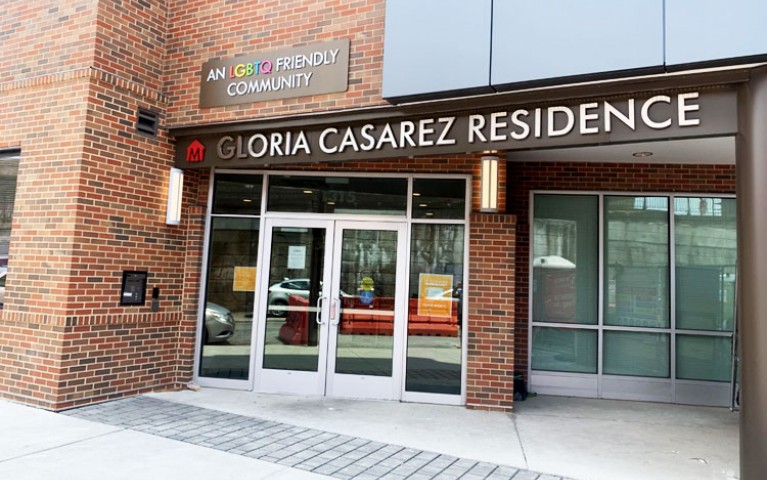 Gloria Casarez Residence provides 30 LGBTQ-friendly affordable homes for young adults (ages 18-23 at entry) who are homeless, have experienced homelessness or are at risk of homelessness, including those aging out of foster care. This is the first permanent supportive housing of this kind in the Commonwealth of Pennsylvania and among the first in the nation, and honors Philadelphia activist Gloria Casarez.
Nationally, young adult homelessness is on the rise and an estimated 40 percent of homeless young adults identify as LGBTQ. Through the Neubauer Catalyst for Young Adults Program, Project HOME currently serves more than 50 young adults living primarily at JBJ Soul Homes, Francis House of Peace, and Ruth Williams House at the Gene & Marlene Epstein Building.
Residents will benefit from a combination of housing, employment, education, and health care services, in addition to case management, life skills education, and community-building activities.
Additional Information
Join our waitlist. If you have submitted an application and would like to know the status of your application please allow up seven days to receive a response via mail. For additional questions and concerns contact [email protected] or call 215-309-5227.
Eligibility requirements include:
Age 18 to 23 upon move-in
Homeless, formerly homeless, or at risk of becoming homeless, including those aging out of foster care
Minimum monthly income $400; see table for maximum annual income limits
Full-time students only eligible under certain circumstances
Maximum household size 2 persons
The community is smoke-free, alcohol-free, and drug-free
Gloria Casarez Residence will target young adults, including those aging out of foster care, and will be LGBTQ-friendly. Each year, approximately 1,000 young adults age out of foster care in Pennsylvania. National data indicated that as many as 40 percent of young adults experiencing homelessness identify as LGBTQ. Specially designed programs will support these young adults, one of the fastest growing segments of the homeless population. The residence will be the first young adult-only, LGBTQ-friendly permanent supportive housing in Pennsylvania.
Gloria was a civil rights leader and LGBTQ activist in Philadelphia and across America. She was the Philadelphia's first director of the Mayor's Office of Lesbian, Gay, Bisexual and Transgender Affairs and passed away in 2014 after a long battle with cancer. Gloria was a founding member and community organizer of Empty the Shelters (a youth-led national housing rights and economic justice organization); coordinator for the LGBT Center at the University of Pennsylvania; and executive director of the Gay and Lesbian Latino AIDS Education Initiative in Philadelphia.
As the director of Philadelphia's Office of LGBT Affairs, Gloria Casarez developed and launched key priorities and policy for the Administration in a wide range of areas, including health, city services, civil rights, public safety, and education. During her tenure, Philadelphia adopted the broadest LGBT rights protections in the nation.
The project plan includes a community room that will open out to a courtyard of a size sufficient to host indoor and outdoor events and programming for residents and the larger community. Programming may include: art program activities, classes, and shows; community conversations, "potlatches", and advocacy committee meetings; and other activities in partnership with area organizations.
Project HOME was among the first in the nation to pioneer a coordinated and evidence-based approach proven to break the cycle of homelessness. Now, through a transformational investment from Leigh and John Middleton, further supported by like-minded partners, they've created a super-charged engine to not only sustain the model but to strengthen it. This is especially urgent considering surging social issues like opioid addiction, the outflow of at-risk youth aging out of the foster care system and mental health issues.
This unique partnership model draws on a powerful network of people and ideas that multiplies Project HOME's impact in five key areas: investment leverage, strategic relationships, focused resources, advocacy and awareness and evidence-based reporting.
In just five years, MPOWER's impact multiplier model has leveraged $20 million into $200 million to break the cycle of homelessness for more than 15,000 people.
Today, its growing list of partners has gone beyond helping individuals to revitalizing entire communities. This includes:
creating new homes
building long-term capacity
expanding outreach services
ending veteran homelessness
breaking the cycle for young adults
Homelessness is solvable in our lifetime. It can be ended and prevented for good. Because none of us are home until all of us are home.®