Homeless Memorial Day
Advocacy and Community Engagement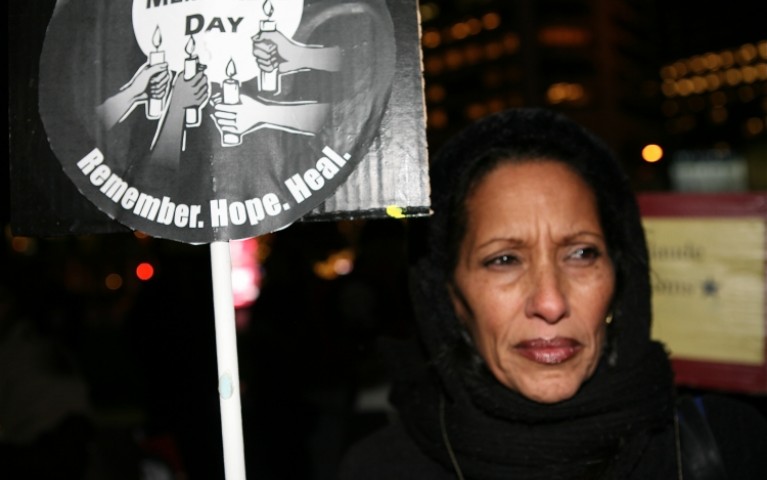 * Remember * Hope * Heal *
Every year, on the first official day of winter, hundreds of Philadelphians gather to remember those homeless and formerly homeless Philadelphians who died and to call for an end to homelessness.
Please join us for the 2021 Philadelphia Homeless Memorial Day on Tuesday, December 21, 4-5pm at Thomas Paine Plaza (in front of the Municipal Services Building at 15th St. and JFK). See more details and RSVP to the event on Facebook.
We have made much progress in Philadelphia in combating homelessness, but the crisis persists. The opioid epidemic and COVID-19 pandemic are claiming hundreds of lives. We must continue to speak out about the struggles of people who experience homelessness, poverty, and addiction. We must all work together – including elected officials – to expand effective solutions and build a truly just society for all persons
Please help us to gather the names of all those Philadelphians who have experienced homelessness and died in 2021.
Submit Names for Homeless Memorial Day 2021

If you would like to help plan this year's Homeless Memorial Day event, join the Planning Committee by clicking below. We meet each Monday from 2:30pm to 4pm until the event.

Join the Planning Committee


The 2020 event was unique as Philadelphians gathered online due to COVID-19 restrictions to pay their respects. Watch the recording of the vigil below, and bookmark this page to check back for details on the 2021 event that will take place in December.

Homeless Memorial Day 2020
Additional Information
Become a sponsor of Homeless Memorial Day to support the planning and promotion of this event. It is not necessary to make a financial contribution to be considered a sponsor, but contributions will help defray the costs of the event. Thank you!