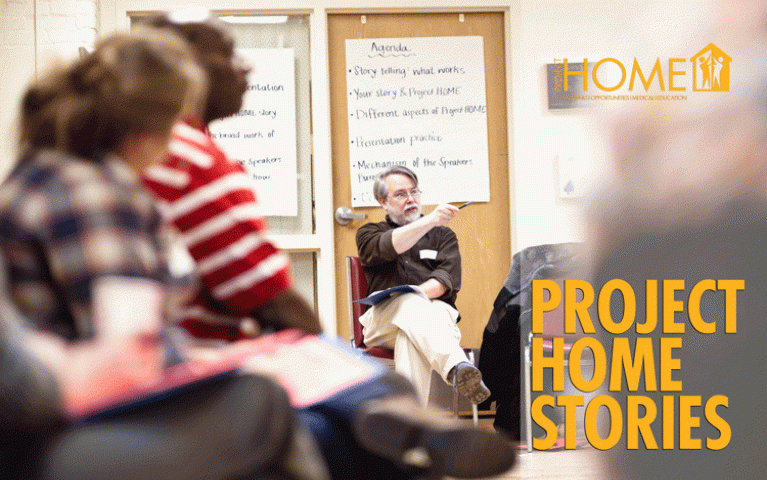 Richard Bogue is a resident of Project HOME's 1515 Fairmount Avenue residence. He is also a fine poet. He shares a brief reflection on his time at Project HOME, followed by a poem that comes from his experience as a young man on the streets many years ago.
I have been a member of the Project HOME community for roughly 10-1/2 years; I moved into 1515 Fairmount Avenue in April of 2000. If I had to sum up in a few words how I feel about Project HOME, I would say I am "accepted and respected just as I am." I was homeless, off and on, from age 25 through age 30. Sometimes in big cities, sometimes in the country. I was so very lucky during this period not to have been arrested for long and not to have been badly beaten up. I was living on luck and the sunshine.
Many, many good people tried to help me when I was homeless. Finally, when every friend and every acquaintance had given up on me, when I had run from the East coast to the West coast, I began to try to help myself. It took a long, long time, years, to climb out of the hole I had dug myself into. Founded by Sister Mary Scullion and Joan Dawson McConnon, Project HOME has many female benefactors, employees and volunteers; it was and is a pleasure to work with these women. Now I honestly feel if I use a little common sense I will never be homeless again. Ten years is a long time in today's world. My doctor and my therapist both tell me I am doing well. I feel I am doing well. I have quite a few friends in the Project HOME community and I have friends at Associated Services For The Blind And Visually Impaired where I volunteer.
In less than two months I will celebrate my 68th birthday. I look forward to that day. TO A 16 YEAR OLD RUNAWAY Think carefully tonight crouched beneath some tree in Golden Gate Park shivering, teeth chattering think carefully of your dimly lit bedroom, home, the smells of home, your mother waiting anxiously, prayerfully, think carefully on all familiar things balanced against unimaginable blackness. Know you are choosing, know you are making a choice. The tree, the night, the wind, the chill, your disembodied stomach, strangers, strangers, strangers. Know you are choosing, know you are making a choice. Strangers may become friends who will sink their knives deep into your back, friends will become strangers disappearing in the night. Your healthy body will rot into the earth before morning, you will awake from nightmare to find yourself a skeleton. The foghorn, the moon, the chill, the tree. Know what you are choosing, know the choice you make.