Fiscal Year 2022 Annual Report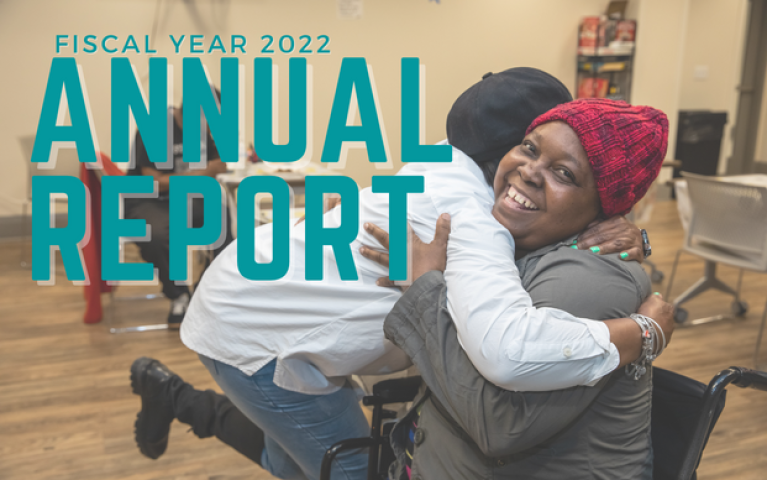 Each new year provides an opportunity to reflect on the past 12 months and look toward the future with hope, resolve, and renewed determination. It's a time for us to share about Project HOME's work, and the impact that we create—together. It is also a time to identify the new challenges and opportunities to make more progress on our ultimate goal to end and prevent chronic street homelessness in Philadelphia. Most importantly, it's an occasion to express our gratitude to you and the entire Project HOME family.
We are profoundly grateful for all we have been able to accomplish in Fiscal Year 2022. Our work creates opportunities for people and families to heal, grow and accomplish their goals and for neighborhoods to advance their quality of life. We couldn't have done it without your leadership, your vision, and your steadfast support.
We know that there is much work still to be done. The devastating effects of poverty, violence, and substance use continue to pose historic challenges in Philadelphia and beyond. Racial injustice and systemic inequalities continue to exact a toll that must be addressed. Thanks to your partnership, we are working every day to expand our capacity to address these challenges head on.
We take on this work with a deep sense of gratitude. In reflecting on the last year, we are reminded of these words from President John F. Kennedy:
"As we express our gratitude, we must never forget that the highest appreciation is not to utter words, but to live by them."
Together, we continue to live by our values every day. We know that our efforts depend on the vision and contributions of talented individuals and a deeply committed community with a shared mission. For more than three decades, our project HOME family has been guided by the same vision: None of us are home until all of us are home.
Thank you for your belief in the power of that vision. We are excited about what's to come in 2023.
With warmest gratitude,

Statement of Activities
Year July 1, 2021 to June 30, 2022
REVENUE, GAINS, OTHER SUPPORT

 

EXPENSES

OPERATING REVENUE

 

PROGRAM SERVICES

Contracts and Government Funding

$12,477,500

 

Housing and Support Services

$7,472,397

Contributions and Grants

$25,084,936

 

Outreach Services

$2,310,757

Medicaid/Medicare, net
$5,420,785
 
Education and Employment Services
$2,013,521

Program Income and Fees, related parties

$4,607,504

 

Health Services

$10,822,032

Special events
$269,988
 
Strategy and Impact Services
$995,387
Investment loss, net
($5,480,013)
 
Real Estate Development and Asset Management
$1,026,854
TOTAL
$50,287,320
 
Property Management Services
$9,299,703

 

 

 

SUPPORTING SERVICES

 

 

 

Management and General

$4,998,882

 

 

 

Fundraising and Communications

$2,007,009

 

 

 

NON-OPERATING EXPENSES

 

 

 

Housing Development Expenses

$2,466,695

 

 

 

TOTAL

$43,413,237
REVENUE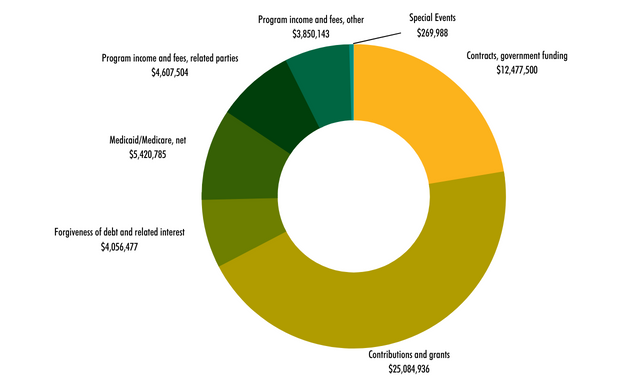 EXPENSES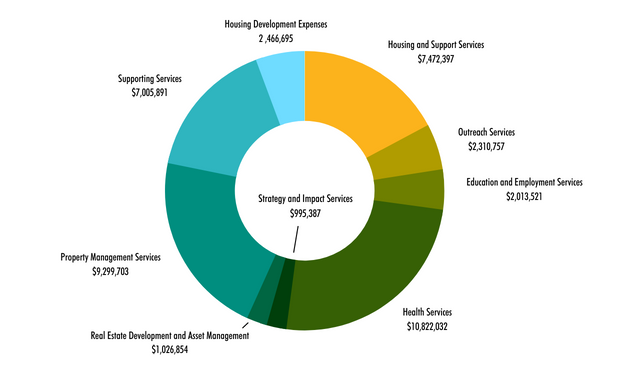 Our Impact
Our FY22 Infographic is available by clicking below.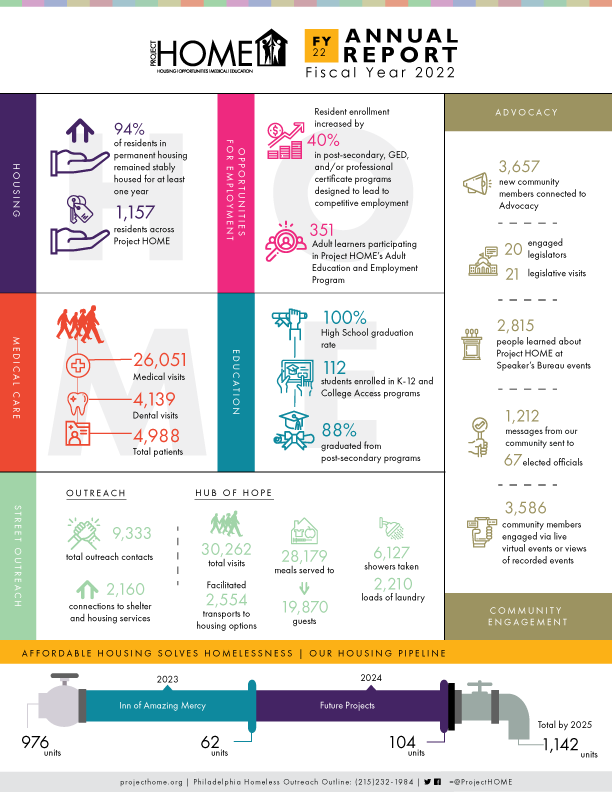 Fiscal Year 2022 Board of Trustees
 
  BOARD OF TRUSTEES

  BOARD EMERITUS

 
  BOARD CHAIRS

Joanne Berwind

Kathy Z. Anderson

Joseph Ferry 1989-93

Jeff Cook

Donna Boscia

Stephen Gold, Esq. 1994-2001

Joan Dawson-McConnon, CPA*

D. Walter Cohen

Margaret Healy, Ph.D. 2002-05

Debbie Fretz

Steve D'Angelo

William Harvey, Esq. 2006-09

Gus Gray

Robert Downing

Kathleen Owens, Ph.D. 2010-16

William Harvey

Frances Egan

Debbie Fretz 2017-Present

Bridget Jacobs

Stephen F. Gold, Esq.

 

Marc Jenkins

Dennis Griffin

 

Lori Lasher

Margaret Healy, Ph.D.

 

Megan Maguire Nicoletti

Lynne Honickman

 

Lisette Martinez

Hyacinth King

 

John McDonald

Louis Mayer

 

Leigh Middleton

Joseph Miller

 

Dainette Mintz

Joyce Miller

 

Wes Mitchell

Patrick O'Grady

 

Marcel Pratt

Kathleen Owens

 

Norma Reichlin

Pedro Ramos

 

Estelle Richman

Emily Riley

 

Amy Riley

Michael Rubinger

 

Sister Mary Scullion*

Susan Sherman

 

Jim Smith

Glenn Shively

 

Thomas Walker, Jr.

Georgianna Simmons

 

Joyce Wilkerson

Gerald Strid

 

 

Riki Wagman

 

 

Lara C. Weinstein, M.D.

 
*All trustees are independent voting members except those marked with an asterisk.