Flowers through the Cracks
Wednesday, April 18, 2018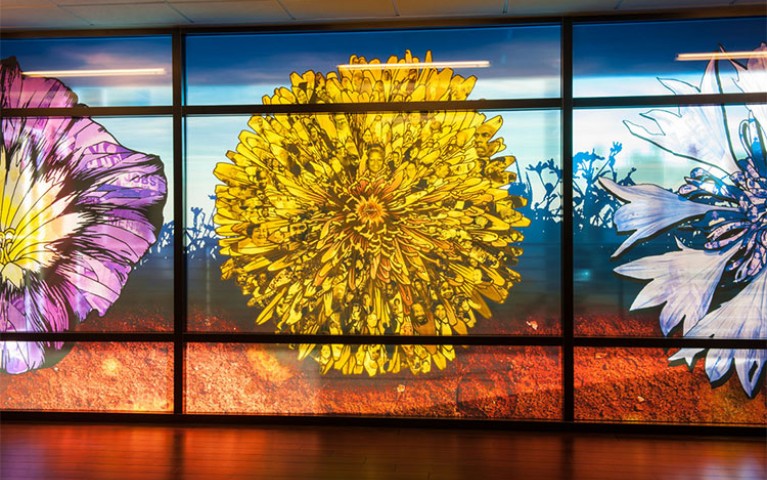 Brightly-colored flowers blaze across a glass wall in our JBJ Soul Homes residence. Their petals are adorned with images of Project HOME community members from over nearly three decades.
The art installation, Growing Free (one of many that beautify our residences and facilities) was the conception of Philadelphia-based artist Meg Saligman. The inspiration, however, came from a source closer to home.
"One of the artists who actually lives [at Project HOME] brought me a sketch of three flowers and I said 'What are those?'" Saligman said. "And she told me, 'Those were growing through the cracks of the cement on [the future JBJ Soul Homes] site. I lived around here before this building was here, and those flowers remind me of us: We're resilient, we're beautiful.'" Meg immediately thought: "There's our idea. It's like as an artist, am I going to come up with something better than that? I don't think so."
Saligman's long collaboration with Project HOME has resulted in an art gallery, spread across several sites, visualizing hope and compassion, one that honors and elevates marginalized and struggling people who everyday push through the cracks in our world and reach for the sun.
One feature of her latest piece, Prayer River, brightens the lobby of our newest residence, Ruth Williams House at the Gene & Marlene Epstein Building, and will be formally unveiled, along with the larger Knotted Home installation, at the building's grand opening celebration next week.
The origins of the Knotted Home actually stretch back to the 2015 visit of Pope Francis to Philadelphia. Sister Mary Scullion, Project HOME's co-founder and executive director, asked Saligman to create a public arts piece that would both honor Pope Francis and elevate the issues of hunger and homelessness.
The resulting piece, The Knotted Grotto, became a viral sensation in the lead up to Pope Francis's visit, drawing massive daily crowds.
"[Sister Mary] in her visionary and spiritual way, I think, understood the opportunity of this visit," Saligman said. "She knew that the [Knotted Grotto] could be transformative."
And it was. Saligman recalls her astonished realization that the lines forming around the Cathedral Basilica of Saints Peter and Paul (where the Knotted Grotto was originally installed) were filled with people desiring to connect with something larger. Nearly 150,000 people would visit the grotto, many of them to tie a knot on the wooden domed structure, each etched in black Sharpie with a personal struggle, prayer, or need. Just before his final Mass in Philadelphia, Pope Francis himself came and blessed the grotto and the tens of thousands of knot tied to it.
After the papal visit, and as the crowds receded, the question soon became: What do we do with the Knotted Grotto now?
"We noticed that as the Grotto was ending people were coming in. They were beginning to take stones, like it was a relic," said Saligman. "There was a man who had lost his son and he brought [a knot] on a day where I was putting ribbons up on the top of the dome. And I said 'I'm going to put your ribbon at the [top of the dome].' Am I going to throw that ribbon in the trash? No, I'm not going to. So what do you do with them? You have to honor people's struggles and prayers."
While the wooden dome was eventually relocated to the Francis House of Peace residence, the knots were stored at Saligman's South Philadelphia studio, awaiting their new life.
Sister Mary had expressed a desire to incorporate the over 150,000 knots into Ruth Williams House, then still in the planning stages. Ideas were shared, but nothing sparked the imagination. Then, inspiration struck.
Saligman noticed that her child's art project—strips of rolled paper dyed assorted colors—resembled the ribbons from the grotto.
"If we could all take our struggles, look at them in a different way—take a cross section of them turn them to a different color—perhaps there's a transformative moment there," she said. "And we felt that that was authentic and honored the struggle."
For the next 17 months, Saligman, her studio staff, and members of the Project HOME community—including resident Brian Kane, who is now employed by the studio—rolled and dyed tens of thousands of knots.
"I think there's something very valuable…to help someone make their home with their hands; it's hard to get people on a construction site with a hammer and nails and have them do it," she said.
She noted that the long, slow process of rolling and dyeing was actually enjoyable. "You can do it while communicating and sharing with one another. So you can actually do something as far as building a home and it provides a point of engagement."
Saligman's growth as an artist has aligned nicely with her personal growth; as an artist, it took her time to find her voice. As a young person from small-town New York who did not have "a national or global view" of the struggles so many experience daily, she fostered her innate desire to connect with and uplift others.
Both paths appear to have intersected at Project HOME, where Saligman said she has found people she feels "aligned with in thought and mission, in energy and approach."
"I'm so committed to working within our Project HOME community to see how far we can take this. I feel like we've perhaps made a difference so far," she said. "I know my life is different and transformed. And it's exciting for all of us to still be on that journey."