I Am Project HOME - Chantell Powell-Brinkley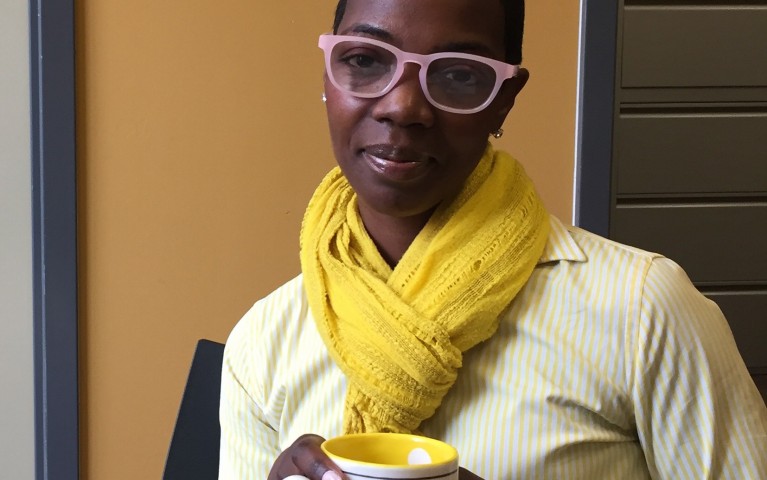 "If you are true to yourself, respect others, and believe in God that anything is possible, anything is possible."
The following article is featured in the Summer 2017 edition of News From HOME, our quarterly print newsletter.  You can read the whole newsletter online here.  If you want to subscribe, click here.
Chantell Powell-Brinkley has a knack for making people feel like they matter, rooted in her conviction that there is always more to a person than the eye can see. As part of the Project HOME community for nearly 15 years, she's learned how to connect with others by listening to their stories while writing her own. 
Chantell didn't think that she would wind up where she is today when she first started, but one of the important lessons she has learned along the way is that anything is possible.  She started at Project HOME around 2002, working evening shifts as a part-time dispatcher for the Outreach Coordination Center. It wasn't the ideal position, given she was a college student and single mother at the time, but she figured it was worth the shot because she was willing to work hard to make her way up. She earned a full-time position in the office, and continued to engage people living on the street in an effort to connect them to services and housing.
Chantell continued to thrive and support the community. She eventually moved to Rowan Homes, our residence for families, serving as an Office Assistant.  There, she says, she learned how to truly connect with people, "not just look at individuals as what we see, but look beyond that because everyone comes with a story." After Rowan, Chantell moved to Kate's Place as an Assistant Manager, where she affectionately remembers showing units to prospective tenants in a hard hat, given construction wasn't even complete on the building yet.
After the birth of her son, Chantell decided to take some time away from work to be a stay-at-home mom. Family is very important to her, which is a big reason why she enjoyed her work with the families at Rowan so much. "At the end of the day," Chantell shares, "if you have nothing else, you have your family to go to, and that's very important."
Shortly after her return, Chantell was offered a Director of Property Management position, which she was apprehensive to take. Her drive to succeed is sometimes overshadowed by a fear of failure or hesitation to leave her comfort zone. But her family and the Project HOME community pushed her to see that she was a great fit for the position. Chantell taught her daughter to strive and never settle, and her daughter pressed her to do the same. Although she loved her position as Property Manager, she is seeing new opportunities for growth as Director of Property Management for Francis House of Peace, JBJ Soul Homes, Kate's Place, and Connelly House.
Through her journey, looking not just at her own success, but at the accomplishments of those she's met since her days in Outreach, Chantell affirms that anything is possible. "As you can see with my growth: I started out as a dispatcher, and I never thought I would be in this role," she says. "If you are true to yourself, respect others, and believe in God that anything is possible, anything is possible."