I am Project HOME | Eric Smelser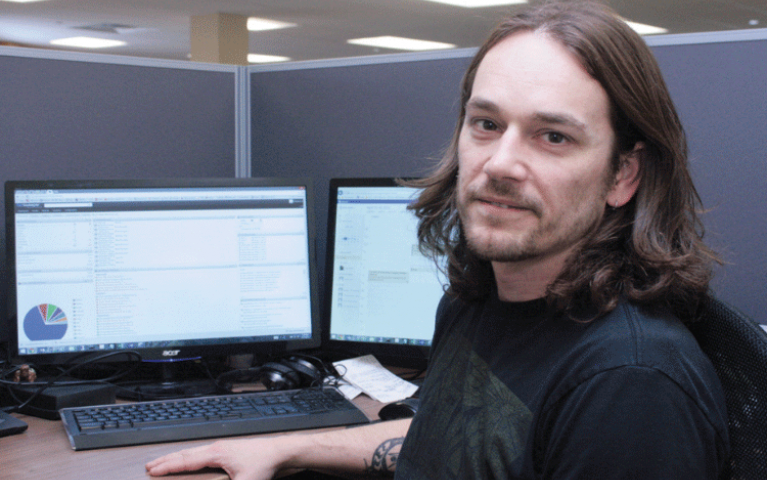 When Eric Smelser first came to work in Project HOME's Information Technology Department 13 years ago, the whole organization had less than 50 computers for the many residences and programs, and only a handful of staff were on email.
During his tenure, which has seen him take on the role of Director of IT for the whole organization, the technology has expanded tremendously – now comprising almost 500 computers, a complete state-of-the-art technology center, more comprehensive and complicated data systems and servers, and more sophisticated ways technology is serving our mission of ending homelessness.
"I like the role of being the person behind the scenes who helps make everything work," Eric says.  And he and his three-person IT staff are in fact part of just about everything: In line with our hyper-technology times, almost every aspect of Project HOME's work depends on technology – increasingly so as we have grown to numerous residences, programs, and sites.
Whether it is wiring a new residence, installing new software or phone systems or databases, or solving the typical daily emergencies, Eric says,"It is really important to me to be efficient, and to make sure other people can be efficient in their work." Eric is rightly proud of his pivotal role in helping Project HOME expand its  technological prowess. He also takes satisfaction from the fact that the organization is learning to be more cost-effective and forward-looking in planning and implementing technology strategies.
"I appreciate that Project HOME has a longer view of things, which includes an outlook of ending homelessness, but also includes our internal organizational needs."
In addition to plying his amazing IT skills to the Project HOME mission, which he is passionate about, Eric has diverse skills and interests:  riding hismotorcycle, playing West African drums, doing yoga, camping or hiking – or making amazing pancakes for the annual All-Staff Breakfast. He is a deeply spiritual person, devoted to his church and his community – and to his two spirited red-headed daughters. We are grateful that his passions and skills have found a home with us, and we are confident that with Eric's leadership, we will continue to use technology to empower us to realize our vision of ending homelessness.