I Am Project HOME - Eunid Mann
Thursday, November 16, 2017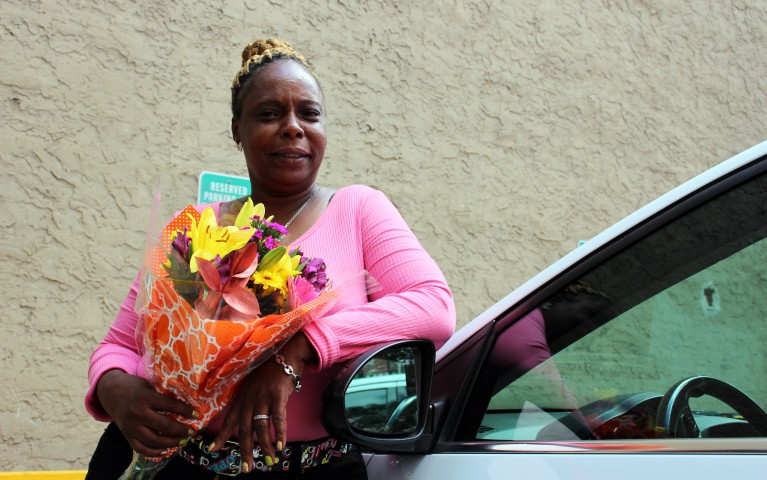 "I've always valued helping others – it's a core part of who I am."
The following article is featured in the Fall 2017 edition of News From HOME, our quarterly print newsletter.  If you want to subscribe, click here.
It takes just a few minutes talking with Eunid Mann to feel how passionate she is about her job at Project HOME.  She brings her full self and her life experience to her work every day.
Eunid went through her own journey of many years of struggle with homelessness, addiction, and mental illness, including a roller coaster of frequent recovery followed by relapse.  She first came to Project HOME in 2000: she and her two children were among the first residents in Project HOME's Rowan Homes.  But, still in the clutches of guilt and shame, and still unwilling to acknowledge mental health issues, she was evicted (though she still affirms the kindness and support of staff there).  "I hit bottom," she says, recalling those tough times.  "I felt rage and pain that had never been addressed."
Eventually Eunid's life stabilized, and she was able to pick up the thread of her time at Penn State, where she had pursued psychology studies with the hope of becoming a counsellor.  "I've always valued helping others – it's a core part of who I am."  But, as she put it, she had to "walk this walk myself for a long time."  Eunid became a Certified Peer Specialist (CPS), and was hired as a case aide at Project HOME.   (A CPS is a person who acknowledges a personal history of behavioral health challenges, and who receives training to support others in their recovery process).
Her gifts were soon evident, and she was offered a position as part of our Personal Recovery Services (PRS) team. In supporting and empowering many of our residents, Eunid combines the skills she has learned with the genuine empathy that comes out of her experience.  She especially wants to equip residents with mental health challenges to develop their own natural coping skills and not depend entirely on systems for support. (She notes, "The systems close at 5 o'clock.")
Chris Hausman, the PRS program manager, describes Eunid as "a driving force not only of the PRS team but of Project HOME as a whole.  She beautifies the principles and values of recovery so that everyone around her is given the choice and freedom to be the best that they can be.  She leads by example and is a shining beacon of hope and resilience for staff and residents alike."
Eunid is grateful for the spirit of community and genuine care she finds at Project HOME.  "I thought my dream of a career of helping others was over because of my past mistakes."  But recently her daughter assured her:  "Mom, that's your calling."
Eunid's passion is a gift to everyone she serves, and to the entire Project HOME community.  We are so glad she is able to follow her calling with us.