I Am Project HOME: Helen Brown
Tuesday, February 23, 2016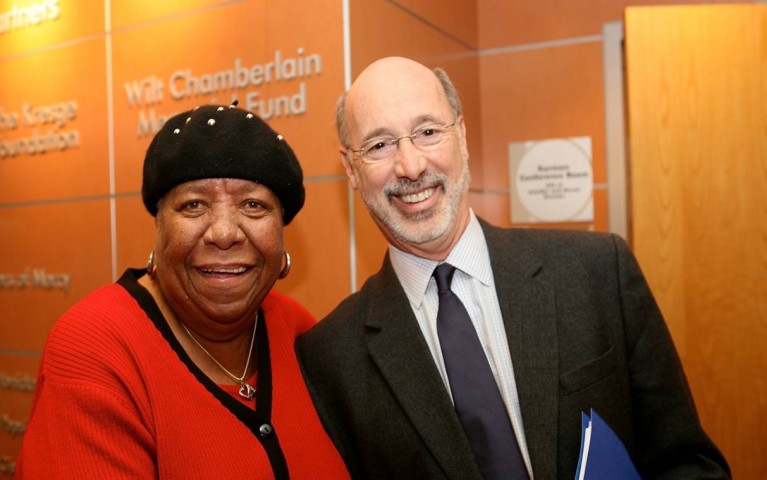 "I have met the richest people and the poorest people, and I treat them all the same. Trust people. This is how you build community."
This article appeared in our News from HOME newsletter.  You can read the full newsletter online here.  If you don't receive News from HOME and would like to subscribe, click here.
"When I came to Philadelphia from Charleston, South Carolina, in my twenties, I hated it with a passion," observes Helen Brown. Almost five decades later, it's hard to imagine Philadelphia or Project HOME without her.
When Project HOME began to embark on community development work in the St. Elizabeth's neighborhood in lower North Philadelphia, Helen Brown was a natural choice to join our staff as our community organizer.  It was a version of work she had been doing for a long time.  Since her earliest days here, she wove herself into the fabric of the community. She worked the line in Kensington in an auto parts factory for twenty-two years, but found time to take part in block rhythms. "In those days, most blocks had captains who organized things. For a few hours each Saturday, everyone would clean the block, paint the curbs, clean the doors, scrub the stoops. Later, when heroin and then crack came into our community, they gathered people to talk about how to respond to the gangs and drugs. I got involved."
Gradually, "Miss Helen," as she is known all over the neighborhood, gravitated to working with the young people. One of her initial efforts with Project HOME was to start a drill team. "The kids were jump-roping double-dutch outside my door, and arguing about turns. I said: 'We need to do something everyone can be part of.' They challenged me: 'Will you help us start a drill team?' I didn't know a thing about a drill team, but we started one!"
The North Philly Footstompers were born, and they would go on to win awards in cities around the country.  "These are kids who would never have left the city; who wanted to buy souvenirs at 30th St. Station. I told them, 'Wait, we aren't even out of town yet!'"
In the early 1990s, when Sister Mary Scullion was interested in turning the old St. Elizabeth's convent into what would become the St. Elizabeth's Recovery Residence, she was told to consult Ms. Helen and the block captains. They were not happy with the idea. "We said: you see what we have here, and you want to bring in stuff? If you are going to live here, you can do it. If you aren't, forget it.
"She said, 'Sure, I'll live here.' So we said: 'No problem!' "
Over years, that solid connection with Project HOME brought new possibilities. Whether it's working with the young people, leading buses to Harrisburg to advocate for stricter gun laws, supporting families in crises, or organizing community celebration, Ms. Helen has been an integral part of every aspect of our work in the neighborhood.  She is particularly proud of her role in bringing the Honickman Learning Center and Comcast Technology Labs and later the Stephen Klein Wellness Center, to the neighborhood with full support, ensuring that community concerns and input were incorporated.  Her feisty, nurturing spirit has captured the hearts of some at City Hall – this past January, City Council President Darrell Clarke invited her to hold the Bible as he was sworn in at his inaugural ceremony.
She is proud that so many neighborhood drug houses have been closed down by the community.  Asked if she ever felt in danger for taking them on, she becomes sober.  "Drug houses are no joke, but I am a God-fearing person and our destiny is what it will be.  People have to stand on their own two feet.  You can give them the tools they need, but they must use the tools you offer them."
In March, she celebrates 75 years of living, learning, and leadership.  Her wisdom, her hard-headed honesty, her deep love of people, and her good humor have enriched Project HOME and enhanced a neighborhood that is clearly on the rebound. "I was taught to take people where they are. I have met the richest people and the poorest people, and I treat them all the same. Trust people. This is how you build community."
---