I Am Project HOME: Janet Stearns
Tuesday, November 20, 2018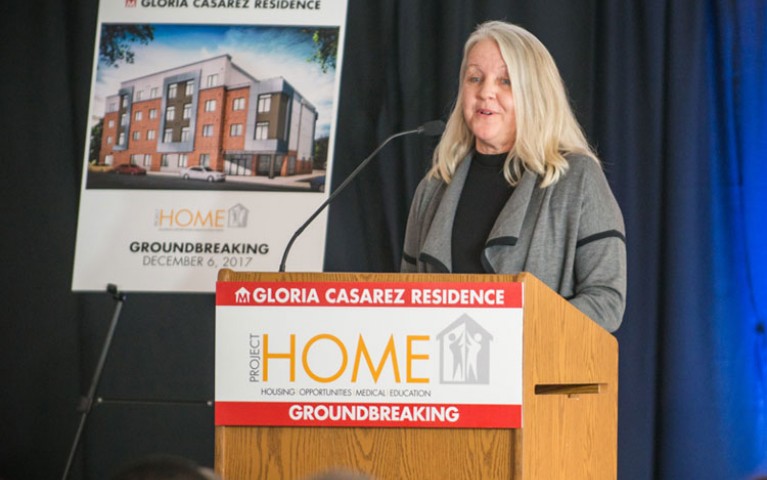 Like most Americans, Janet Stearns has her own personal recollections of September 11, 2001.
She was in a 25th floor office of a law firm in Boston watching the horrible news accounts of the attack on the Twin Towers. (She would later learn of friends connected to her family who lost their lives in the attack.) Janet had gone into law with the intent of working for justice – a passion nurtured by her faith and her recognition of the role of the legal community as advocates for those on the margins. As she looked down at the Boston harbor below, she wondered how she had ended up in a large law firm that represented mainly large-scale for-profit developers. The distance seemed symbolic. "I wanted to work on the ground floor, not on the 25th floor," she says.
Janet began doing pro bono work and serving on boards of nonprofit groups building affordable housing.  The nation was in the throes of the housing foreclosure crisis, and she saw firsthand the devastating impact on poor neighborhoods. So, she says, "I took a leap of faith," leaving the legal world and working with a community development corporation, doing whatever she could to help stabilize neighborhoods.
Janet also remembers the same date ten years later. A job opportunity for her husband resulted in the family moving to Philadelphia. Janet had come with few connections and no idea what she wanted to do – except that she had heard about the great work of Project HOME and longed to work here. She didn't know if she had anything to offer, but on that day, September 11, 2011, she checked on the Project HOME website and saw an opening for a position in real estate development.
"It was another leap of faith," Janet says, as she took on the position of Vice President of Real Estate Development and Assets Management. The new position allowed her to finally express fully her lifelong "thirst for justice." Since coming to Project HOME seven years ago, Janet and the whole team in our Real Estate Development department have paved the way for the opening of four new residences – with two more in the works – plus the Stephen Klein Wellness Center (all through the Middleton Partnership, a public/private initiative which Project HOME convened to end and prevent chronic street homelessness in Philadelphia).
"I work with amazing people at Project HOME – the staff, the residents, and the neighbors in our community," Janet says. "It's another experience of stepping out and not knowing where the path will lead."
She is also humbled by the work. For all the progress of Project HOME, Janet is aware of the continuing immense need. She takes comfort in the phrase of the poet Mary Oliver: "May I be the tiniest nail in the house of the universe, tiny but useful."  We are grateful how Janet makes herself and her gifts useful in the mission of Project HOME.