Love Unites Us Candle - Behind the Scenes
Thursday, February 11, 2021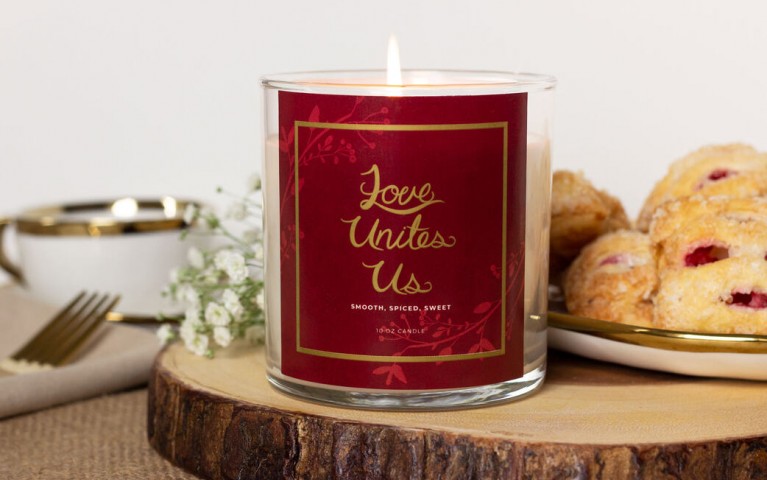 A peek behind the scenes at the making of Project HOMEMade's newest candle.
We started planning Love Unites Us toward the end of last year.
We were excited for 2021 like, everyone else was. We'll launch new partnerships this year, grow our bookstore, and add new jobs for residents. Like many of you, we're coming into this year with a lot of hope for renewal and growth in this year. We wanted to start the new year with something special.
The real work can't start until we settle on the concept. There are always ideas for products and themes that we want to pursue. The problem here is never coming up with ideas, it's in making the time to flesh them out into real products.
We wanted a slogan or visual idea that we thought will make cool candles and labels and even web copy; but we also want something this is authentic to us. That represents the unique community of residents, staff, volunteers, donors and customers that make up our community.
What holds us together? What unites us? You get it.
Hence, Love Unites Us – a celebration of what holds us together and what brings us to our mission.
Social Enterprise Resident Associate Kai Oceans took the lead on the scent. He started with a goal: something sweet, smooth and spiced… like us! We tested about 30 scents and who knows how many formulas and combinations to come up with Love Unites Us. Settling on the perfect blend of smooth, spiced and sweet scents.
Then there is look and feel. We worked on a design idea based on hand lettering and gold embellishments. It involved a gazillion design iterations and planning for a new kind of ink!
All our work is designed to be able to ultimately made and finished in workshops. Our new vessel and rose gold lid matched our labeling perfectly and (ahem) united into a perfect whole!
This new beautiful candle celebrates the spirit of Beloved Community. A unique blend that is smooth and sweet with spicy notes to keep it interesting. A warm and intriguing scent that never gets old.
...
Nic Watson is the Director of Social Enterprise at Project HOME.