My Summer Service Experience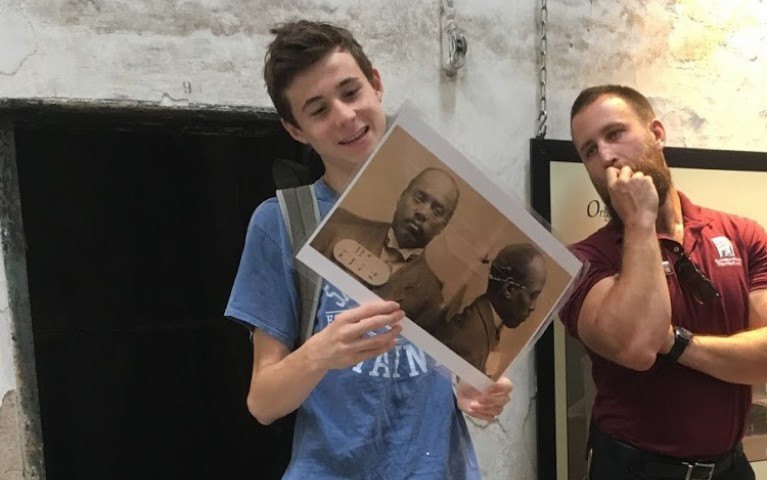 Amanda Aronoff served as Project HOME's Vice President of Development and Public Relations from 2000 to 2010. Her son Hayden, a student at Julia R. Masterman Laboratory and Demonstration School, recently completed our Summer Service Learning Program and shares his experiences below.
Project HOME has been a part of my life quite literally since the day I was born. In fact, Project HOME was a part of my life even before I was born; my mother and father had my baby shower in the "back space" at Project HOME's residence at 1515 Fairmount Avenue catered by the Back Home Cafe, a former Project HOME business initiative.
I remember when I was younger playing chess at 1515 Fairmount Avenue with adults who were experiencing or had experienced homelessness, attending various events at Project HOME, and going to Philly Flavors for ice cream after my mom finished work. But despite all these nostalgic memories of this wonderful organization and community, I was frankly too young to fully understand Project HOME's message and the nature of the very complex work that it does for our community. After these two weeks as part of the Summer Service Learning Program, I have a new understanding not only of the work of Project HOME, but of the many different root causes of poverty and homelessness.
As part of the Project HOME Summer Service Learning Program we visited the Eastern State Penitentiary and learned about the effects of mass incarceration; we worked in the Sanctuary Farm and learned about food deserts; we learned about the correlation between domestic violence and homelessness. These are just examples of the educational and volunteer experiences that opened my eyes to the complexity of the problems of poverty and homelessness. But just as important as these educational experiences - and what probably changed my thinking and perspective the most - was the opportunity to talk to people who had experienced homelessness and hear their stories. This put a real face on homelessness for me and really pushed me to challenge the stereotypes and biases that I and others unconsciously have.
In addition and more generally, all of the volunteer work I did during these two weeks, specifically with the Project HOME residents and the kids at the Honickman Learning Center and Comcast Technology Labs, really showed me how easy it is to make a meaningful difference in people's lives. The pure joy that I saw on the resident's faces when they won a bottle of shampoo during BINGO or how eager the kids were to read books with us spoke volumes to me.
These experiences showed me how important and transformative volunteer work is and has inspired me to get my peers interested and excited about volunteer work as well.
Hayden Aronoff Keller
J.R. Masterman, Class of 2020