[NEWS] COVID showed 'housing is healthcare.' Let's build on the lesson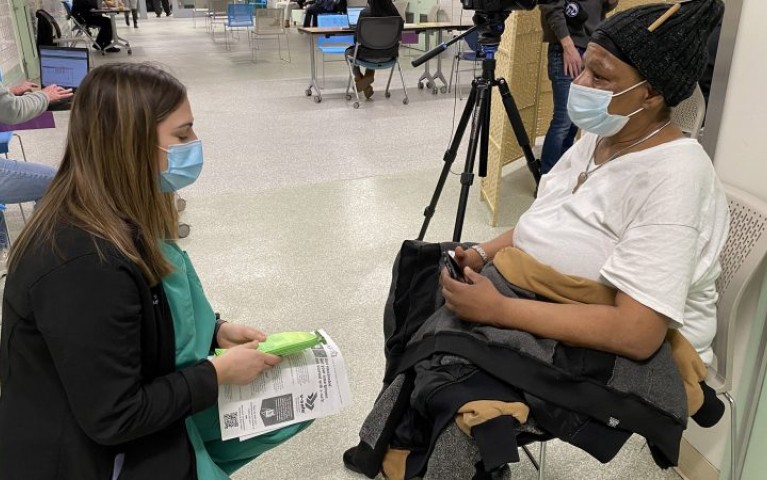 Monica Medina McCurdy, PA-C, our vice president of healthcare services at Project HOME and a member of Philadelphia's COVID-19 Vaccine Advisory Committee, recently penned an op/ed in Billy Penn about how pandemic underscored problems in how the health system serves homeless populations.
...
Significant health disparities due to systemic racism and implicit bias have always plagued our healthcare system. Marginalized groups, particularly people of color with lower incomes, are more likely to suffer from a lack of access to quality care. Nowhere is this more profoundly visible than in individuals experiencing homelessness.
COVID-19 brought these disparities into greater focus. What does a stay-at-home order mean for a person with no home, no regular source for taking care of personal hygiene, and disrupted connections to their usual sources of services?
Project HOME's healthcare services team saw these challenges first-hand at locations like the Hub of Hope and the Stephen Klein Wellness Center. They brought new urgency to the concept that "housing is healthcare."
As COVID spread, individuals living in shelters or other congregate sites were often as vulnerable as nursing home populations. Those with underlying medical conditions faced greater risk of severe illness if they contracted the virus. Faced with nowhere to go for recovery, individuals experiencing homelessness who had the infection could put others at risk of contracting the virus by continuing to live on the streets.
With access to housing with supportive services essential to slowing the spread of the virus, the city's Department of Public Health opened (and still operates) a hotel in Center City for this purpose. It gives infected and high-risk individuals a space to physically isolate themselves while at the same time receiving safe human interaction telephonically to cope with the physical isolation.
What the pandemic made apparent is that when thousands of people lack safe decent housing in Philadelphia, it is a public health crisis.