The Power of We: Project HOME x Di Bruno Brothers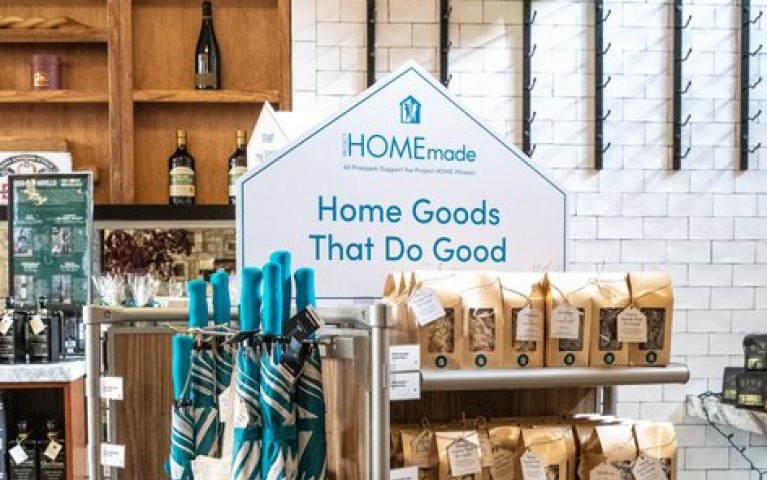 Di Bruno Brothers partnership has been a key to growth at Project HOMEmade
In the coming weeks and months, you will start seeing retail kiosks of Project HOMEmade goods in stores around Philadelphia. We want to take a moment to share with you the partnership that is making this dream a reality.  
Our friendship with Di Bruno Brothers goes back to the summer of 2019, when Di Bruno Bros. CEO Bill Mignucci Jr and Project HOME Founder Sister Mary Scullion met at his office above the Chestnut Street store. They decided to volunteer Di Bruno's design and marketing expertise to make a serious upgrade our now famous HOME Warming Gift Box. The partnership turned out to be great for us; we went on to sell over 100 HOME Warming Gift boxes that first holiday season! We sold those boxes in person and online at both Di Bruno's and Project HOMEmade. The Di Bruno's partnership was a boon to our growing online business.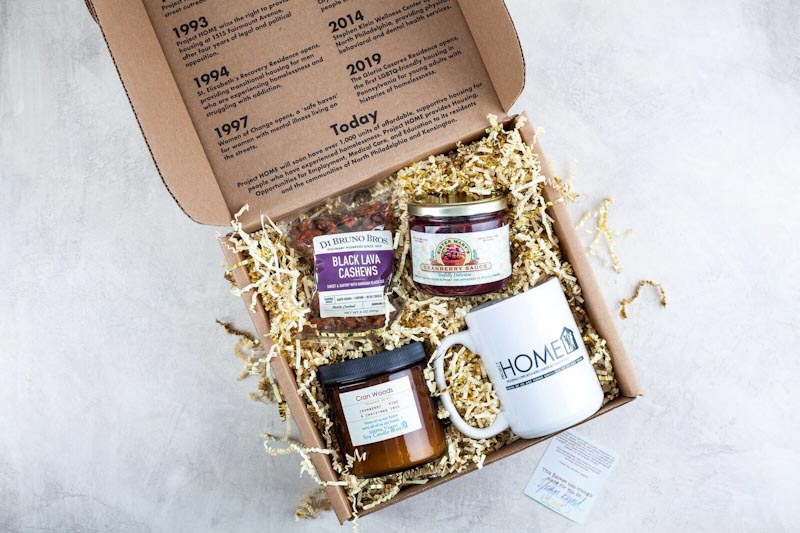 Last year, Bill, Di Bruno's marketing director Leah Donnelly, Kai and I developed a full retail strategy for Project HOMEmade. We were instantaneously excited – how often do you get the offer for professional retail expertise from folks with generations of retail marketing and merchandising experience? Bill and his team's commitment to the project came from a sincere desire to be part of our mission to provide opportunities in our community.  
Every member of the Di Bruno team were generous with their time and expertise. So much of our work over the last year wouldn't have been possible with out Amanda Bernhardt, Scott Case, Rocco Rainone, John Stickland and so many others.
Di Bruno's knew this important program required expertise in branding and storytelling, so they engaged with Cohere, a Philadelphia branding firm that they have partnered with often over the years. Cohere helped bring a polish and finesse that made our vision come to life. We added more partners along the way, like Dori Desautel Broudy who designed unique and special masks. We have spent tons of hours at Di Bruno's offices and on the phone with the growing team; conducted interviews, brainstorming, and designing new products and redesigning our old ones over the last few months.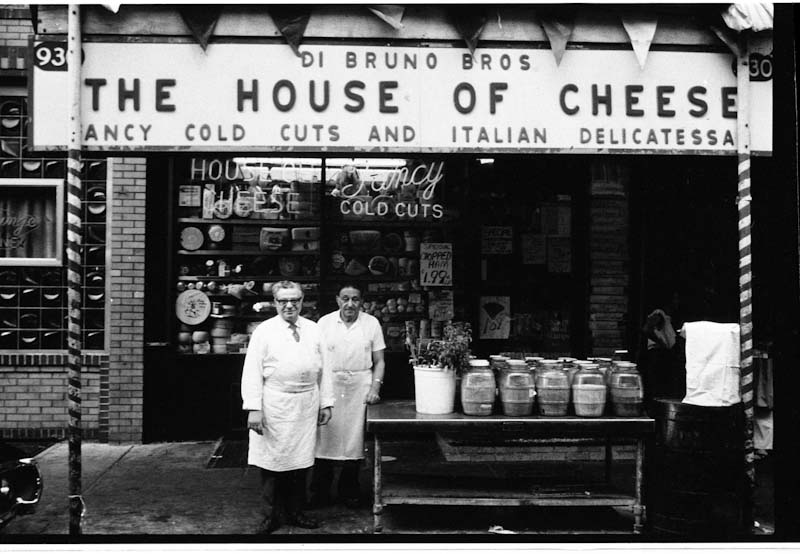 Di Bruno Brothers has been quietly piloting our new kiosk at the Italian Market on weekends. The Inquirer wrote about our partnership last week, which you can read more about here. We are amazed and grateful that Di Bruno Brothers have continued to support Project HOME amidst a global pandemic. 
We want to make buying gifts and supporting an end to homelessness a regular part of life in Philadelphia. With Project HOME's relentless approach to providing housing and Di Bruno's hard work, expertise, and commitment to Philadelphia, we are going to do it. 
. . .
Nic Watson is the Director of Social Enterprise at Project HOME. If you want to receive email updates about what we are up to, update your Project HOME email subscription to include Social Enterprises under the Areas of Interest section. Find us on Facebook and Instagram!