[Press Release] Einstein, Project HOME offer free root canal treatment for homeless and low-income patients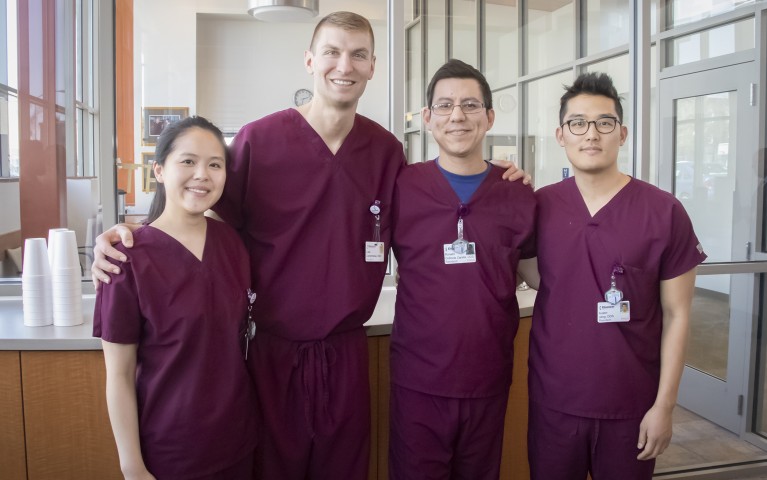 This was originally published by Einstein Healthcare Network . All images in slide show were taken by  Wesley Hilton, Einstein Healthcare Network.
For Immediate Release 
Einstein, Project HOME offer free root canal treatment for
homeless and low-income patients
Project Financed by Foundation for Endodontics

PHILADELPHIA (April 18, 2018) – Root canal treatment can be transformative – it ends pain, saves teeth, preserves confidence and boosts job qualification – but it is mostly out of financial reach for low-income patients. For that reason, Einstein Healthcare Network has partnered with Project HOME, the primary resource network for homeless and underserved populations in Philadelphia, to provide their clients free endodontic care.
The free treatment began this month at the Stephen Klein Wellness Center at 2144 Cecil Moore Avenue and a ribbon-cutting took place today to officially inaugurate the program. The North Philadelphia center is operated by Project HOME, and will be staffed on a part-time basis by an endodontics resident and faculty member from Einstein's I.B. Bender Division of Endodontics, Department of Dental Medicine. The project is being funded by the Association of Endodontists' Foundation for Endodontics.
The presence of a clinic that saves rather than extracts teeth is a significant achievement in access to care.
"Root canal procedures for adults aren't covered by Medicaid, so instead of saving a tooth with root canal and a filling, the tooth is usually extracted," said AAE member Dr. Frederic Barnett, Chairman of the Maxwell S. Fogel Department of Dental Medicine at Einstein. "There are a million reasons why that's bad."
Significant tooth loss and untreated dental disease have been linked to a higher risk of obesity or malnutrition, heart disease, cancer and reduced cognitive function. Missing and decayed teeth also impact self-esteem, which can interfere with employment opportunities. "Also, think of the countless number of people needlessly suffering with untreated oral disease, pain and swelling who will eventually seek treatment in area emergency rooms," Dr. Barnett said.
"Root canals are a necessary service for many of our patients but unfortunately, they are often unaffordable," said Dr. Janine Musheno, Dental Director of Project HOME. The clinic "will greatly benefit our patients," she said, who "can now choose to save their teeth without having to worry about the impact that their decision will have on their financial stability."
Sister Mary Scullion, founder of Project HOME, praised the new initiative as "changing lives in our community." Einstein Board Chairman Lawrence S. Reichlin spoke at the ceremony. Ruth Lefton, Chief Operating Officer and Joan Gubernick, Chief Marketing Officer, also attended. Executives from the Foundation for Endodontics came in from across the country.
The Foundation provides resources and funding for research, education, public awareness and access to care. This philanthropic arm of the AAE has previously provided free care in places such as Jamaica and Honduras; the North Philadelphia clinic will be the Foundation's first undertaking in the United States.
"Patients at the Project HOME Clinic will now have the opportunity to save their natural teeth under the care of an endodontic specialist," said Dr. Peter Morgan, president of the Foundation for Endodontics. "What a great benefit to that community and a great experience for endodontic residents. This is a rewarding outcome to all of the work by all involved."
This endeavor was inspired by Philadelphia endodontist and Foundation Past President Dr. Louis Rossman, who endorsed a domestic mission when he was head of the Foundation and introduced Dr. Barnett to Project HOME. He is volunteering his time as a faculty member at the clinic.
"My idea was to take the nearly 450 post-doctoral residents who attend close to 58 different universities learning to specialize in endodontics and have them rotate in their local communities," Dr. Rossman said. "The decision was made to use Project HOME at the Klein Wellness Center as our trial program."
Einstein is part of a Health Enterprise Zone created to meet the health needs of residents of North Philadelphia, where 31 percent of the population lives under the federal poverty line – twice the national average.
"You don't have to go far out of our own zip code to see the desperate need for our services."  Dr. Barnett said. "We are looking forward to a long-term association with Project Home and the vulnerable people they serve."
About Einstein Healthcare Network  
Einstein Healthcare Network is a 1,044-bed integrated delivery network with more than 8,500 employees serving the communities of Philadelphia and Montgomery County, Pa.  Einstein Medical Center Philadelphia is the largest independent academic medical center in the Philadelphia region training over 3,500 health professional students each year with 400 residents in more than 30 accredited programs.  The network also provides a comprehensive range of healthcare services through Einstein Medical Center Elkins Park, Einstein Medical Center Montgomery, MossRehab, Willowcrest, outpatient care centers, and a network of more than 700 primary care physicians and specialists throughout the region.  For more information, visit www.einstein.edu or call 1-800-EINSTEIN. 
About the Foundation for Endodontics
Association of Endodontists Foundation, headquartered in Chicago and incorporated in 1966, is the philanthropic arm of the A.A.E. As a 501 (c) (3) charity organization, it is to support endodontics by providing resources and funding for research, education, public awareness and access to care. For information about the Foundation for Endodontics, please visit ase.org.foundation.
About Project HOME
Since 1989, Project HOME has helped thousands of people break the cycle of homelessness and poverty by providing a continuum of services that includes street outreach, supportive housing and comprehensive services that focus on health care, education and employment through both adult and youth education and enrichment programs at the Honickman Learning Center and Comcast Technology Labs and community-based health care services at the Stephen Klein Wellness Center. Project HOME and its partners have pledged to end chronic street homelessness in Philadelphia, housing 2,200 people – 1,000 people who have been long-term street homeless, 200 youth who are homeless and/or aging out of foster care, and 1,000 people who are homeless on the street and addicted but ready for recovery and work. To learn more, visit www.projecthome.org.