Project HOME Announces Plan Addressing Opioid Epidemic for Individuals Experiencing Homelessness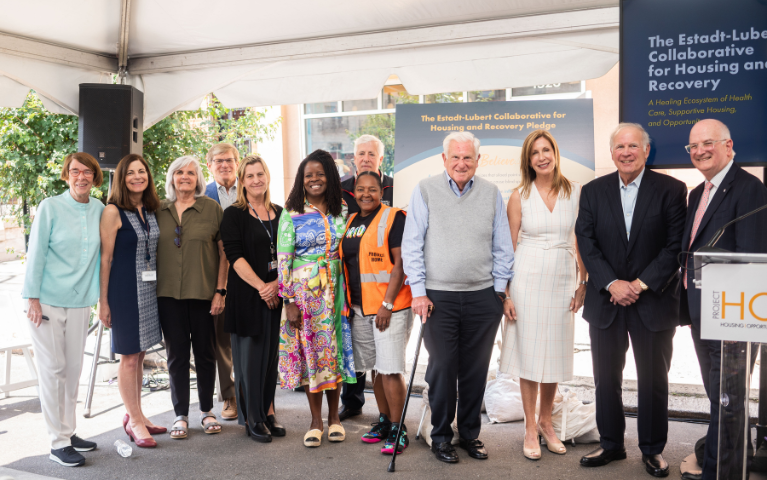 Project HOME, Jefferson Health, Penn Medicine, Temple Health collaboration made possible by Pam Estadt and Ira Lubert's $25 million lead gift
PHILADELPHIA, PA – May 31, 2023 – Project HOME today unveiled the Estadt-Lubert Collaborative for Housing and Recovery -- a groundbreaking collaborative changing the way the opioid epidemic is addressed for individuals experiencing homelessness. With a lead gift of $25 million from Pam Estadt and Ira Lubert, the Collaborative will reduce inefficiencies and greatly enhance the care of people through a comprehensive approach.
Despite historic public and philanthropic investments and groundbreaking approaches from the most advanced institutions in the world, opioid use disorder continues to tear individuals, families, and communities apart. In response to these previously unsuccessful, siloed solutions, the collaborative will foster what Project HOME has coined a "healing ecosystem" focused on three tightly integrated focus areas advancing housing, treatment, and recovery with continuous learning to empower community prevention and restoration:
Integrated healthcare 
Permanent supportive housing 
Employment and social wellness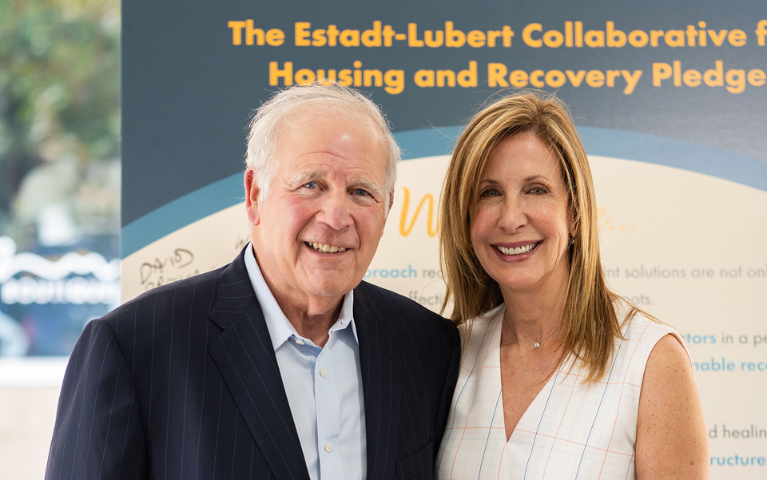 "Philadelphia and its Kensington neighborhood have become the epicenter of a national opioid crisis of a staggering scale, and we've seen its tragic effects on individuals experiencing homelessness first-hand," said Sister Mary Scullion, Co-Founder and Executive Director of Project HOME. "Thanks to Ira and Pam's profound generosity and leadership, this new collaborative offers hope for individuals battling substance use disorder. Through partnerships with the city's leading healthcare providers, peers, and consumers, coupled with supportive housing, this collaborative will be a game changer to combat this awful epidemic."
"We've all seen the devastation the opioid epidemic has caused for individuals and families here in Philadelphia and throughout the nation, and Pam and I are eager for our support to realize a transformational new approach to addressing this crisis," said Ira Lubert. "Project HOME has spent decades on the frontlines tackling homelessness and its causes, including substance use disorder. Their vision and approach makes them the perfect organization to run point on this vital effort."
The collaborative is led and organized by Project HOME, a nonprofit organization that has been on the frontlines of fighting homelessness and its causes since 1989. It will launch with three hospital partners -- Jefferson Health, Penn Medicine, and Temple Health.
"The resilience of people experiencing homelessness in the face of acute medical complications and complex barriers to care is remarkable.," said Lara Weinstein, MD, MPH, DrPH, Associate Professor at Thomas Jefferson University. "This collaborative creates a historic opportunity to use proven solutions across housing, healthcare, and treatment to support unsheltered people suffering with substance use disorder and transform the care systems of our city."
"We know that individual solutions and committed individuals can have a tremendous impact in combatting the opioid crisis," said Richard C. Wender, MD, Chair of Family Medicine and Community Health in the Perelman School of Medicine at the University of Pennsylvania. "What makes this collaborative so groundbreaking is that it creates a unified ecosystem that supports people no matter where they are in coping with opioid use disorder and brings together proven approaches and leading practitioners to build something truly distinct in our combined efforts to date. Our team at Penn Medicine is proud to be a foundational partner."
This unified approach would be among the first in the nation to eliminate gaps and blind spots in treatment and care while focusing on an individual's role in the community and the potential to improve impacted areas.
"This partnership has nearly limitless power and potential, and we're so excited to be a part of it," said Michael Young President & CEO, Temple University Health System. "By collaborating and sharing best practices and key program metrics, we'll quickly be able to build on our successes and refine our efforts to ensure we are achieving the maximum positive impact for those dealing with substance use disorder. All that data and learning will be the foundation of a model that can be replicated nationally."
Remarks from speakers included:
Sister Mary Scullion, Co-Founder, Executive Director, Project HOME
Joan Dawson-McConnon, Co-Founder, Associate Executive Director of Project HOME
Pam Estadt and Ira Lubert, Philanthropists and Lead Funders of Collaborative
Monique Taylor, Peer Outreach Worker
Philadelphia Mayor Jim Kenney
Kevin Mahoney, Chief Executive Officer of Penn Medicine
Michael Young, President & CEO, Temple University Health System
Dr, Lara Weinstein, Associate Professor, Program Director, Addiction Medicine Fellowship, Thomas Jefferson University
Watch the Press Conference in Full