Project HOME Awarded $6 Million Grant from the William Penn Foundation, Providing Transformative Funding and Resources for Inn of Amazing Mercy, Kate's Place, and Joyce's Place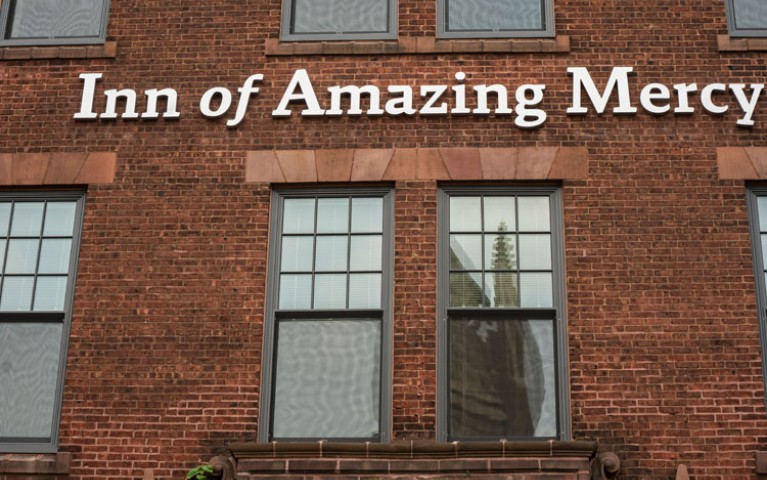 William Penn Grant Provides Critical Funding to Three Project HOME Residences, Enhancing Project HOME's Commitment to Provide Permanent, Supportive Housing for Individuals and Families Experiencing Homelessness 
PHILADELPHIA, PA – NOVEMBER 6, 2023 – Project HOME today announced it has been awarded over $6 million through a grant from the William Penn Foundation which will allow the organization to complete three priority residential projects. The grant provides critical funds to Project HOME's longstanding residence, Kate's Place, and provides a new home for Project HOME's Women of Change Program, which will now be housed in Project HOME's next residence, Joyce's Place. The grant also provided funding to Project HOME's newest residence, Inn of Amazing Mercy, which opened its doors in Kensington this past August.
"As we look ahead to our future, it's critical that we continue to find partners that make investments in affordable supportive housing which is the single most important resource to end and prevent chronic street homelessness and that we also find champions to expand the inventory of affordable supportive housing in Philadelphia.  This is such a critical need in our City and Nation. We are so lucky that through the William Penn Foundation, we have found a partner that addresses all of these needs," said Sister Mary Scullion, Co-Founder and Executive Director of Project HOME. "Thanks to this tremendous gift from the William Penn Foundation, and the ongoing visionary leadership of the Haas Family, we will be able to provide additional resources for those we serve and ensure all of our residences continue to advance and enhance our mission to end and prevent chronic street homelessness."
Project HOME currently provides over 1,000 units of supportive housing throughout the city of Philadelphia in 20 different residences. Project HOME's supportive, affordable residences offer permanent housing for individuals and families who had been homeless, with most residents coming to Project HOME from a safe haven, a shelter, or unsheltered.
The William Penn Foundation grant provides critical resources for the following capital projects:
About Kate's Place Funding: Located at 19th and Sansom Streets, Kate's Place has been a staple in the community since 2005 and is Project HOME's largest residence with 144 apartments. The new William Penn Foundation funding provides for Project HOME's preservation project that will make much-needed updates to the building. The project will make the structure safer and more energy efficient, meeting PHFA design standards, UFAS requirements, and Enterprise Green Communities criteria, while conforming to the requirements of the Philadelphia Historical Commission.
About Joyce's Place Funding: Located at 4849 Parkside Avenue, Joyce's Place is a rehabilitated residence in the Parkside neighborhood of Philadelphia that will provide a permanent home for Project HOME's Women of Change Program, which previously operated at 20th and Arch Streets. Joyce's Place will offer residents service coordination, personal recovery services, healthcare, education, social enterprise and employment opportunities, in addition to serving as a safe haven for 25 women (trans-inclusive) experiencing homelessness who have mental illness, substance use disorder, and other disabilities. The William Penn Foundation grant provided much need capital expenses for the converted use renovation and capital costs.
About Inn of Amazing Mercy Funding: Inn of Amazing Mercy is Project HOME's 20th supportive, affordable housing residence. Located at 115 E. Huntington Street, Inn of Amazing Mercy is Project HOME's second recovery-supportive residence in the Kensington neighborhood of Philadelphia, adding to its housing, services, and resources focused on treatment and support for individuals experiencing homelessness with substance use disorder. The Foundation's funding was critical in closing gaps in capital expenses for the construction and opening of the building and was pivotal in raising the $26 million needed to open its doors in August.
"Project HOME's pioneering work has been helping people regain stability in their lives for almost 35 years," said Kathy Christiano, Chair of the William Penn Foundation Board of Directors. "With this grant we're pleased to help Project HOME complete the fundraising needed to preserve and expand several supportive and affordable housing developments. We're always looking at opportunities to improve the quality of life for Philadelphians, and this investment in Project HOME will do that for all of us."  
About Project HOME
Since 1989, Project HOME has empowered thousands of adults, children and families in Philadelphia to break the cycle of homelessness and poverty by providing a continuum of care that addresses and alleviates the underlying causes of homelessness, including mental illness and substance use disorder. To accomplish its mission, Project HOME utilizes its comprehensive, nationally recognized HOME model – consisting of supportive housing, opportunities for employment, medical care, and education – coupled with street outreach, advocacy, behavioral health, and recovery services. Project HOME and its partners have pledged to end chronic street homelessness in Philadelphia. To learn more, visit www.projecthome.org.
About the William Penn Foundation 
The William Penn Foundation, founded in 1945 by Otto and Phoebe Haas, is dedicated to improving the quality of life in the Greater Philadelphia region through efforts that increase educational opportunities for children from low-income families, ensure a sustainable environment, provide inclusive and equitable public spaces and arts and culture experiences, and advance philanthropy in the Philadelphia region. For more information visit www.williampennfoundation.org.