[RELEASE] Project HOME Achieves 1,000 Units of Supportive Housing with Grand Opening of Inn of Amazing Mercy
Wednesday, August 2, 2023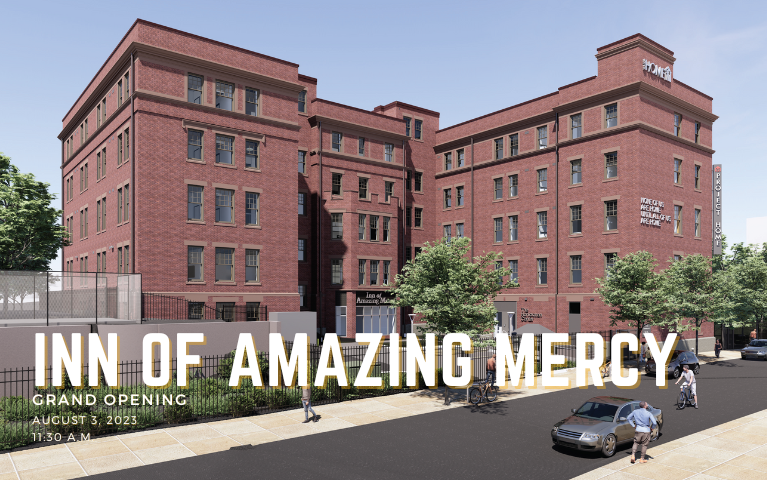 Newest residence at 115 E. Huntingdon Street amplifies Project HOME's focus on the opioid epidemic as a major root cause of homelessness in Philadelphia and beyond
Members of the media unable to attend the grand opening in person are invited to visit https://www.youtube.com/live/8QKFJ9JDkXQ?feature=share and attend virtually
PHILADELPHIA, PA – August 3, 2023 – Project HOME today announced the grand opening of Inn of Amazing Mercy, the organization's 20th supportive, affordable housing residence. Located at 115 E. Huntington Street, Inn of Amazing Mercy is Project HOME's second recovery residence in the Kensington neighborhood of Philadelphia adding to its housing and services resources focusing on treatment and support for individuals experiencing homelessness and battling substance use disorder. With the opening of Inn of Amazing Mercy, Project HOME has now exceeded the creation of 1,000 units of affordable housing across Philadelphia.
"We've long recognized that in order to end and prevent homelessness in Philadelphia, we must directly address the root causes of this crisis, which for many unsheltered individuals includes substance use disorder," said Sister Mary Scullion, Co-Founder and Executive Director of Project HOME. "The opening of Inn of Amazing Mercy in the heart of Kensington advances our work providing housing, healing, and hope on the front lines of the opioid epidemic. The fact that this residence marks our goal of building 1,000 units of permanent, supportive housing makes it especially meaningful, and we're grateful to Ward and Kathy Fitzgerald and so many other visionaries for their generosity and commitment."
Elevating a National Model for Street Medicine
The opening of Inn of Amazing Mercy enhances Project HOME's nationally recognized Epstein Street Medicine Program by serving as a hub for the program's groundbreaking work. With a deep understanding of the population experiencing homelessness in Philadelphia, three nurse practitioners and one registered nurse travel with Project HOME's Street Outreach Team across the city, with a current focus on individuals living unsheltered in Kensington. Meeting and treating individuals where they are, the team delivers holistic, person-centered and trauma-informed care through a harm-reduction lens, aiming to improve medical outcomes and enhance access to healthcare and support services. The program has emerged as a national model for combatting substance use disorder, among other health conditions, for those experiencing homelessness.
The opening of Inn of Amazing Mercy also follows the recent launch of the Estadt-Lubert Collaborative for Housing and Recovery, a groundbreaking partnership between Project HOME, Jefferson Health, Penn Medicine and Temple Health that is changing the way the opioid epidemic is addressed for individuals experiencing homelessness. The Collaborative advances a comprehensive "healing ecosystem" comprised of integrated healthcare, employment and social wellness services, and permanent supportive housing, including at Inn of Amazing Mercy. The opening of the residence brings the Collaborative one step closer to achieving its goal of transforming the care of those who are unsheltered and suffering from substance use disorder.
About Inn of Amazing Mercy
Inn of Amazing Mercy contains 62 units of affordable housing -- 50 units of long-term supportive housing and short-term housing and supplementary services for up to 12 persons with substance use disorder in 4 efficiency units and 8 respite beds. Residents are provided medication-assisted treatment through Project HOME's Healthcare Services team, in addition to case management and peer support. Residents are also connected to employment and education services, including assistance with certifications, computer training, on-the-job coaching, skill development, and support needed for ongoing housing stability.
"When society encounters challenges, it takes the courage of the public and private sector to become catalyst for change, and the team at Project Home have proven to be that change agent in Philadelphia," said Ward and Kathy Fitzgerald, philanthropists and lead donors of the new Inn of Amazing Mercy. "We are thrilled to join the other tremendous families that have supported Project HOME through the years in the Philadelphia area and feel fortunate to be specifically supporting this powerful project located in Kensington, which has the unfortunate distinction of being the epicenter of the opioid epidemic in the United States. With the Kensington section of the city continuing to draw national attention around this crisis, Inn of Amazing Mercy could be among the most critical seeds ever planted. The time has come for greater private involvement and the public sector at the State and Federal level, and we hope today's grand opening helps to encourage this. We are humbled to be a small participant in the noble work the members of Project HOME perform every day."
Inn of Amazing Mercy is the ninth project of MPOWER, a unique partnership model drawing on a powerful network of people and ideas that multiplies Project HOME's impact in five key areas: investments, relationships, resources, advocacy and evidence. The $27 million residence has been made possible in part by $14 million in private funding, contributed by over 20 donors. This includes leadership gifts made by Leigh and John Middleton and Pam Estadt and Ira Lubert along with a portion of a $6.8 million gift recently made by William Penn Foundation and capital gifts made by Hess Foundation, the Maguire family, and JBJ Soul Foundation.
"We're thrilled and so proud to once again lend our support and vision to Project HOME's ongoing mission with Inn of Amazing Mercy," said Jon Bon Jovi, chairman of JBJ Soul Foundation. "On behalf of the entire JBJ Soul Foundation organization, I'd like to congratulate Project HOME on achieving its goal of 1,000 units of housing and continued efforts to tackle the root causes of homelessness and poverty."
"With the opening of Inn of Amazing Mercy and our 1,000th unit of affordable housing, I'm proud of the progress we've made as an organization and the continued generosity of our growing community of MPOWER partners," said Annette Jeffrey, Senior Vice President of Development and Communications at Project HOME. "When we talk about MPOWER, we talk about 'The Power of We,' and Inn of Amazing Mercy is yet another product of the supercharged support engine MPOWER has become through the collective partnership of so many like Ward and Kathy Fitzgerald who believe in a better tomorrow for Philadelphia."
About the August 3 Grand Opening
August 3, 2023, 11:30 a.m.
Inn of Amazing Mercy – 115 E. Huntington Street, Philadelphia PA 19125
Ribbon cutting and remarks from speakers including:
• Sister Mary Scullion, Co-Founder & Executive Director, Project HOME
• Jon Bon Jovi, MPOWER Partner and Board Chairman, JBJ Soul Foundation
• Ward Fitzgerald and Francie Fitzgerald, MPOWER Partners and Lead Donors, Inn of Amazing Mercy
• Leigh Middleton, MPOWER Co-Founder and Trustee, Project HOME
• Ira Lubert, MPOWER Partner and Lead Donor, Estadt-Lubert Collaborative for Housing and Recovery
• Richard Peterson, Project HOME Resident, Inn of Amazing Mercy
• Kara Cohen, CRNP, Associate Medical Director, Project HOME Healthservices
• Tumar Alexander, Managing Director, City of Philadelphia
• Kelvin Jeremiah, President and CEO, Philadelphia Housing Authority
• John Paone, Board Member, PA Housing Finance Agency
About MPOWER
MPOWER is a Project HOME Community Investment Partnership drawing on a powerful network of people and ideas that multiplies Project HOME's impact in five key areas: investments, relationships, resources, advocacy, and evidence. In just 10 years, the partnership's impact multiplier model has leveraged $30 million into $250 million which has helped to provide services to more than 15,000 people, including ending chronic street homelessness for more than 800 people.
About Project HOME
Since 1989, Project HOME has empowered thousands of adults, children and families in Philadelphia to break the cycle of homelessness and poverty by providing a continuum of care that addresses and alleviates the underlying causes of homelessness, including mental illness and substance use disorder. To accomplish its mission, Project HOME utilizes its comprehensive, nationally recognized HOME model – consisting of supportive housing, opportunities for employment, medical care, and education – coupled with street outreach, advocacy, behavioral health and recovery services. Project HOME and its partners have pledged to end chronic street homelessness in Philadelphia.