Rising Leaders Committee member reflects on journey HOME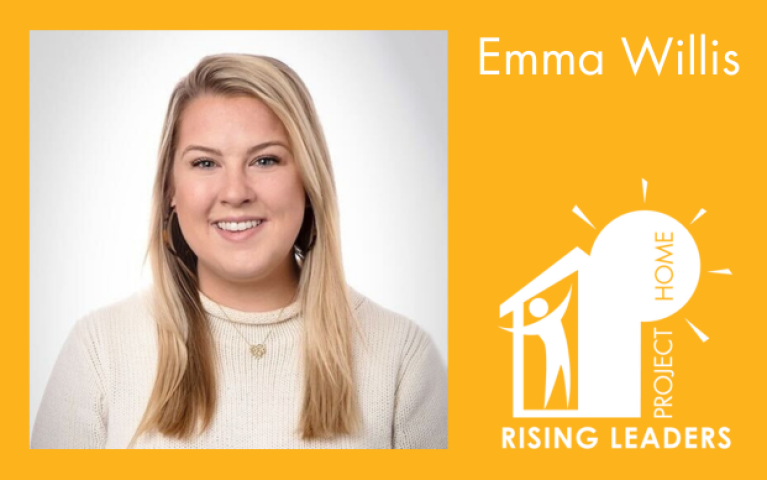 Philadelphia — the City of Brotherly Love and Sisterly Affection. This city is amazing — from the rich history to the diverse food options, but most importantly, the people. The people are simply what make Philadelphia great, and it's a key reason for why I began working with Project HOME.
When I moved to the city, I immediately noticed the number of people experiencing homelessness around my apartment and office. Many of them had very relatable stories of how life took a turn and handed them a tough deck of cards. Homelessness doesn't happen in just one way and it doesn't happen to just one type of person. I loved talking with each person I met, and I helped as much as I could by providing meals and resources for where to find additional assistance. I knew there had to be other ways to make an impact. After expressing this desire to my cousin, she connected me with the Rising Leaders Committee at Project HOME.
While I have always known about Project HOME, my introduction to the Rising Leader Committee has been a game changer. Seeing a group of young professionals gathering to support the mission of Project HOME inspired me to take more action. Within my first few Rising Leaders Committee meetings, I was energized and inspired. I wanted my peers, colleagues, and friends to know that homelessness is solvable and that we can all be doing our part as a community to make that a reality for Philadelphia. Now, seven years later, I am honored to serve the committee as the Marketing Chair.
The goal of the Rising Leaders Committee is to raise resources and awareness in order to accelerate Project HOME's mission to end and prevent chronic street homelessness in Philadelphia. Our team meets monthly to discuss volunteer opportunities and action items for our yearly events. As we prepare for Project HOME's 35th Anniversary Gala in 2024, we look forward to once again hosting the third annual Race HOME. This year we are setting a "Raise or Run" challenge that will directly support the resources across Project HOME that support and enable a person's journey home. You can run the 5k, walk the one-mile fun run, set a fundraising goal, or volunteer to help assemble care packages on the event day. Please sign up here to join the Race HOME! If you are interested in learning more about the Rising Leaders Committee, please reach out to us here.
In a city founded on "Brotherly Love and Sisterly Affection," I see this in action every day at Project HOME. More important that what I see on a daily basis is what I have come to know thanks to my role with the Rising Leaders: it is only when we come together as a community that we can make Philadelphia a city where None of Us are HOME until All of Us are HOME.