Roots and Branches: Reflections from Sister Mary
Thursday, January 14, 2016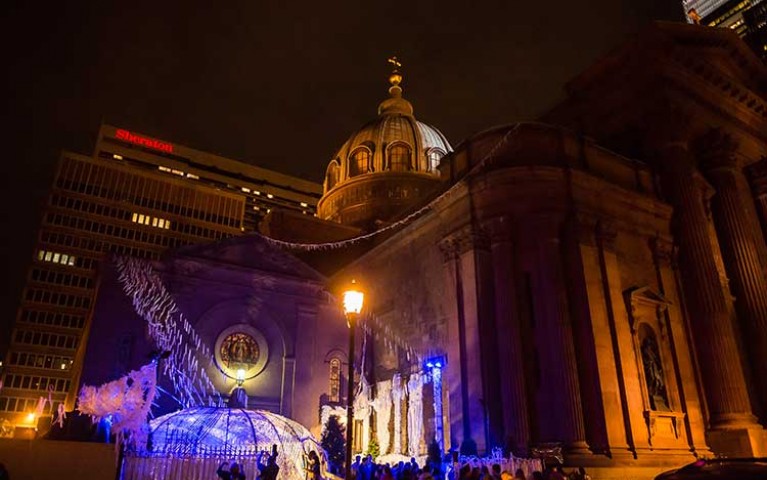 There were months of build-up, then two intense days, and now the papal visit of 2015 to Philadelphia is history. But most Philadelphians, I believe, are still feeling a deep sense of inspiration and uplift from the experience of this truly amazing visitor, Pope Francis.
We witnessed his personal acts of mercy—his time with persons in a homeless shelter in Washington, DC; his gathering with prisoners here in Philadelphia; his outreach to and advocacy for immigrants; his embrace of persons with disabilities, his warm welcome of children.
We heard his challenge—to build truly inclusive communities, especially with those on the margins; to use our political system to work for the common good; to resist the false gods of wealth and materialism; to build true justice with dignity for those who are poor.
One of the moments from the visit that left the strongest mark on me was Pope Francis's homily at the Basilica on Saturday morning. He recounted Pope Leo XIII's challenge to Katherine Drexel, our local saint: "What about you? What are you going to do?"
Those are the questions that continue to linger. And they are urgent questions. The Pope is back in Rome, and needs of our city are still with us. Countless people are still suffering from poverty, addiction, homelessness, abuse, and violence.
Several months ago, Archbishop Charles Chaput stated his deep hope that the visit of the Holy Father would be transformative for the Church and for our city. And without doubt, Pope Francis's two days in Philadelphia were profoundly moving and inspiring for many. Seeds of transformation have been sown— but it is up to us to bring those seeds to fruition.
Since the beginning of the Mercy and Justice campaign, we were able to raise more than $1.4 million for the Francis Fund, which will allow dozens of organizations to expand and enhance their services to some of our poorest citizens. We need even more people in our region to get involved to generously share their resources, time, and talent with those in need.
Through the Campaign for Justice, tens of thousands of people contacted their congressional representatives urging them to forge substantial policies that meet the needs of poor Americans. We need more people, congregations, and organizations in our region to commit to the important work of advocating for systemic change and social justice—especially as we enter a national election year.
The beautiful Knotted Grotto at the Basilica Cathedral, created in honor of the Pope's visit, collected well over 150,000 "knots" through which people shared their struggles. We need to learn more deeply as a community the importance of naming and sharing our struggles, which can become a taproot of real strength and healing for all of us.
"What about you? What will you do?" It's up to each one of us personally to commit to action. Let the legacy of Pope Francis's time in Philadelphia be our renewed commitment to working to end homelessness and poverty in our city. The seed has been planted. Let us now be the agents of true transformation.