Roots and Branches: Reflections from Sister Mary (Summer 2020)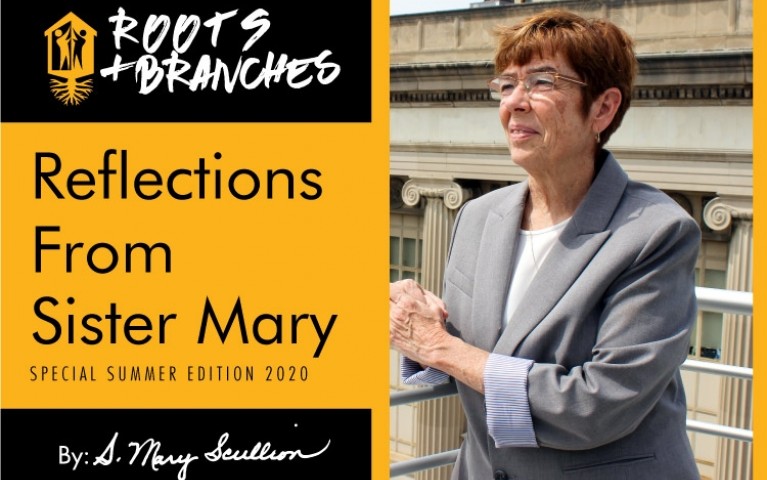 A formative part of my education as a young person, both at St. Joseph's University and in my early years as a member of the Sisters of Mercy, was understanding the vital connection between compassion for persons who are hurting and the need to respond to social and systemic injustice that are at the root of much of that suffering.
Racism is a social sin. In my earliest days of working with people experiencing homelessness, it was obvious how homelessness was having a massively disproportionate impact on persons of color. A key point in my own journey of change was our struggle to "Free 1515" – the 5-year legal and political campaign to open our first permanent housing facility at 1515 Fairmount Avenue. Many elected officials and community leaders used the legal system to prohibit persons with histories of mental health issues from moving into "their" neighborhoods. As a white woman, I came to feel deeply the damage of discrimination – how persons were labeled and dehumanized, and how legal and political systems could be used to enforce injustice and deny basic human rights. It was a blatant denial of the American dream of equal opportunity for all.
My own journey of transformation continued when I moved into the St. Elizabeth's neighborhood in North Philadelphia, where Project HOME was embarking on broader community efforts. We knew that homelessness was rooted in economic disinvestment and that we needed to address the roots of homelessness through affordable housing, economic development, educational opportunities, and accessible healthcare. But it was in the personal relationships with neighbors, especially our beloved Helen Brown, that my eyes were opened to how racial injustice was so damaging, both personally and communally.
The recent tragic events in our country are forcing many of us to take a deeper look at the pernicious roots of racism and for white persons and for largely white-led organizations to work on our own complicity. We at Project HOME are working to take the next steps in our transformation so we will be more empowered to act as advocates for social transformation. We will continue the work of breaking down discrimination by building bonds of Beloved Community; and we continue to work for urgently needed systemic reforms in areas of housing, education, health care, and racial justice.
This painful moment in our society is a call for deeper transformation. Each one of us must acknowledge our own biases, listen to and learn from our Black and Brown colleagues and open ourselves up to being transformed. We can only work for racial justice and Beloved Community if we are willing to be truly changed – for only then can we bring about real systemic change.