Setting Young Adults Up for Success
Wednesday, October 20, 2021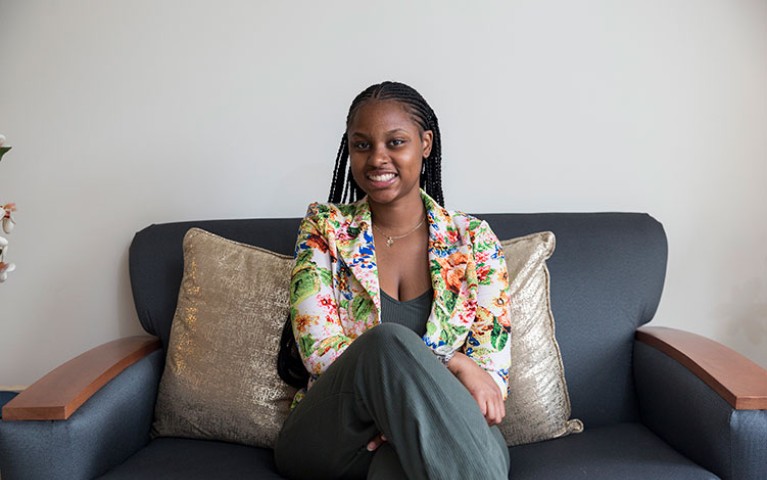 "The staff listened to me and encouraged me that I've got this!" - Shahida, former young adult resident at Project HOME
"If you interrupt young adult homelessness at a pivotal moment, you can change a person's trajectory, forever," explains Project HOME Residential Director Carolyn Crouch-Robinson. She says that with a huge smile on her face, because she's seen it happen in young adults like Shahida. 
Shahida joined Project HOME at age 20 after spending two years without stable housing. She grew up in the foster care system and aged out at 19. She knows what it's like to not have stability or support. But when she moved into one of our newer buildings, Ruth Williams House at the Gene and Marlene Epstein Building while attending St. Joseph's University, that changed.
"I have had both emotional support and help with my school and career goals," said Shahida. "Although I am a very determined and self-motivated person, at times I didn't know if I would make it."
Shahida is not alone in that. According to a study from the National Institutes of Health which compared adolescent (age 13-17), young adult (age 18-34), and adult (age 35-78) homelessness, young adults report less time experiencing homelessness but more life stressors. The study says that this is a stage in life where young adults are establishing independence, going to college, getting a job and beginning romantic relationships. Juggling all of these can be tricky, says Carolyn.
In addition, nationally, an average of 40 percent of young adults experiencing homelessness identify LGBTQ–a disproportionate number. She believes that permanent supportive housing for young adults is crucial and if you give that support to someone who has never had it, then you're able to set them up for success.
We've seen so many examples of this; like our resident who reconnected with family he hadn't spoken to since age 14, or the 18 young adults who have each moved into their own independent housing since the program began in 2014; or the young adults who served as featured panelists at the 2020 National Network for Youth Summit. And while this journey for our young adults is not without its challenges, residents like Shahida have the support, encouragement, and determination to keep going.
Through her involvement in our Young Adult Program, she found a love for serving others and decided to major in Public Health at LaSalle University. In the midst of the global pandemic, Shahida also had to deal with the anxiety and stress that presented itself as a first-generation college student with virtually no family support.
"The staff listened to me and encouraged me that I've got this!" said Shahida. "And they're right - I have maintained good grades, and I graduated with my degree." Shahida is now working as a contact tracer for a large human services organization in the Philadelphia area and she has moved out of Project HOME into her own apartment.  
Our Young Adult Program, established in 2014 with support from the JBJ Soul Foundation, grown with a visionary grant from the Neubauer Family Foundation, and solidified by the generosity of John Alchin, Hal Marryatt, Arthur Kaplan, Duane Perry, Mel Heifetz, the Vert Charitable Trust, and countless others, continues to grow, as does the need for more housing for this age group. We started with 8 residents at JBJ Soul HOMES, grew to 30 people in 2017, and we now serve over 70 residents each year and we're not slowing down. In many ways, Carolyn would say that young adult homelessness and support looks no different to the support we provide for our adult residents.
Each person benefits from a permanent supportive living environment, good healthcare, a job, and further education. In other words, Housing, Opportunities for Employment, Medical Care, and Education, our over 30-year-old tested model of HOME. But what makes this group special, she says, is that if you catch them at the right time, you can prevent future homelessness and instability. You truly can change a young adult's trajectory, forever.