A Sign for Her Times
Wednesday, September 28, 2022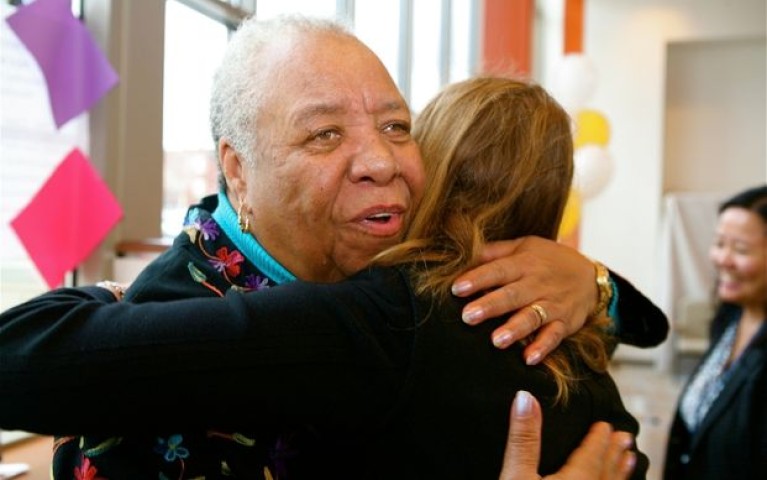 "When she hugged you, you stayed hugged."
You could almost feel her presence, her commitment to the community, her dedication to improving the lives of others. Helen Brown, Project HOME's long-time community activist passed away four years ago.
But her passion and no-holds-barred approach to problem solving were alive in the anecdotes shared by neighbors, community leaders, and more than a half-dozen speakers gathered outside the Helen Brown Community Center in North Philadelphia. They came to remember "Ms." Helen and to carry out a City Council resolution renaming the 1800 block of North 23rd Street "Helen Brown Way."
It's official! Helen Brown Way is unveiled. #helenbrownway pic.twitter.com/KzkKWKD1I0

— Project HOME (@ProjectHOME) August 24, 2022
Council President Darrell Clarke, Congressman Dwight Evans, and Sister Mary Scullion and Joan Dawson McConnon, the executive director and associate executive director of Project HOME, were among those who unveiled the ceremonial street signs after talking about Ms. Helen's tireless fight for community-based services, neighborhood revitalization, and home ownership. Ms. Helen was fearless in her outreach to city officials and elected leaders. She had their numbers. She knew how to get things done.  
"Miss Helen helped rebuild a neighborhood," said Sister Mary, relating just how impactful Ms. Helen was in her work to heal her North Philadelphia community. She credited Ms. Helen with bringing people from all walks together to do the hard work with compassion and empathy.
"I miss the heck out of her." said Clarke, paying tribute to his "surrogate mom" while giving the official proclamation of the street renaming.
In addition to her enormous hugs, Ms. Helen was known for her commitment to young people. She helped establish the mega-award-winning North Philly Footstompers, a youth drum and drill team that wrapped up the day's events with a heart-pounding performance.  
The North Philly Footstompers! A lasting legacy of Miss Helen's impact on generations of young people in this community. #helenbrownway pic.twitter.com/cJLtFK06AT

— Project HOME (@ProjectHOME) August 24, 2022
Ms. Helen's daughter, Deanna Harris, wrapped up the day's remarks by sharing stories that revealed her mom's truest self: funny, honest, and in charge.
"For 50 years, my mother gave her blood, sweat, and tears to this community."
And we are all better for it.