Spirit of Generosity: John and Sheila Connors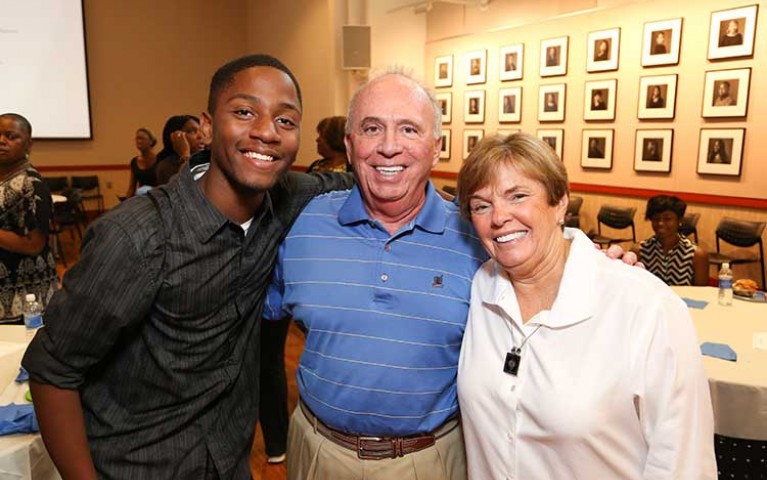 John and Sheila are committed to supporting teens from North Central Philadelphia by funding work experience from high school through college.
The following article is in the just-released spring edition of our News from HOME print newsletter.  If you would like to receive the newsletter in the mail, click here.  You can read more of the newsletter online here.
It was a good friend, Fr. Ed Hallinan, who insisted that Sheila and John Connors had to visit Project HOME.  "He told us that there was a lot of good happening there," John remembers.
It was the early 1990s, and Project HOME was still fairly small.  "There were only a couple of residences back then," John recalls.  "We were overwhelmed by the dedication of Sister Mary, Joan, and the entire staff and by their ability to get things done."  He remembers their first tour of the St. Elizabeth's Recovery Residence on a Saturday morning.  They met several residents and noted how spotless the facility was.  "Mary told us it was clean because Eddie waxes the floors and cleans the stove."  John was also impressed by the way the residents took ownership of the residence. 
That initial visit was the beginning of a long and fruitful friendship and partnership.  The Connors have been involved in many aspects of our programs and strategic growth.  John has served on the board for a couple of terms and leads the Investment Committee.  Sheila loves volunteering on special programs at Project HOME, starting years ago at our former 1515 Back Home Café and Our Daily Threads thrift shop.  She currently serves on our Art Advisory Committee.  "The arts program is growing so much, improving artists' work and lives, and it's so self-satisfying to be even a small part of it."  Last fall she worked at the Knotted Grotto during the visit of Pope Francis.  Both John and Sheila found it wonderful to meet people from all areas of the world, each praying for a knot and adding their own.  "Struggles are the same wherever you are."
One of their singular contributions to Project HOME is the Teen Internship Program, for youth attending programs at our Honickman Learning Center and Comcast Technology Labs.  John and Sheila were committed to supporting teens from North Central Philadelphia by funding work experience from high school through college.  Today, the program has grown from five teens to more than fifty a year – each gaining valuable experience to put on their resumes for when they graduate.  Both John and Sheila get personally involved with teens, and see firsthand the personal successes in their program.  Sheila has been especially impressed with their poise and self-confidence.
The Connors have watched our mission expand over the years, but have been impressed at how "Project HOME has kept its character and cheerfulness as it has grown."  It's ten times the size and on track to end chronic street homelessness, but still, Sheila says, "Everything you give at Project HOME, you get ten times more back."
Project HOME is grateful for the leadership and support of John and Sheila, as well to other employment partners, who provide internships for the Teen Program.  If you would like to provide an internship for a teen or college student, please contact Brendan Sculley at [email protected].