Peg's Place Grand Opening Celebration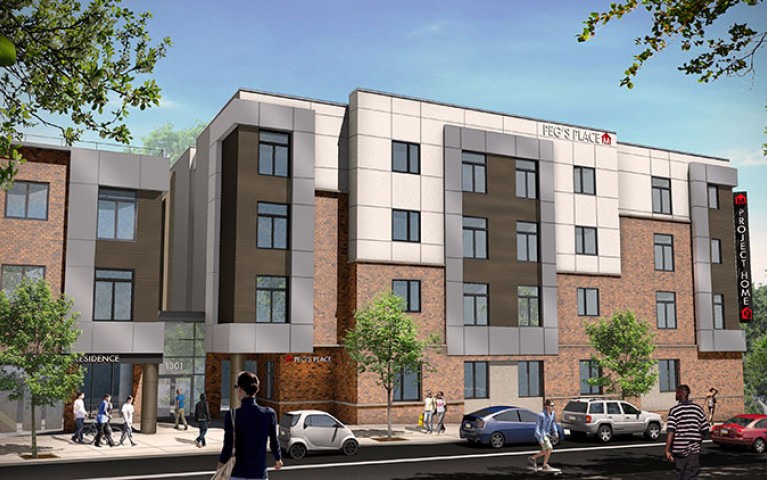 On Monday, September 27, 2021 at 10 a.m. we will celebrate the grand opening of Project HOME's newest residence.
Peg's Place provides 40 affordable homes to men and women with up to 10 apartments for young adults (aged 18 to 23 at entry) who are experiencing homelessness.
Residents have access to medical and behavioral health services and substance use treatment and recovery services, as needed. In addition, all residents receive employment and education services through Project HOME's Workforce Solutions program. We believe that with interventions to stabilize, educate, employ, and empower these men and women, we can prevent them from becoming chronic homelessness in the future.
This is the eighth project of MPOWER, a unique partnership model drawing on a powerful network of people and ideas that multiplies Project HOME's impact in five key areas: investments, relationships, resources, advocacy, and evidence.
...
Sponsorship opportunities are available! Your Bring Philly HOME sponsorship will create a pathway of opportunities for those struggling to find a way HOME. We hope you will find a meaningful way to participate this year. For more information, contact Matt Beierschmitt at [email protected].
...
COVID-19 Precautions
In addition to following all local and Centers for Disease Control (CDC) guidelines, Project HOME – under advisement from our Healthcare Services team – is requiring that all guests, staff, and volunteers attending Bring Philly HOME events where food and beverage are served, provide proof of full COVID-19 vaccination.
This includes the Welcome Reception on Thursday, September 23, and the Bring Philly HOME Celebration at Cherry Street Pier, Wednesday, September 29. Guests will be asked to show their physical vaccination card or a photo of their vaccination card along with a matching photo ID.
"Fully Vaccinated" means that guests are at least 14 days after their final COVID-19 vaccine dose. Proof of a negative COVID test will not be accepted for entrance into the event.
In addition, though events are primarily outdoors, all guests are required to wear masks at all times when indoors.
If you have symptoms that are consistent with COVID, please do not attend, consider getting tested, and we hope you feel better soon! (Symptoms include fever, cough, runny nose, sore throat, loss of taste or smell, gastrointestinal problems, or shortness of breath.)
We appreciate your support of this policy as we do our best to ensure safety for all attendees. This policy is subject to change.  If you are interested in obtaining a COVID-19 vaccination, please visit Project HOME's Stephen Klein Wellness Center https://projecthome.org/stephen-klein-wellness-center .
If you are no longer able to attend an event, please contact Samantha Blatt at [email protected]home.org. Please contact Annette Jeffrey, VP of Development and Communications, with any questions or concerns at [email protected].
We look forward to being together, safely, and Bring Philly HOME! Thank you for believing in our vision that none of us are home until all of us are home.
...
About Bring Philly HOME
Bring Philly HOME is the premier networking and fundraising event hosted by Project HOME's Rising Leaders Committee. Each year, hundreds of enthusiastic professionals and committed advocates join the Rising Leaders for an evening filled with big ideas, inspiring stories and motivating presentations from regional leaders committed to ending and preventing chronic street homelessness in Philadelphia. The event raises funds and awareness for Project HOME's mission and key initiatives including street outreach, supportive housing, comprehensive healthcare and education and employment opportunities. It's a one-of-a-kind opportunity for a new generation of leaders and advocates to join in Project HOME's commitment that none of us are home until all of us are home.
About the Rising Leaders Committee
The Rising Leaders Committee is a unique group of enthusiastic professionals from the Greater Philadelphia region dedicated to supporting the vision and mission of Project HOME. Since 2005, the Committee has offered individuals the opportunity to build relationships with other like-minded people, while helping to support individuals in our community who either experience or are at-risk of experiencing homelessness. There are several ways to get involved, ranging from volunteer days, participation in the annual Rising Leaders Event and other projects centered on the work of Project HOME. Contact us for more information.