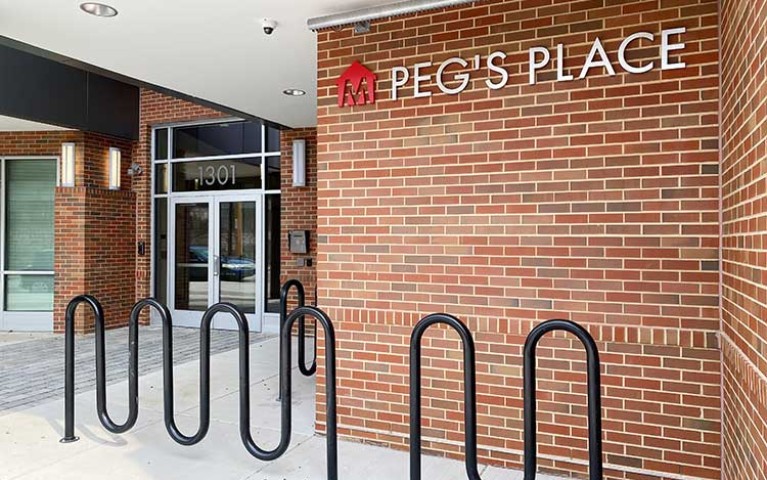 Project HOME is on the frontlines of addressing one of the most devastating crises in the nation – homelessness. Peg's Place adds 40 apartments in North Philadelphia to Project HOME's nearly 1,000 units of permanent supportive housing. Located right next door to our Gloria Casarez Residence, our residence for young adults, it includes beautiful green space that is accessible to the neighborhood.
By creating safe, recovery-focused housing, Project HOME will empower adults to break the cycle of chronic homelessness while addressing the impact of mental illness and addiction. Peg's Place will help residents establish a lifestyle that promotes wellness, recovery, and community. Residents are linked to medical and behavioral health services and substance use treatment and recovery services, as needed. All residents are eligible to receive employment and education services through our Adult Learning and Employment department.
Additional Information
Eligibility requirements include (but are not limited to):
All applicants must be 18 or older. No alcohol or drugs on site.
Maximum household size at move in is 1 person.
Four units are reserved for applicants who are homeless. You must apply through your case manager for these units.
26 units are reserved for applicants who are homeless, formerly homeless, or at risk of homelessness.

The income limits are determined by HUD and change every year and may vary by unit. The following is the maximum income allowed as of April 2021: $39,720. Please note that some units have an income limit that is lower than the amount listed above. Only households with income at or below the identified limit will be selected for those units.

Full time students are not eligible unless they meet certain additional eligibility requirements
Annual Income Limits (subject to annual change)
| | | |
| --- | --- | --- |
| UNITS | AMI | INCOME LIMIT |
| 4 | 20% | $13,240 |
| 20 | 50% | $33,100 |
| 16 | 60% | $39,720 |
Rent is equivalent to greatest of 30 percent of monthly adjusted income, 10 percent of monthly gross income, or $50 minimum rent (except in case of hardship). Resident pays for unit electricity, cable, and phone.
Four units are fully accessible to people with mobility impairment
Two units are accessible to people with sensory impairment
A person with a verifiable disability who needs the features of these units will be given priority
How is a pre-application different than a regular application?
A pre-application includes questions that gives the property manager some basic information about your household. That information is required to place you on the waiting list, however your eligibility is not determined at that time. The full application includes required forms as well as additional documentation provided by you. The information provided in the full application is then used to determine your eligibility of housing.
What if I don't have access to a computer?
You can call 215-309-5227 to schedule appointment to come to Gloria Casarez Residence at 1315 N. 8th Street for assistance placing your pre-application online between April 19 to 23.
How does the lottery work?
All eligible applications submitted between 10 a.m. on April 19 to 5 p.m. on April 23 will be placed in the lottery. A random lottery number will then be assigned to your application witnessed by an independent verifier. A letter is issued to you within seven days indicating your lottery number.
How long will I have to wait?
Applications will be reviewed for eligibility in order of their lottery number and ordered by bedroom size, program, or preference category. Once all units are assigned, the remaining applicants are placed on wait list in order of their lottery number.
What if I move or change phone numbers after I submitted my application?
Please log in and update your address or phone number if that information changed. There may be times that we ask you to update or provide information about your household. Failure to respond to written requests for information will result in your name being removed from the waiting list.
What is the maximum amount of income that I can have in order to qualify for assistance?
The income limits are determined by HUD and change every year and may vary by unit. The following is the maximum income allowed as of February 2021: $40,620.
Note: Some units have an income limit that is lower than the amount listed above. Only households with income at or below the identified limit will be selected for those units.
What are some of the other eligibility requirements?
All adults must pass a criminal, credit, and drug screening
You must be able to obtain/ transfer utility services (PECO) to the property
You must be able to provide satisfactory landlord or housing references
You must disclose and provide proof of social security numbers for each household member
The unit must become your only residence
Provide verifiable information for units are designated for applicants that are formerly homeless, currently homeless, or at risk of homelessness
Other eligibility requirements as indicated in the Tenant Selection Plan or program requirements may be communicated at the time of the interview
What information will you need from me?
The property manager will send you a list of documents and information required. Some of the information that you will need to provide includes:
Proof of name, birth date, and social security number of all household members
Proof of all sources of income such as paystubs, social security award letters, etc.
All bank account names and account numbers and other assets
A valid state-issued photo ID for each person who is 18 years of age and older
Citizenship or Immigration status
School or training enrollment status
Disability status as required for certain program eligibility
What else do I need to know?
Project HOME does not discriminate against applicants based on their race, religion, sex, gender identity, color, national origin, age, disability, familial status, genetic information, or sexual orientation.
An applicant desiring to lease an apartment must comply with all applicable eligibility criteria, including, but not limited to, the criteria set forth in the pre-application. All information provided by the applicant will be verified from all applicable sources including, but not limited to employers, providers, and federal, state and local government agencies. Applicants who have misrepresented any information during the application process may be removed from the waiting list or, if housed, subject to lease termination.
Applicants who are determined ineligible will be offered the opportunity to participate in an informal meeting with management to dispute the ineligibility decision.
Reasonable Accommodations for Applicants with Disabilities
We provide "reasonable accommodations" to applicants who demonstrate the need for them due to a disability. A reasonable accommodation may be a structural change to our units or common areas, or a modification of a rule, policy, procedure, or service that will assist an otherwise eligible applicant or a resident with a disability to make effective use of our programs. A family that has a member with a disability must still be able to meet essential obligations of the lease. If you or a member of your family have a disability and think you might need or want a reasonable accommodation, or if you need help completing this application, you may request it by informing the property manager at any time. This is up to you. If you would prefer not to discuss your situation with the property manager, that is your right as well.