Home for the Winter Holidays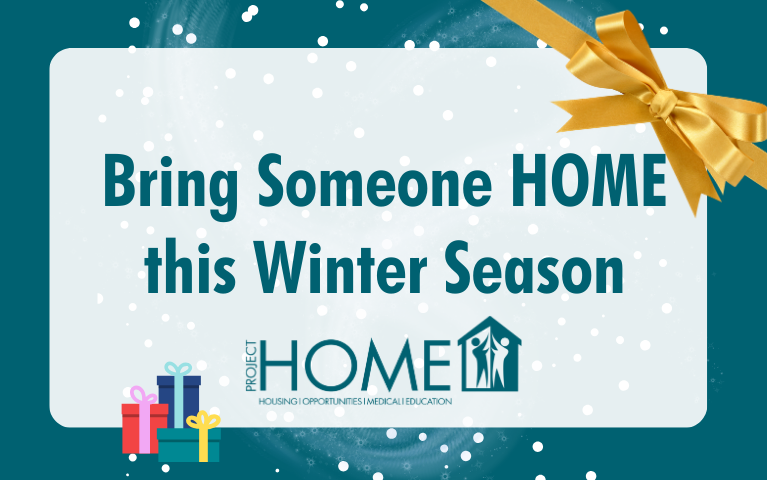 From Thanksgiving until the New Year, Project HOME has many meaningful opportunities where you can make the holidays happy, memorable, and bright for our entire community.
Please email Taylor Perkins, In-Kind Gifts and Volunteer Coordinator, at [email protected], to learn more about any of the opportunities below.
Thanksgiving and Holiday Meal Service
Every year, Project HOME provides a Thanksgiving meal and winter Holiday meal to all the residents who are a part of our community. By making a gift to sponsor a nutritious meal for our residents, you are giving our entire community a reason to be thankful.
$25: sponsors a Thanksgiving/Holiday meal for a Project HOME resident
$100: sponsors four residents
$250: sponsors 10 residents
$500: sponsors 20 residents
$1,000: sponsors an entire residence up to 40 

Gift Card Drive
You can organize a gift card drive that will benefit our residents – individuals and families who have experienced homelessness – during the holidays. Each year we collect $30 Target gift cards to Target that always boost spirits in the Project HOME community.

HOME for the Holidays
Our popular HOME for the Holidays campaign will be back this winter and you will once again have the opportunity to make holiday wishes come true for children and families in the Project HOME community. Grant a holiday wish starting November 1!

Run a Holiday Drive
Volunteers can participate in collecting items for our holiday drive. Items that we are in-demand during the cold weather months include:
New hats and warm socks
Coats, gloves, and scarves
Sweatpants and sweatshirts (M-XXL, men's and women's)
New blankets, pillows, sheets, and towels
You can ship any of these items to Project HOME directly when you purchase from our Amazon Wish List: Amazon.com

Sugar, Spice, & Sprinkles - A Holiday Cookie Drive
If you're still seeking a heart-warming and hands-on activity this winter season, consider baking cooking for our safe haven residents across Philadelphia. These locations include:
Cookies are asked to be individually wrapped and ingredients should be generic, such as granulated sugar, all-purpose or bleach flour, eggs, or (optional) milk. We do ask that the following NOT be used: Plant nuts, Peanuts, or Soy. Cookies can be dropped off at 1515 Fairmount Avenue, 19130 from Wednesday, December 20 to Friday, December 22 from 10 a.m. to 5 p.m.