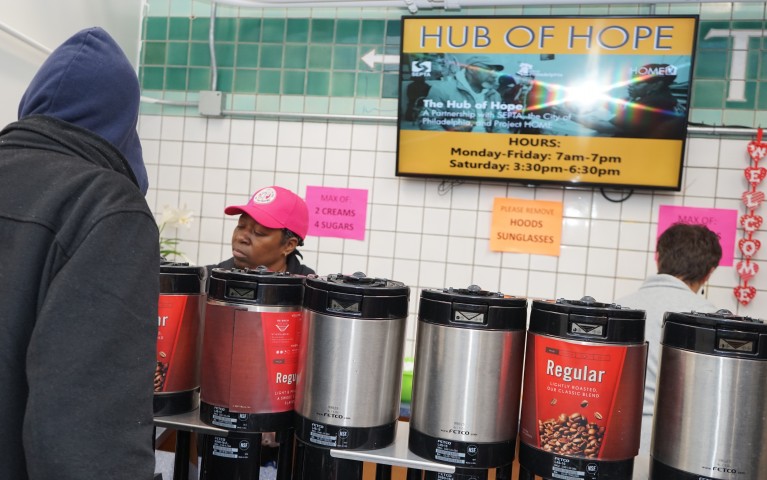 The Hub of Hope offers a safe place where people can enjoy a warm cup of coffee, take a shower and wash laundry, and speak to peers or case managers to begin the process of finding a permanent home. It creates even greater opportunities to connect individuals experiencing homelessness to recovery, medical care and ultimately stable, supportive housing.
Our daily services include: 
Case Management (8a - 4pm) 
Coffee Station (8a - 12p) 
Showers (8a - 3:15p) 
Laundry (8a - 2:15p) 
Transportation to Shelter with CATCH (8a - 12p) 
Living Room Program (8a - 12p) 
In partnership with SEPTA and the City of Philadelphia, Project HOME operates the year-round Hub of Hope in an expanded, permanent location in Suburban Station.
Additional Information
COVID-19 Update: Dental services at the Hub of Hope will remain closed until further notice.
...
Monday through Friday from 8:30 a.m. to 2 p.m
Walk in appointments only
The Living Room Program is a welcoming, safe, and respectful environment in the Hub of Hope opened from 8am to Noon.
Men and women become members because they have expressed a desire to form relationships, engage in conversation and groups, supports one another, and eventually form a community.
Persons can be recommended by a staff person, a participating member, or sometimes advocate for themselves.
Persons who are especially vulnerable because of their age, long-term chronic homelessness, mental illness, and other medical needs are a priority and often find comfort and care in the Living Room.
The combination of radical hospitality and communal connection makes the Hub's Hospitality Suite one of the most utilized services in our engagement center. Participants can take a hot shower, wash laundry, and leave feeling restored and dignified. Through this process, our staff members connect with those experiencing homelessness, creating a safe and reliable community for all. We welcome volunteers to help facilitate these services by serving hot cups of coffee, building hygiene kits, distributing meals, and sorting donations. Volunteers have the rare opportunity of interacting with participants on an intimate level, humanizing chronic homelessness in the city of Philadelphia.
Please deliver all donations to:
HOME Spun Boutique
1523 Fairmount Avenue, Philadelphia PA 19130
Deliveries can be made during the following days and times:
Monday through Thursday from 9 a.m. to 6 p.m.
Friday from 9 a.m. to 2 p.m.
The Hub of Hope is currently in need of the following:
• Travel sized toiletries including shampoo, conditioner, body wash, soap, toothpaste, toothbrush, shaving cream, razors
• New men's and women's underwear
• Laundry detergent pods
• New towels and washcloths
• New/gently-used warm weather clothing, such as sweatpants, sweatshirts, coats, hats, scarves, gloves
Those interested in donating in-kind items to the Hub of Hope can see our most pressing needs on our Amazon wish list.