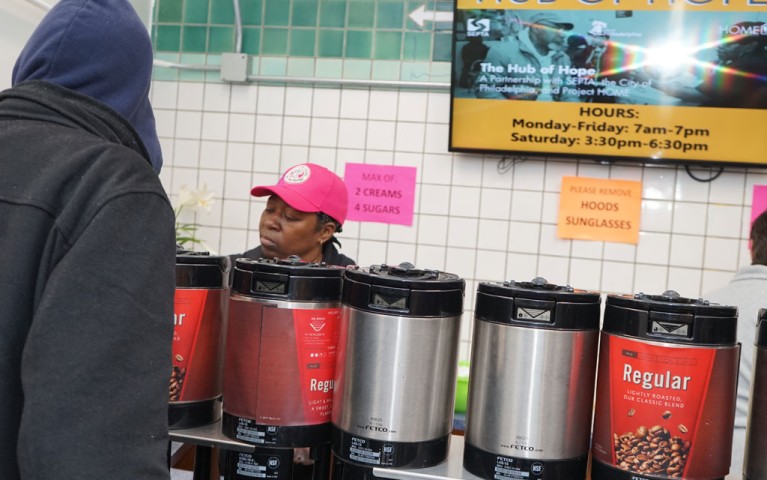 COVID-19 Update
Entrance: We are asking all guests to enter the Hub of Hope through Dilworth Plaza, on the southeast corner of 15th & JFK.  (Look for Dilworth Park Café, and steps leading from the street, down to 15th Street Trolley Station.)
Dental services at the Hub of Hope will remain closed until further notice.  
...
The Hub of Hope offers a safe place where people who are experiencing homelessness can enjoy a warm cup of coffee, take a shower, wash their laundry, and speak to peers or resource coordinators and ultimately, begin the process of finding a permanent home.  In addition to social services, the Hub of Hope offers a range of health care services, including—primary medical care, behavioral health care, and reproductive health services.
The Hub of Hope began in January 2011 as part of the Philadelphia Winter Initiative—a city wide program to open more spaces during the coldest months of the year.  The Hub opened each winter from January through April for a few hours each day. An important purpose of the Hub of Hope was to meet the City's most vulnerable residents where they were—namely, in the Suburban Station Concourse. The original Hub of Hope was roughly 900 square feet, located in a former salon store front. In the summer of 2017, Project HOME began conversations with SEPTA and the City of Philadelphia, and six months later, the Hub opened as a year-round program on January 31, 2018. 
The current Hub of Hope is 11,000 square feet. We are open Monday through Friday from 7 a.m. to 4 p.m. A grab and go meal service is available on Saturday and Sunday, on the corner of John F. Kennedy Boulevard and Broad Street beginning at 2 p.m., with approximately 120 meals distributed per service.  
Our daily services include: 
Resource Coordination (case management) (8am to 4pm) 
Coffee Station (7:30am, 10:30am, and noon) 
Showers (7:30am to 3:15pm) (last appointment)
Laundry (7:30am to 2:15pm) (last appointment)
Transportation to Shelter with CATCH (noon to 4pm) 
The Living Room (Monday through Thursday 8:30am to 3pm)
In partnership with SEPTA and the City of Philadelphia, Project HOME operates the year-round Hub of Hope in an expanded, permanent location in Suburban Station.