A Message from Sister Mary and Joan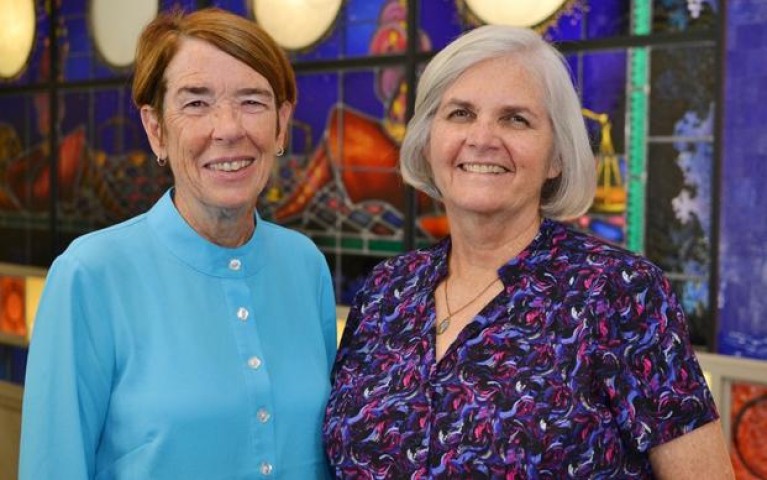 Dear Friends,  
As we write this, crews are hard at work building the Inn of Amazing Mercy. Mere steps from the Market-Frankford line's Huntingdon stop in Kensington, the Inn of Amazing Mercy will welcome 62 individuals HOME before the end of this year, and will also provide a touchdown space for our mobile health care and outreach teams. 
When renovations are complete, 54 units of permanent supportive housing and eight emergency beds will be filled by individuals who have been longing for something that has come into sharp focus over the last two years: a place where recovery, resilience, and renewal are possible.  
The Inn of Amazing Mercy, our 10th MPOWER project, will also mark a significant milestone – one that once seemed like a distant dream. We will proudly open our 1,000th unit of permanent supportive, affordable housing.  
During this journey, you have been right there with us. In the last decade, we have created more units of housing (526) than in our first 22-years (512). This steadfast momentum has been sustained by our residents, our staff, our MPOWER Partners, and YOU.  
While we celebrate this achievement and all it means to our community, it is also a time to redouble our efforts to end and prevent chronic street homelessness in our city.  
We know the challenges before us. Philadelphia remains in the grips of a poverty rate that outpaces the 10 largest cities in the country. The cost of owning or renting a home is soaring. Wages are inching forward when a great and giant leap is required. We fear that more people living in poverty today are at risk of experiencing homelessness than ever before.  
This is why we need your help.  
The solution to homelessness is clear: housing, when combined with education, jobs, and healthcare breaks the cycle of homelessness for individuals, families, young adults, and children.   
Every story in our community begins with a single step. Every single step HOME is made real thanks to your generosity. We hope that you will once again encourage our work and stand with Project HOME this year.  
Sincerely,  
Sister Mary Scullion/Joan Dawson McConnon
Make a Gift
Your Impact in Fiscal Year 2022
Housing
1,157 residents across Project HOME  
98 percent of young adults (like Michelle and Donnell) remain in stable housing after one-year  
Opportunities for Employment  
264 adult learners participating in Project HOME's Adult Education and Employment Department programs  
114 residents (up 40 percent over FY21) enrolled in post-secondary, GED, and/or professional certificate programs designed to lead to competitive employment  
Medical Care  
Education