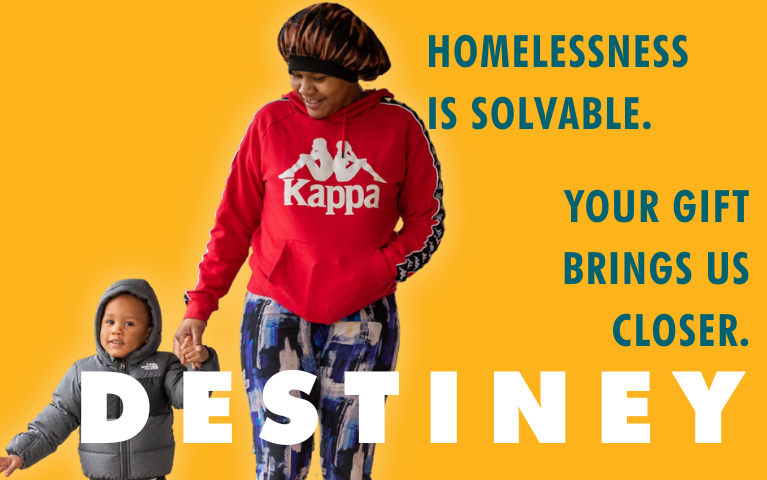 Meet Destiney
Destiney, a new mom to an infant and already in the grips of grief over the loss of her own mother, was soon dealt another blow: losing her home. Standing at her own crossroads, Destiney was in the unthinkable reality of homelessness. She then found open doors and opportunities at Project HOME's Rowan Homes. 
Destiney's future is bright. Her family is together and safe, no longer in fear of losing their home. Already enrolled in supportive programs and classes at Rowan homes, she is excited to start a phlebotomy class soon. While she's in class, Destiney's son has opportunities to grow at our Honickman Learning Center Comcast Technology Labs. The impact is tremendous, and your generosity is the catalyst to make an affirming, life-changing difference. 
"I'm rebuilding my family's future at Project HOME," Destiney shares with a smile. "There are so many programs here. The parenting program is my favorite, where my son and I can participate together." 
Your commitment unlocks a fresh start surrounded by a supportive community. Your leadership offers the reassurance that the road ahead isn't walked alone. Your generosity provides a vital accelerant to Project HOME's model of permanent, affordable housing, opportunities for employment, access to life-saving medical care, and life-changing education where they are needed most. 
Your renewed gift today will ensure that we are ready, in the moment of need, to welcome everyone HOME. 
Make a Gift
Your Impact in Fiscal Year 2022
Housing
1,157 residents across Project HOME  
98 percent of young adults (like Michelle and Donnell) remain in stable housing after one-year  
Opportunities for Employment  
264 adult learners participating in Project HOME's Adult Education and Employment Department programs  
114 residents (up 40 percent over FY21) enrolled in post-secondary, GED, and/or professional certificate programs designed to lead to competitive employment  
Medical Care  
Education