Honickman Learning Center Comcast Technology Labs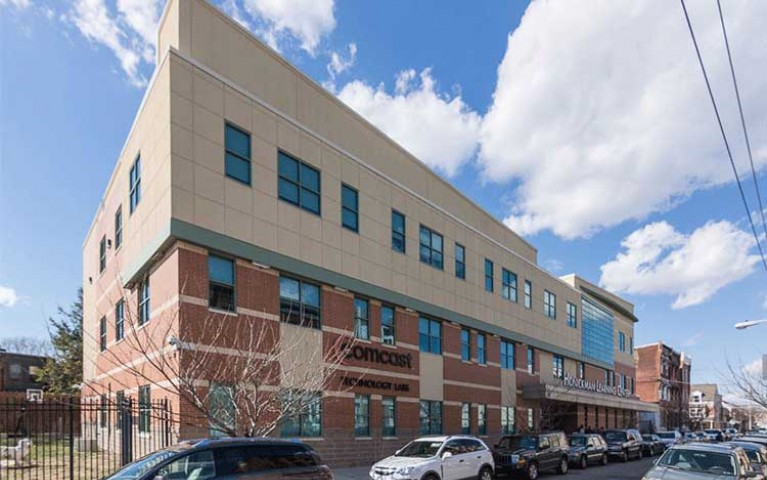 The Honickman Learning Center Comcast Technology Labs (HLCCTL) has been the centerpiece of Project HOME's revitalization strategy for the St. Elizabeth's/Diamond Street section of North Central Philadelphia since it opened in 2004.
The 38,000 square-foot, four-floor mega-center is technologically loaded with the most progressive hardware and software systems for education and learning, making it the largest and most advanced facility of its kind serving low-income populations in Philadelphia.
The HLCCTL runs programs which focus on the integration of technology with art, education and enterprise.
Programs are tailored to help the residents of the community—both children and adults—move toward greater prosperity by increasing their educational and employment opportunities through comprehensive technology and literacy instruction.
We Can Change the World
The video below was commissioned for the 10th anniversary of the HLCCTL and captures the warmth and support that are both in abundant supply at the facility.
Additional Details
For over 10 years now, the Wilt Chamberlain Memorial Auditorium at the Honickman Learning Center and Comcast Technology Labs (HLCCTL) has provided a gathering place for the Project HOME community and the wider Diamond Street neighborhood in North Philadelphia. When there is a reason to celebrate – we gather.
When we need strength – we gather. When we need to solve a problem, when we need to strategize and plan – we gather there. From receiving a nourishing snack every day, to proudly sharing their artwork, music, and films in quarterly teen exhibitions – the children and teens in the afterschool programs use the Chamberlain Auditorium every day. It is a place for the adult students to celebrate receiving their GEDs, gather for poetry readings, and attend job fairs.
When the neighborhood has needed to meet to address concerns, this beautiful space has provided a safe haven, offering a calm, well-maintained environment for assembly.
The auditorium was named for the late basketball legend Wilt Chamberlain by his sister, Barbara Chamberlain Lewis, who has generously supported the programs of the HLCCTL, with the help of trustees Stephen Cozen and Billy Cunningham, through the Wilt Chamberlain Memorial Fund. Wilt was a proud Philadelphian and believed that with educational opportunities, anyone can reach their fullest potential.
Project HOME is grateful for the ongoing, gracious support of the Chamberlain family and friends – particularly the recent major gift from the Wilt Chamberlain Memorial Fund in support of the programs at the HLCCTL.