Bank of America Provides Personal Protective Equipment and $55,000 Grant
Thursday, December 10, 2020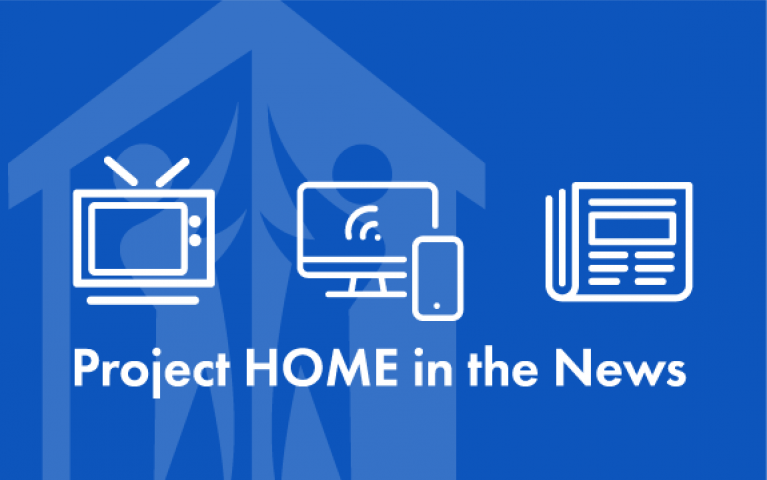 Bank of America has been working with local partners to provide resources to vulnerable and underserved communities hardest hit by the coronavirus. In Greater Philadelphia, which is experiencing a record-setting increase in the number of coronavirus cases this month, Bank of America is partnering with a number of organizations, including Project HOME to provide personal protective equipment (PPE) and supplies, specifically a total of 94,000 masks and 20 cases of sanitizer, and a $55,000 economic resiliency grant to Project HOME.
As the city enters Code Blue winter conditions, the grant will specifically be used to help individuals struggling with housing insecurity, which includes allocating resources to the Hub of Hope, a walk-in engagement center providing social and health services to individuals experiencing homelessness. Since the height of the pandemic in March, Project HOME has facilitated more than 7,000 visits to the Hub of Hope.
"Many families and individuals are still grappling with the negative impacts of the COVID-19 pandemic, and as we prepare for colder weather there is a significant shortage of safe locations for people experiencing homelessness," said Sister Mary Scullion, co-founder and executive director of Project HOME. "The additional funding and PPE provided by Bank of America brings us one step closer to equipping our staff with the resources necessary to serve more members of our community while also providing those struggling to find shelter with supplies."
The work is connected to Bank of America's $1 billion four-year commitment to advance racial equality and economic opportunity. So far, the bank has invested more than $100 million in local communities this year to address challenges brought on by the coronavirus. Bank of America has been working with local partners to provide resources to vulnerable populations and has already donated 15 million masks and 58,000, 8-ounce bottles of hand sanitizer to underserved communities, including communities of color, across the country.
"The health and safety of our employees, clients and communities remain our top priority during this health and humanitarian crisis," said Jim Dever, Greater Philadelphia market president for Bank of America. "In addition to providing more than $1.6 million in coronavirus relief grants to local Philadelphia nonprofits, another way we are helping our community during the coronavirus is by working with local partners to identify and distribute PPE masks and sanitizer to the most vulnerable populations, such as low- to moderate-income families, individuals experiencing homelessness and communities of color that have been disproportionately impacted."
Below is more information about how the 94,000 masks will be distributed in Greater Philadelphia:
42,000 masks for The Foundation for Delaware County to be distributed to the six Boys and Girls Clubs, food pantries, YMCAs and two churches.
20,000 masks to the nurses in The School District of Philadelphia to be used for caring for the students in the district and to provide to students without masks.
10,000 masks and 20 cases of hand sanitizers to Project HOME for use at JBJ Soul Homes, a permanent supporting housing residence for adults, and at the Hub of Hope.
10,000 masks to Center for Family Services to be used in a variety of programs and distributed to clients and program participants who need masks to enter buildings for services.
6,000 masks to Broad Street Ministry (BMS) to support Step Up to the Plate, a collaborative effort of Broad Street Ministry, Project Home, SEAMACC and Prevention Point Philadelphia working closely with the City of Philadelphia to provide free lunches and other services to the community.
2,000 masks to Back on My Feet to help members experiencing homelessness as they transform their lives by removing barriers to employment and housing.
2,000 masks to Bucks County Opportunity Council, Inc. for staff working in programs including: street outreach for homeless services, housing opportunities for reentry population where they assist individuals who are currently incarcerated or received parole, rapid rehousing assistance for homeless individuals and families and home energy conservation for households with low income.
2,000 masks to MAZZONI Center to help clients in the health center and its food pantry "Vivian's Cupboard."