College Access Program Celebration 2022
Tuesday, September 20, 2022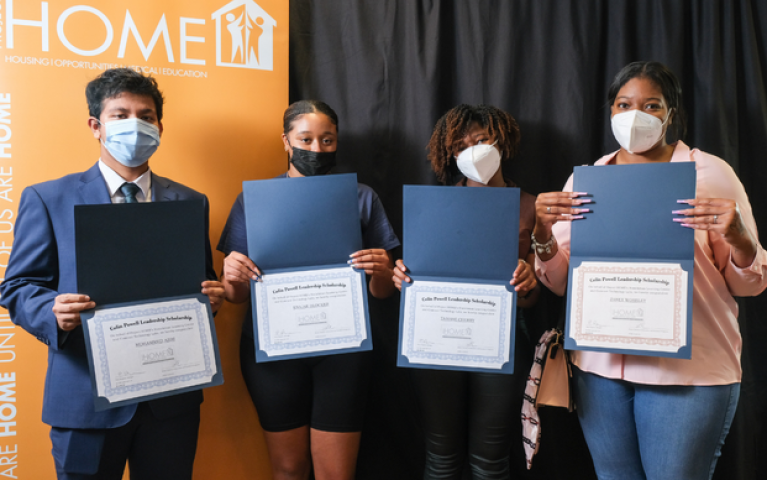 We celebrated the largest graduating class in five years and provided 33 scholarship to recipients worth $103,000.
Last month, the Honickman Learning Center Comcast Technology Labs (HLCCTL) was filled with families, donors, and past and present Project HOME staff members, celebrating the hard work of our graduating high school seniors and college students enrolled in the College Access Program (CAP) . Thanks to the amazing generosity of our donors, we were able to award $103,000 to 33 students enrolled in college, universities, and trade schools this fall.
Student speaker Kaiyn Grierson, a graduate of the class of 2022, reflected on her experience in the Teen and College Access Program, and shared her excitement in starting the next chapter of her education at attending Boston University this fall. 
Kaiyn shared her story during the event:
Throughout my four years at Project HOME I have been able to grow from a timid girl to a growing woman who isn't afraid to go after what she wants. Though many of my mentors here may say that I was born that way, it was really through their guidance and teaching that I learned what it really means to go after and follow your dreams. Before coming to this program I thought I had a clear picture of what I wanted to do, where I wanted to go to school as well as the person I was going to be. Yet looking back four years later I couldn't have been more wrong.
If it wasn't for the entire project HOME family continuously pushing me to try new things, meet new people and learn about new careers, I may have never been able to find a career and lifestyle I am completely passionate about.
As a first generation college student, this program has made many opportunities accessible such as my first internship, robotics club, and career readiness classes. Along with so many more opportunities that have made me even more prepared for the world than I ever thought I would be.
On top of that I am able to go to the school of my choosing, which could not have been achieved without the support of my whole Project HOME Family who helped me through this process as well making this decision, and my mother and family who have always supported me. As a result of their support as well as this entire program I am excited to say that I am able to advance my education at Boston University where I will be majoring in hospitality!
The program is an afterschool and summer program designed for 9th to 12th grade students who have an interest in preparing themselves for college, trade school, or future careers. The program seeks to prepare teens living or going to school in the 19121 or 19132 ZIP codes to achieve success after high school by providing support with academic retention, post-secondary education planning, and career readiness. It is due to the ongoing and consistent support of our donors that we have been able to provide resources and educational opportunities to the next generation of leaders. The CAP Scholarship Ceremony at is most often thought of as an annual celebration of success, but because of the pause on all events due to COVID-19, this year transformed into a reunion of achievement.
Many of the students in attendance have been program participants since they were in 9th grade. Dylan Abhsie, Teen and College Access Program coordinator, said "this demonstrates the support, comfort, and space that our students feel in this program. This is what encourages them to keep returning year after year."
Liz Bryson, the Teen and College Access Program manager, participated in her first ceremony and was amazed by the abundance of joy present throughout the evening.
"It was clear that this celebration was a homecoming of sorts, for both the students whose lives have been touched by our programs, and the former Project HOME staff members who have supported them. I left that evening feeling inspired to bring the next generation of students up through our program."
This year's celebration saw the largest graduating class in the last five years with students heading to colleges and universities across Philadelphia and beyond.
"This CAP celebration is one of my favorite events each year," said Sister Mary Scullion. "You are our future, you are our hope. You are men and women of action, men and women with honors. You are creating a safe, vibrant community we all want to live in."
At A Glance
We celebrated the largest graduating class in five years and provided 33 scholarship to recipients worth $103,000.
Students will be attending the following institutions:
Drexel University (three students)
Howard University
Boston University
Williamson College of the Trades
Thomas Jefferson University
Shippensburg University
Temple University (three students)
University of Pennsylvania
Montgomery County Community College