Debating the Federal Budget: How Will It Affect Homelessness?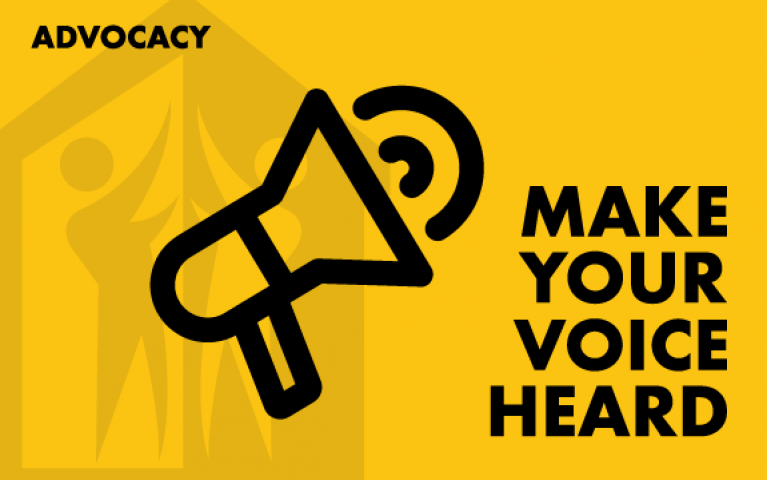 Laura Weinbaum, Project HOME's Vice President of Public Policy, offers the following brief analysis of the current policy debates over the federal budget and how it could impact Americans who are homeless or at risk of homelessness. She also includes action steps you can take to make a difference. It's budget time in the halls of government, and everyone's talking about belt-tightening, severe cuts, and even the possibility of a government shutdown… What is happening and what does it have to do with homelessness? And what can we do to have an impact?
As a first step toward clarity, we need to understand that the federal budget is proceeding on two tracks right now: The first track is the 2011 Appropriations process (with cuts and some possibly damaging changes in the works), and the second track is the new FY2012 budget recently proposed by the President.
FY 2011 Spending (the current budget)
The government's current spending authorization ends soon – on March 4 – and reauthorization must be granted to avoid a complete shutdown of all government services and of the employment of civil servants. Congress can pass a temporary funding resolution to keep the government operating – something that has happened habitually in the past. But this time, Republicans have threatened to refuse to pass that funding resolution, which would trigger a shutdown. The House has proposed cutting $65 billion in federal spending for the remainder of this federal fiscal year. These cuts would include the following:
Head Start ($1 billion – 15 percent cut from 2010 levels)
Job training ($1.4 billion cut)
Community Health Centers ($1 billion – 46 percent cut)
Substance abuse treatment ($200 million cut)
Community Services Block Grant ($341 million – 44 percent cut)
Low Income Home Energy Assistance contingency fund ($390 million – 66 percent cut)
FEMA Emergency Food and Shelter Program ($100 million – 50 percent cut)
Title I (K-12 education for low-income students) ($693.5 million cut)
IDEA (special education) grants to states ($560 million cut)
Commodity Supplemental Food Program ($26 million – 11.4 percent cut)
Community Development Fund ($2.95 billion – 66.3 percent cut)
Public Housing Capital Fund ($1.07 billion – 42 percent cut)
Housing for the Elderly ($551 million – 67 percent cut)
Housing for Persons with Disabilities ($210 million – 70 percent cut)
In addition several programs would be terminated, including the following: Reintegration of Ex-Offenders; YouthBuild ; Green Jobs Innovation Fund; Career Pathways Innovation Fund; National Health Service Corps; Family Planning (Title X); Teen Pregnancy Prevention Grants; Mentoring Children of Prisoners; Even Start; Striving Readers; High School Graduation Initiative; Student Aid – for higher education; LEAP program (for low-income college students). (Information from the Coalition for Human Needs.)
TAKE ACTION NOW on the current budget
Learn how the funding cuts will hurt your state, so that when you contact your legislator you can tell him/her how much this impacts you.
FY 2012 Spending Proposals
In a recent presentation, Housing and Urban Development Secretary Shaun Donovan presented the proposed HUD budget for Fiscal Year 2012 (October 1, 2011-September 30, 2012) He highlighted three strategies for HUD in implementing the President's commitment to level funding for the next five years: 1) Changes at the Federal Housing Administration which will raise fees and capital, while shrinking the federal costs 2) Priority on protecting existing households in HUD programs 3) NO new initiatives and ensuring the best functioning of the operating core. This, he says, will allow HUD to deliver on the President's promise to "win the future" through its focus on five key strategic plan goals: 1) Promote housing market recovery 2) Serve more families with rental assistance 3) Use housing as platform for improving quality of life and reducing spending on more expensive settings (such as nursing homes) 4) Foster inclusive and sustainable communities free from discrimination 5) Transform the way HUD does business. The National Alliance to End Homelessness also has created some great materials for looking at the impacts on homelessness of the President's FY 2012 budget proposal.