In Honor and Memory of Ms. Helen Brown
Wednesday, September 12, 2018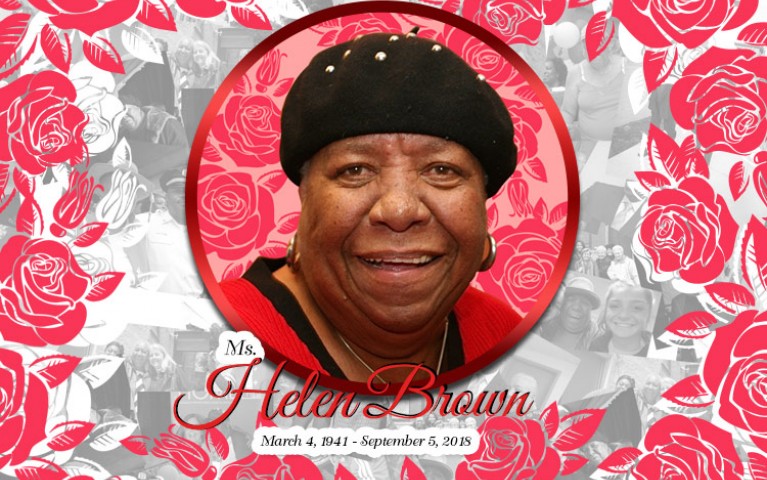 When Ms. Helen hugged you, you stayed hugged.
One of the pillars of the Project HOME community, Helen Brown passed away on September 5 at the age of 77. Over twenty years ago, Ms. Helen, as everyone called her, welcomed us into the neighborhood around the old St. Elizabeth's parish in lower north central Philadelphia. She soon became our Community Organizer, and spent the past two decades overseeing a phenomenal transformation in one of the poorest neighborhoods in Philadelphia.
A native of South Carolina, Brown moved to Philadelphia in 1960 at the age of eighteen. Over those decades, she witnessed the slow decline of the neighborhood, from a solid working-class community to an environment ravaged by urban blight caused by economic disinvestment, with the attending crises of family breakdowns, abandonment, failing schools and social services, drugs, and crime. She would often speak of the time "when crack came" – a particularly devastating period in the mid- and late-1980s that greatly exacerbated crime, violence, and despair in low-income communities like hers all across the city.
Ms. Helen was deeply involved in her community throughout those tough years, organizing neighbors and working to protect and care for vulnerable kids. She continuously worked with block captains, local police and politicians, neighborhood schools, and civic associations to stem the tide of blight and plant seeds of renewal in the St. E's neighborhood.
We were seeking to open a recovery residence in the old parish convent, and began reaching out to neighbors about how it could be a positive presence in the community. Ms.
One of her first initiatives was the genius idea of founding, along with fellow neighbor George Manigault, the North Philly Footstompers, a youth drill team. She understood that the drill team (which donned uniforms featuring her favorite colors of red and white) would "give the kids something positive to do" by instilling teamwork and discipline, but even she didn't foresee the phenomenal success: Over the years, the Footstompers have won numerous local, state, and national awards, including numerous state championships. But Ms. Helen knew that the real success was not in all the gleaming trophies but in the sense of pride these children imbibed – and the sense of pride and unity which they in turn stirred in the whole neighborhood.
The success of her precious young people was a forerunner of other amazing successes in the St. E's neighborhood. Ms. Helen's leadership, vision, and dogged persistence were instrumental in cleaning up empty lots and creating green spaces, rehabbing abandoned shells into affordable homes for neighbors, clearing out drug-infested corners and organizing neighbors and police against gun violence. Working with Project HOME and bringing together public and private partners with neighbors, she was pivotal in the development of the Honickman Learning Center and Comcast Technology Labs (opened in 2001) and the Stephen Klein Wellness Center (2012).
All of this was possible because Ms. Helen believed in everyone and brought the best out of everyone. She saw the kids hanging out on the corner and knew that they had the potential to get educated and make something of themselves. She befriended many of the Project HOME residents, recovering men and formerly homeless mothers, and knew they had strength and gifts to contribute to the community. While she was shrewd about the realities of politics, she built relationships with elected officials, believing they could be challenged to act with decency and genuine concern for their constituents. She was there for families who lost loved ones to gun violence – and then organized buses to go to Harrisburg to advocate for more sane gun laws.
She made everyone feel special and important – expressed in her big, loving embrace and her naming everyone one of "my babies." She knew how to celebrate and show appreciation for people. She held countless community gatherings, including dinners honoring first responders, and the annual Mothers Day luncheon. She was always present to celebrate the milestones and accomplishments of the young people in the neighborhood.
More than anything else, Ms. Helen stirred hope in the neighborhood. She was gifted in tapping leadership of both adults and youth. She was a bridge-builder. As she said a few years ago, "I was taught to take people where they are. I have met the richest people and the poorest people, and I treat them all the same. Trust people. This is how you build community." It was true – Ms. Helen brought so many different persons to the table and inspired them all with her boundless hope – and she also was not shy in putting them to work.
Peak Johnson grew up in the St. E's neighborhood, and he personally experienced some of the crisis of the troubled community when he lost his father to gun violence. Encouraged and inspired by Ms. Helen Brown (who was also his cousin), he graduated from Temple University and works as a journalist. "She was strong willed and fierce, all excellent qualities for the leader that she was in our shared community. Anything that needed to be done, Helen Brown was able to get done." Now 28, Peak still lives in Philadelphia, and focuses much of his writing on urban issues. "I will do my best to honor her in the years to come because I'm just not ready to let her go."
"Ms. Helen had remarkable courage and tenacity," said Joan McConnon, co-founder and Associate Executive Director of Project HOME. "She often said that her proudest achievement was getting drugs off the corners in her neighborhood. And that required standing up in the face of dealers at serious risk to herself."
City Council President Darryl Clarke, who Ms. Helen adopted as her son, spoke at the funeral of her toughness – which, he said, was part of her love and concern for others. "She's the only person I ever met who could cuss you out and make you want to embrace her the next minute."
Ms. Helen will have a permanent presence in the neighborhood in so many ways, but one concrete way will be the Helen Brown Community Center, the new name of the former St. Elizabeth's rectory, which Project HOME has operated for twenty years as the hub of our neighborhood work.
This past August, the St. E's neighborhood held it 25th Annual Day—an annual celebration that Ms. Helen began as a way of highlighting neighborhood pride and progress. She always presided over the event, but this year it was from her wheelchair. While she was frail, she still emanated strength in her bright red dress. Many of the neighborhood youth, aware that this was a particularly special celebration, donned the same large hats that were part of Ms. Helen's trademark fashionable look. Taking in the drill teams and parades, the crowd enjoying good food and festivities, she managed a simple wave, like a blessing—to this amazing neighborhood that had been blessed for decades by her presence.
Like we say, when Ms. Helen hugged you, you stayed hugged. We all continue to live in her great and endless embrace.