How Project HOME is Still Working After a Year of COVID
Wednesday, April 21, 2021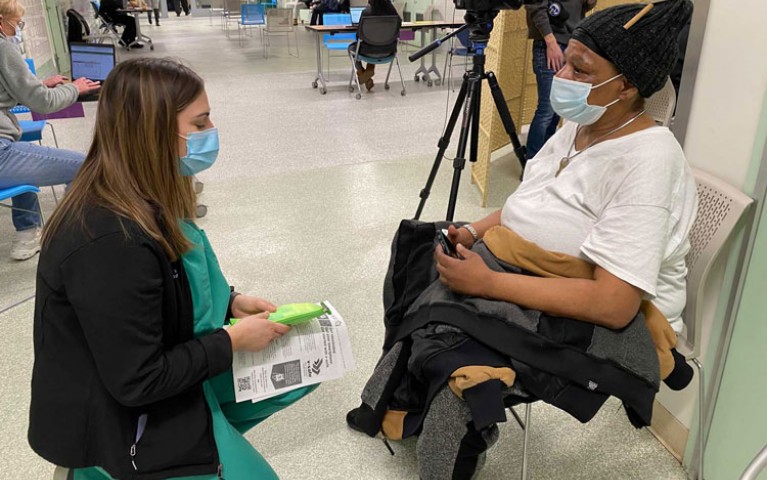 When COVID-19 first arrived at the doors of Project HOME last March, we had no clue in what way our lives or work would change, perhaps forever. Having lived with this highly infectious and devastating virus for a year, we certainly know a lot more about it now. We're still not quite sure yet about the path forward, but there a few certainties we can rely on, like our staff, our residents, and your support.
Residential community finding ways to connect
Even with COVID-19 restrictions, our residents have found ways to spend time together virtually in their buildings. Whether that meant playing bingo, painting pumpkins, or meeting once a week virtually for our organization-wide Inspirational Tuesday meetings. It hasn't been easy. Through it all, staff and residents have been leaning on each other to weather this storm together.
We also recognize that every single residence was hurt by this virus in one way or another. One community member lost to COVID-19 is one too many. Unfortunately, we lost many more than that. Now a year on, we're seeing a small light at the end of a very long tunnel. We've managed to start vaccinating our most vulnerable residents, helping to lessen the fear of this terrible disease.
Hub and outreach continue to bring services and hope
Things may look a little different at the Hub of Hope, our drop-in service center in Suburban Station these days. For example, you'll have your temperature checked at a tent before you walk down a long corridor to the double doors into the Hub. You'll see staff wearing masks and face shields and yet, somehow, nothing has changed. Staff have managed to continue serving coffee, offering showers, laundry, case management, support, and much more, all with a smile behind the masks. They've also started giving out COVID-19 vaccinations and so far, have managed to vaccinate well over a hundred individuals. The dedication of our Hub staff is nothing short of amazing!
Meanwhile, the resiliency of our outreach staff, which has always been incredible and admirable, has strengthened. In the last year they haven't just gone above and beyond, they've entirely outdone themselves. Staff have handed out thousands of masks, while meeting the needs of our friends and neighbors on our city's streets, and the need is great. Housing is at an all-time low, employment opportunities are difficult, if not impossible, to find and support networks are already stretched thin. Every connection made by our staff that results in someone saying yes to coming in, makes all the difference for their safety – helping to avoid the spread of COVID-19 and the dangerously low temperatures we've experienced this winter.
Medical staff continue to serve with kindness
In spring of last year, our medical staff were tasked with meeting the increased medical needs during a pandemic. Fast forward to the summer and they had developed the processes and capacity to test staff, residents and neighbors in the 19121 and 19132 ZIP codes. To say they've been busy, is an understatement. Today, you'll find them both testing and administering the COVID-19 vaccine to as many people as they can reach.
They have pivoted and adapted time and time again. It hasn't been easy to keep everyone safe, and sadly, not everyone has made it through. The sense of loss they've experienced is great, as it is for everyone at Project HOME and yet, they put on their personal protective equipment and get up to fight another day.
Project HOME continues to triumph over COVID-19
It's safe to say, just like you, we've changed a lot in a year. While COVID-19 has brought many, many challenges, it has also brought new opportunity. We've had time to reflect on what really matters, and to ensure that the most essential parts of our organization function well. We've met so many wonderful people who have stepped up in ways we couldn't have even imagined. Most importantly, we've been able to find community time and time again in this battle to end homelessness in our city thanks to the dedication of our staff, the commitment of our residents to persevere, and your unwavering support.