Meet Miss Helen Brown, A Community Powerhouse in North Philly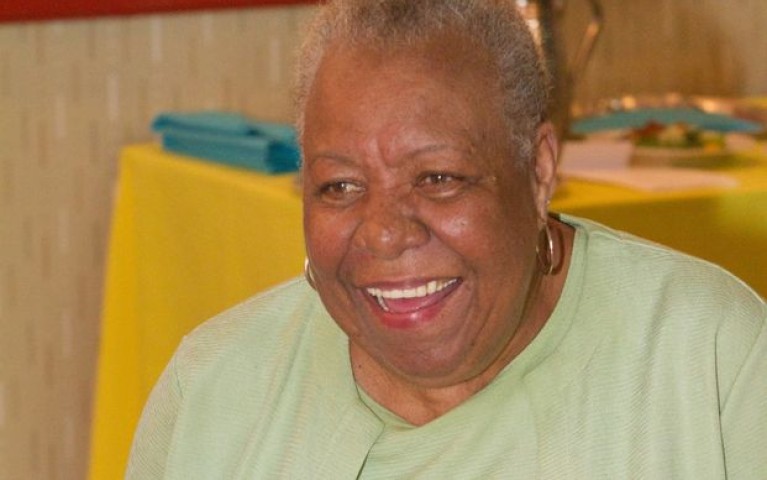 The following article was published on the Philly Police Blog on May 1. It does an excellent job of capturing the powerful spirit of one of our elder staff members, the beloved Ms. Helen Brown, the Community Organizer in our neighborhood. We are also grateful to our friends in the 22nd Police District.
...
In 1958 an 18-year-old woman named Helen Brown moved on to the 1800 block of N. 23rd Street. That young woman had no idea that she would become the de facto mayor of North Philly and the adopted Grandmother to three generations of children. On this day, her protégé, Albert Chestnut, bursts in to her office, "Grandma, somebody just got shot on Cecil B." Miss Helen's face changed. She sat down with a sigh, "It gets less surprising, but it doesn't get easy."
One of her first projects as the official Community Organizer was to start the North Philly Foot Stompers. Now in their 18th year, the Foot Stompers are an award-winning step team. They have travelled the country amassing four state championships and two national titles. More important to Helen, the children are taught discipline, respect, and teamwork.
The kids to whom Miss Helen refers as family, have gone on to become nurses, accountants, and business owners. For over a quarter century, Miss Helen had been the unofficial community organizer in North Central Philadelphia, an area in the northeastern part of the 22nd District; leading street cleanings, mentoring children, becoming a trusted leader in her community. In 1995, she got a call from Sister Mary Scullion, co-founder of Project HOME, homeless and women's advocate, and, according to TIME magazine, one of the World's Most Influential People. These two women talked and laughed over a simple ice cream cone and by the third time, Miss Helen accepted Sister Mary's offer to become the official Community Organizer for Project HOME.
Ms. Helen recalled shedding tears of joy watching "her girls" from her office window marching around the neighborhood after winning a national championship. "It was one of the most proud moments in my life." She couldn't say enough about their success, "those kids travelled on SEPTA and had a homemade banner. The drummers were self-taught and the steps were choreographed by the girls themselves."
In an office full of pictures of Ms. Helen with public figures such as President Clinton and Bill Cosby, she is a bit of a celebrity in her own right. After donating money to Project HOME, Jon Bon Jovi walked the neighborhood with Miss Helen. As they wandered up and down the streets, residents ran up to them to hug… Miss Helen Brown. "There are times when I had to roll-up my car windows because people kept calling my name," she said blushing.
She is not just popular with the neighborhood kids; she also has built an alliance with local police officers. Miss Helen values her relationship with the 22nd District, especially Captain Branville Bard, the Commanding Officer and Officer Shannon Moore, the 22nd District Community Relations Officer. "I love Ms. Helen," says Office Moore enthusiastically. "We talk all the time about what's going on in the neighborhood. She really supports what we do." Ms. Helen also gives much credit to the foot beat officers in the 22nd District. "Having the chance to get to know those officers makes our children feel safer. I love to take the new officers under my wing and show them the ropes of the neighborhood. They keep the bad guys on their toes too! People who don't like the cops are the ones doing bad things. We love our cops."
While talking with Ms. Helen, it is striking how much credit she gives to others, when it is she who is owed an enormous debt. After several lifetimes' worth of ups and downs, good and bad, this amazing woman gets out of bed with a sense of mission and purpose for her kids and to her community. Twelve hour days, weekends, bus trips, street cleaning, countless hugs, and dedication that has inspired an entire city.