Meet Your Hosts - Matt Cole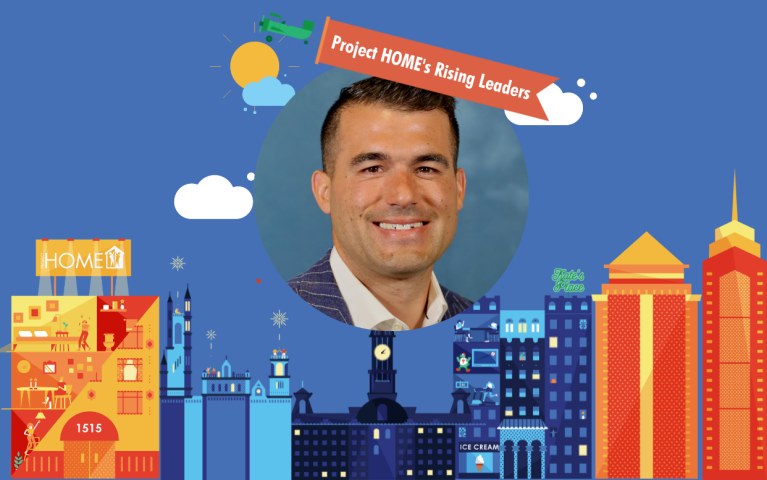 The 14th annual Bring Philly HOME is a multi-day celebration that culminates with a special in-person event on Wednesday, October 12, from 6 p.m. to 9 p.m., at the beautiful Masonic Temple in the heart of Center City. Visit us here for more information.
...
When my journey with the Rising Leaders Committee began in 2018, it started with very little knowledge of Project HOME outside of what I learned on the organization's website. That changed quickly, however, and I became immersed in the Project HOME community, the change for good that it inspires, and the tangible impact it brings to bear on behalf of all of Philadelphia.
After attending Bring Philly HOME and seeing the Loews Hotel ballroom filled with young professionals rallying around a common cause, I knew immediately that I wanted to get involved with the Rising Leaders Committee and Project HOME.
Today, I'm fortunate to serve as a co-chair, along with Maddie Soffer, of the Rising Leaders Committee.
There are many ways to give back to Project HOME as a Rising Leader, and they all tie back to three key themes: time, talent, and treasure.
The theme of "time" is best captured in my volunteerism with the Hub of Hope. Located in Suburban Station, the Hub provides a safe place for those experiencing homelessness to enjoy a warm cup of coffee, wash their laundry, access health care services, and connect with resources that can lead to finding permanent and supportive housing. The Hub is a first-of-its-kind resource, and I recommend volunteering if you have not had the opportunity to do so.
The Rising Leaders Committee's signature event, Bring Philly HOME continues to thrive in providing meaningful support to Project HOME—even through a pandemic—and wouldn't be possible without my fellow committee members, all of whom give of their talent year in and year out. At Project HOME, we understand that we can do more together than we can alone, and this is reflected in the shared talents that we leverage to support and accelerate Project HOME's ultimate goal: ending and preventing chronic street homelessness in Philadelphia.
Treasure, in its simplest form, is monetary and in-kind support of Project HOME's mission and programs. Each gift makes a direct impact in the Project HOME community and for me, it is the commitment and support of each donor and volunteer that is the true treasure.  
Bring Philly HOME continues to provide unique opportunities to give back to our community and be part of the solution to end and prevent chronic street homelessness. Thanks to the Rising Leaders Committee, I am surrounded by a group of passionate peers determined to make a lasting difference in our city.
...
If you're interested in lending the treasure of your time and talent in support of Project HOME and the Rising Leaders Committee, contact us here.