Meet Your Hosts: Rising Leader Patrick Welde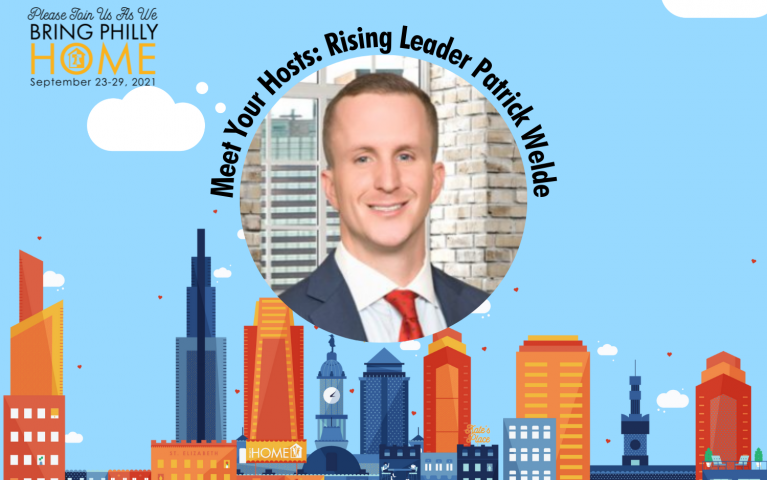 Become a Bring Philly HOME 2021 sponsor by clicking here.
Most efforts to help those experiencing homelessness are well-intentioned but fleeting - gestures of kindness that leave a positive impact but do not change circumstances longer term. Much like a builder with a vision for what could be, though, Sister Mary sought to construct an organization brick-by-brick that would stand the test of time for purposes greater than her own. More than 30 years later, Project HOME is a powerful representation of that vision.
What attracted me most to the organization was not only the opportunity to broaden my understanding of humanity via direct interactions with Project HOME residents, but to broadly join Sister Mary's army of soldiers looking to add to the positive trajectory of a sustainable and holistic solution to empower those currently or previously experiencing homelessness.
Housing and food are the most obvious ways that Project HOME provides support, but in my opinion, opportunities for job training/employment, medical care - including the abundant need for mental health services, and education to youth and adults alike are what set Project HOME apart. Comprehensive. Sustainable. Built on love and respect for the dignity of all human beings. That is how I would best describe this incredible organization. 
I have had the privilege of serving on the Rising Leaders Committee for several years now - including as co-chair these past two years. Bring Philly HOME has been the committee's signature fundraising event for years and momentum continues to build. This event allows us to expand our reach to new sponsors and donors every year who are unfamiliar with the organization.
Advocacy is key. This year, I challenged myself to step up by committing to running 100 miles in less than a month while spreading the word about Project HOME. I achieved my goal and through the generosity of others, raised $8,000. My impact is certainly far smaller than Sister Mary's, but I am blessed to be able to add just a few bricks along the way in helping her construct her vision.
...
Interested in learning more about the Rising Leaders Committee? Click here for more on the committee and how to get involved.