National Volunteer Week 2022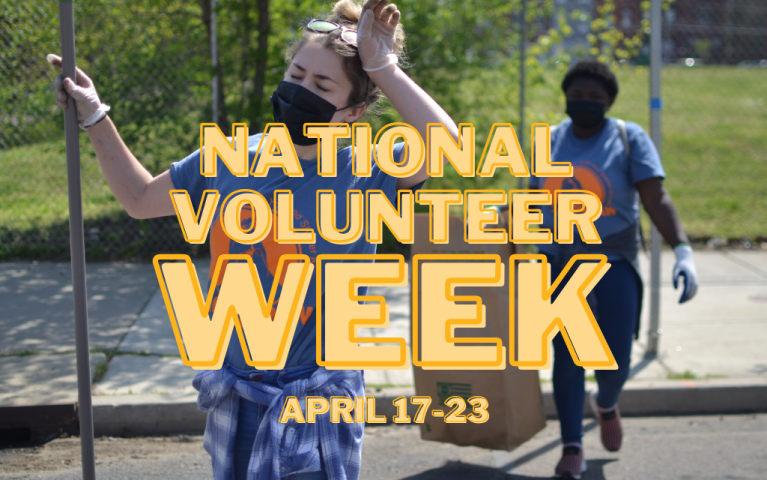 This Spring, Project HOME is excited to host another series of hybrid and in-person events for National Volunteer Week (April 17 – April 23). National Volunteer Week was established in 1974 and since then has spread throughout the globe as an opportunity to inspire others, recognize volunteers, and make a difference in our respective communities.
This year, we've planned various volunteer opportunities for adults, youth, co-workers, and the entire Philadelphia community. We hope these events will more deeply connect you to our community and mission of ending and preventing chronic street homelessness in Philadelphia.
Schedule of Events
Pack & Build Hygiene Kits
Monday, April 18
Craft small moments of impact for those struggling with homelessness in Philadelphia.
Hygiene kits are small bags that contain essential items and, in the process, extend moments of care to individuals who are experiencing homelessness. Hygiene kits are distributed daily by our Outreach Teams and used at the Hub of Hope. Join us in building hygiene kits throughout this entire week of National Volunteer. Click "register" for more information.
Game Night with Project HOME Residents
Tuesday, April 19
5:30 p.m. to 7 p.m.
Join residents for indoor and outdoor games as welcome volunteers back onsite.
We invite you, families, and businesses to join us for a night of board games and refreshments with several residences. We invite volunteers to bring their favorite board games and refreshments to share in an evening of fun and games. Click "register" for more information.
Small Acts of [Physical] Kindness
Wednesday, April 20
11 a.m. to 3:30 p.m.
You can support the Project HOME community with indoor and outdoor beautification efforts.
By volunteering your time to help our community spaces, you are giving our residents a gift of beautiful surroundings that support their health, wellness, and recovery. Click "register" for more information.
Lunch and Learn - A Discussion on Housing
Thursday, April 21
1 p.m. to 2 p.m.
Affordable housing continues to be an issue of interest among all residents of Philadelphia. Join us in a panel discussion with local experts and representatives from Philadelphia.
According to the Pew Charitable Trusts' "State of Affordable Housing" report, Philadelphia's recent shift from a shrinking city to a growing one is putting increased demand on affordable housing and who is able to access it. Many low-income Philadelphians struggle with cost-burden, the threat of eviction, or housing insecurity. Affordable housing solutions are needed now more than ever. Join us for an engaging panel discussion with local experts. Click "register" for more information.
Notes of Hope Campaign
Friday, April 22
Write a Note of Hope to encourage and inspire our frontline workers and clients through this continued pandemic. Please mail notes to 1515 Fairmount Ave, Philadelphia PA 19130. 
Like everyone, the Project HOME community has been dramatically impacted by COVID-19. Even more so, those experiencing homelessness face greater barriers to receiving housing and need social services. Now is a chance to stand with them and show your solidarity by writing a "Note of Hope" to someone struggling with housing. Click "register" for more information.
Fairmount Neighborhood Street Clean-up
Saturday, April 23
9 a.m. to Noon
As a local community-based organization, Project HOME is dedicated to serving our community through our core values and through outreach efforts, such as street clean-ups to beautify our city. Join us in a street clean-up effort.  
Project HOME is excited to host our first street clean-up in the 19130-zip code. Please join us as we walk around the Fairmount Neighborhood and beautify our streets and greet neighbors along our route. Volunteers will be provided with tools, PPE, and pre-packaged refreshments. Click "register" for more information.
___________________________________________________________
2022 SPONSORSHIP ACKNOWLEDGMENT 

Lastly, we would like to thank our presenting sponsor, J.P. Morgan Private Bank, for participating in this week of volunteerism and awareness-building. Through the "Power of We," partnerships can disrupt systemic barriers and create opportunities for change and growth "to break the cycle of homelessness and poverty" in Philadelphia.