[NEWS] How Public Transit Became the Last Safety Net In America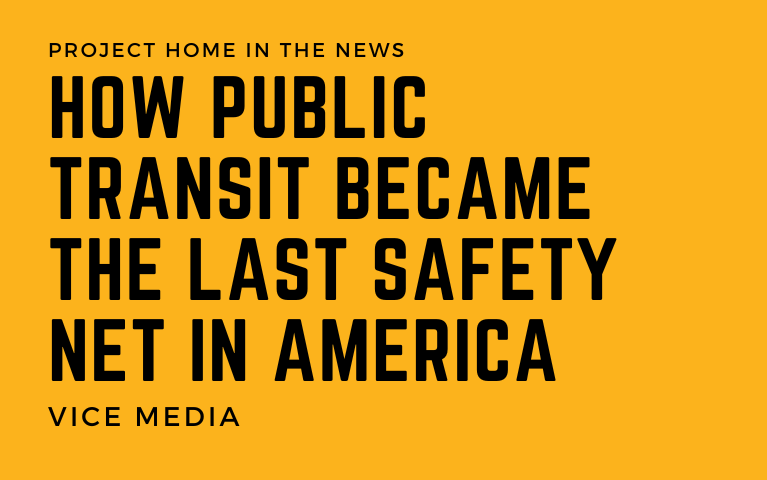 A couple weeks ago, the Hub of Hope was profiled by Motherboard Tech by VICE as part of a deeper look at the relationship between the unsheltered population and transportation systems in cities. From the piece:
The Hub of Hope is an answer to an increasingly urgent question for American transit agencies: What should they do about rising rates of homelessness on their systems? The service it provides may sound like a common-sense and obvious part of a holistic solution. And yet, the Hub of Hope is a one-off. No other American transportation agency has anything like it.
In some cities, the homelessness crisis on transit systems is truly life and death. On May 2, a New York subway rider choked a man who had been seen panhandling and acting erratically, killing him. Between January and March, 22 people died on LA Metro, most from overdoses and in areas commonly known as homeless hangouts, according to the Los Angeles Times. Last year, a man who had been drifting in and out of hospitals, mental health facilities, and living on the streets for decades pushed Michelle Go in front of an oncoming train, killing her. Later that year, New York City mayor Eric Adams authorized the involuntary hospitalization of some people during homeless encampment sweeps and mulled a policy of increasing ticketing and summonses for homeless people—an obvious precursor to jailing them since they do not have the money to pay any fines. Many centrist and right-leaning commentators, such as Josh Barro, paint this issue as one that "exposes a key contradiction that leftists need to resolve. Do they care about the provision of high-quality public services? Or is their primary objective to ensure that the coercive force of the state is never used to enforce rules?" The creation and enforcement of stricter rules are increasingly popular policies nationwide, and fail to address the causes of homelessness.