The Power of We: Project HOME x Omoi Zakka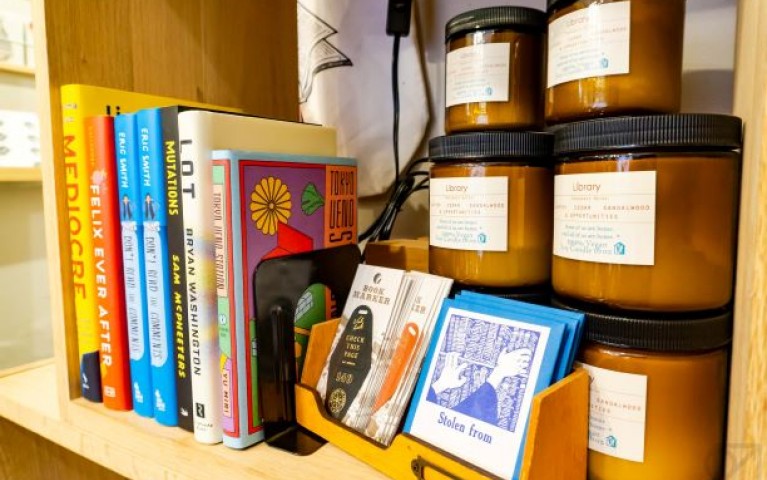 Omoi Zakka curates items that they believe in, with an emphasis on design and affordability. Project HOMEmade is honored to be on their shelves.
The thing that I like best about Omoi Zakka Shop is the care that it takes with each product in the store. When you walk into the shop in Old City you can tell that each product is hand-picked to fit within their collection of high quality, thoughtful, useful stationery and lifestyle goods.
Omoi's proprietor, Liz Sieber, read about Project HOMEmade's retail collection in The Inquirer and called us. "As soon as I sampled the Library candle, I knew it would be the perfect thing to share with my customers and promote the Project HOME mission."
Our partnership has continued almost two years, through two busy holiday seasons and one global pandemic. We're still pleasantly surprised when they call to say they've sold out and need more candles.
Liz says that her customers are moved to purchase items by Project HOMEmade because of the mission and the unique, high quality products. "I've been so happy with the customer interest in Project HOMEmade products; people recognize the name and are familiar with the services and community engagement projects. On top of supporting the Project HOME mission, customers have had a great response to the handsome cedar & leather fragrance of Library, and the fresh, crisp rose scent of Candle By Any Other Name."
When asked why it's meaningful to support a social enterprise with the goal of ending homelessness and poverty, Liz replied, "like Project HOME, we believe that all persons are entitled to employment and we love contributing to the goal of selling more candles to create jobs."
Please stop in and support Omoi Zakka's partnership with Project HOMEmade.
Omoi Zakka Shop
41 S 3rd Street
Philadelphia, PA 19106
@omoizakkashop
omoionline.com
. . .
Nic Watson is the Director of Social Enterprise at Project HOME. If you want to receive email updates about what we are up to, update your Project HOME email subscription to include Social Enterprises under the Areas of Interest section. Find us on Facebook and Instagram!