Roots and Branches: Reflections from Sister Mary (Winter 2020)
Tuesday, February 25, 2020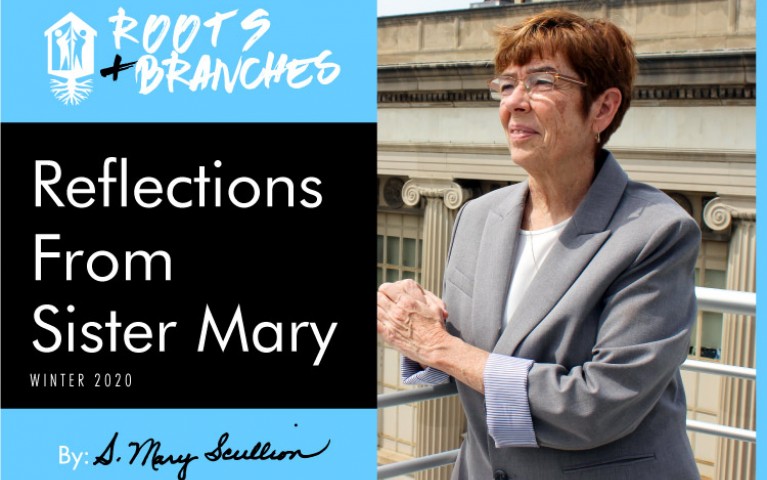 A few days ago, I was working with one of the outreach teams who were trying to find a placement for a vulnerable woman on the streets. I was impressed by the diligence and care of one of the outreach workers, Mr. Ruffin Hill. In talking with him afterwards, he reminded me that he was a resident of our St. Elizabeth's Recovery Residence 20 years ago. Ruffin has been sober for 21 years, and after stabilizing his life and making much personal progress, he was employed full-time as an outreach worker with a partner organization, SELF Inc.
It was deeply moving to see one of our alumni succeeding, especially in a vocation of caring for others in situations he once experienced. It was also another hopeful sign of one of our core convictions: When people are given real opportunities, they can overcome terrible circumstances and thrive.
Employment opportunities are a critical component of breaking the cycle of homelessness and poverty. At Project HOME, we are committed to empowering our residents and community members to reach their fullest potential as individuals by supporting them through employment and education initiatives rooted in recovery principles. (See the article: "How the "O" in Project HOME Restores Dignity.") We offer a range of accessible and individualized services for individuals to help achieve their workforce and training goals. Through our Workforce Solutions program last year, we placed 183 individuals into jobs, including 77 residents and 106 community members. Through our Library Restroom Attendant Program, 19 residents are working at the Municipal Services Building and the Central Library and Kensington Library branches, with plans underway to expand to three additional library branches by the end of the year. Professional certifications in ServSafe, Forklift and Certified Peer Specialist roles were earned by 135 participants.
These successes are a message to the broader society: Every person needs opportunities to develop their gifts; to earn a livable wage or to have adequate economic support; to succeed and contribute to society. Many effective models exist to create opportunity for our friends and neighbors in vulnerable situations. Work-first and other innovative employment, training, internship, apprenticeship, and education models have a proven track record of empowering individuals to take the journey from the street to full-time employment.
We know what happens when individuals and communities are deprived of meaningful education and employment opportunities and the human and social costs that loss entails. We also know what can happen when people have opportunities which they can take advantage of. Every time a person overcomes poverty, homelessness, and marginalization to become a strong and contributing citizen, we are all better for it. If we as a society are willing to make the investments in opportunity for all our citizens, the reward will be tremendous.