Street Medicine: Meeting People Where They Are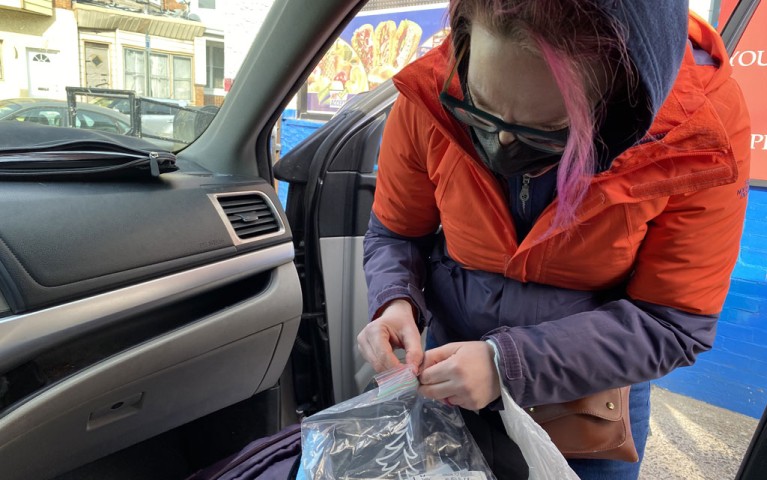 On a frosty Thursday morning, Project HOME nurse practitioners Kara Cohen and Máire St. Ledger are preparing their medical bags for the streets of Kensington. Kara is Project HOME's assistant medical director of the street medicine team and Máire is a new employee. They're part of a rapidly growing nursing team, including Lydia Williams and Hillary Miller, that are providing holistic, person-centered, trauma informed care via a harm reduction lens to individuals experiencing homelessness in Kensington.
Harm reduction means any behavior or strategy that helps reduce risk or harm to yourself or others. The need for this model is great.  
On any given night, according to the City of Philadelphia's Office of Homeless Services, there are about 700 people without a roof over their head, but outreach staff would say that just scratches the surface.
When a fundamentally basic human need like where to sleep isn't being met, the ability for folks to look after any medical issues on top of that is almost impossible. This is why Kara and her team of nurses have their hands full. "It's a mix of primary and urgent care," said Kara. "We are engaging new patients and following-up with current ones."  
By engaging, she means going out with our Project HOME Kensington outreach team Sam Santiago and Monique Taylor daily. Sometimes that means searching for their patients, like on that Thursday morning when Kara was looking for Michael. It was important for him to come into our Stephen Klein Wellness Center in North Philadelphia and get checked out.
"They feel like no one listens and so they avoid getting medical treatment even when they really need to."
While Sam Santiago, our veteran outreach worker, was driving down a side street in Kensington, Kara suddenly asked him to stop. She spotted Michael. "Michael, I've been looking for you, how've you been?" asked Kara. Michael was walking slowly while pushing a child's wheelchair with his belongings in front of him. "I've been okay," Michael says. "My left leg is a lot better, but my right leg isn't feeling so good." Kara negotiated with Michael to come in and get checked out the following week.
"So many of the people we meet in Kensington have been failed by the medical system," said Kara. "They feel like no one listens and so they avoid getting medical treatment even when they really need to."  
The beauty of this outreach team is that they will listen, they will show up, they will work to gain someone's trust, and, to the best of their ability, they won't let them down. "When most people first meet me, they don't like me, but I'm really good at wearing someone down," Kara laughs. She's also really good at showing up by physically meeting people where they are on the streets of Kensington. Now this new, larger medical team can reach even more people every day. 
"A lot of people think that street medicine is this really cool thing, the idea of lancing an abscess under a bridge," explains Kara, "but there's nothing cool about this type of medicine. Patients deserve privacy."
"So many of the people we meet in Kensington have been failed by the medical system."  
This need was clear that day as Kara treated a man's wound while he sat on the sidewalk. Passersby gathered and stood over them offering advice. Kara quietly got on with her work, recognizing the need to be quick to preserve the man's dignity and privacy. For him, the pain was overwhelming, and he wanted relief more than anything. 
With the new Long-Term Recovery Residence that Project HOME is building in Kensington, hopefully incidents like this one will be fewer and farther between. The building will house outreach services, eight emergency beds, and a space to address urgent medical needs. It will also have 54 efficiency apartments so that when someone is ready for the next step of their recovery journey, they can move from the street or a temporary bed to a more permanent solution.
As always, residents will be connected with Project HOME's education and employment services, but first, their medical needs will need to be taken care of. "Our Kensington community has experienced so much trauma," said Kara. "I see the right kind of medical treatment as a way to empower someone on their journey." 
...
Our News from HOME newsletter is printed and mailed every quarter. Click here to subscribe.