Project HOMEspun Boutique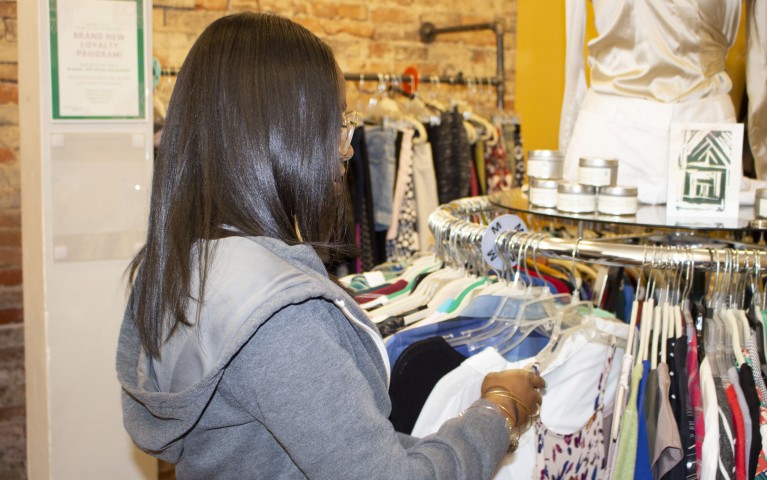 HOMEspun Boutique empowers people recovering from chronic homelessness with employment and job training opportunities. This social enterprise aims to break the cycle of unemployment and poverty through a self-funded retail business.
Sales revenue is generated through the sale of gently-used, high-quality designer men's and women's apparel at affordable prices. This earned income pays wages for Project HOME residents who staff the store.
While we continue to work toward financial autonomy, this enterprise trains and employs five-plus Project HOME residents and teens annually. Our training priorities include retail operations and customer service. We believe everyone (and everything) deserves a second chance.
HOMEspun Boutique is proud of the high-quality men's and women's clothing and accessories we offer. Our team works to make sure only the best items make it onto the sales floor. HOMEspun merchandise includes a wide spectrum of fashion tastes, from casual wear to designer and vintage items, all priced affordably.
We also sell a variety of products from our sister enterprise, Project HOMEmade gift line: candles, jewelry, and soap, handmade by Project HOME residents. Lastly, the art on our walls is not just for admiring. We sell reasonably-priced, original artwork created by Project HOME's resident artists.
Additional Information
HOMEspun Boutique accepts high-quality, like-new men and women's clothing and accessories including:
Coats
Shoes
Jewelry
Scarves
Hats
Ties
Gloves
Purses
Although we appreciate every donation given to us, Home Spun Boutique does not accept pajamas, robes, undergarments, socks, bathing suits, towels or bedding. We also cannot accept household items or electronics.
We accept donations during business hours, Monday through Saturday from 11:00 a.m. to 6:00 p.m. All donations are fully tax deductible. Sales associates can provide a tax receipt.
• Philadelphia University – College of Design
• Salvation Army
• Urban Outfitters
• Jennie Young
• BOYDS Philadelphia
• Provenance Architectural Salvage
• Project HOME Employment Services Adult Intern Program
• Project HOME Honickman Learning Center HYPE Teen Program
Our Goals
Add to the successful re-entry of job-ready individuals exiting from homelessness and other restraining barriers such as addiction and mental illness
Become a self-sustaining business that funds all positions solely on internal revenue
Create more employment positions in the future by growing our business
Bridge the gap between those who are homeless and recovering from homelessness and the broader community
Guiding Principles
Dignity - We strive to create a safe environment where we support each other by cultivating self-esteem, recovery, and the confidence to move toward self-actualization
Community - We commit to nurturing a spirit of persons from all walks of life, all of whom have a role to play in making this a more just and compassionate society
Recovery - We believe that in order to realize one's full potential, an integral part of the recovery process includes vocation and hard work
Awareness - We maintain ethical business practices, including financial accountability, transparency in hiring practices, and community collaboration
Sustainability - We strive to apply sustainable solutions to our daily business practices in order to strengthen the health of our community and planet