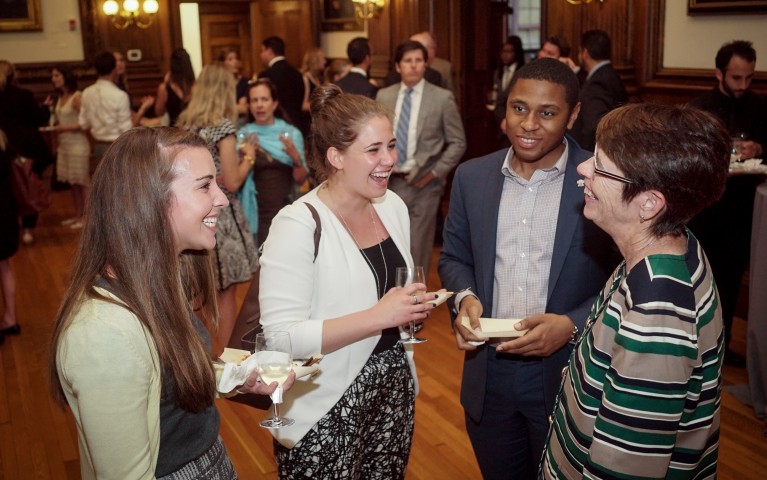 Contact Samantha Blatt at [email protected] or 215-232-7272 x3075 for more information.
The Rising Leaders Committee is a unique group of enthusiastic professionals from the Greater Philadelphia region dedicated to supporting the vision and mission of Project HOME. Since 2005, the Committee has offered individuals the opportunity to build relationships with other like-minded people while supporting individuals in our community who either experienced or are at risk of experiencing homelessness.
There are several ways to get involved, ranging from volunteer days, participation in the annual Rising Leaders Event, and other Project HOME initiatives.
Benefits of joining the Rising Leaders Committee:
Participate in social events and meetings where you will meet other like-minded professionals
Volunteer in projects that enrich our community and help make a difference in the lives of others
Join us for the annual Rising Leaders Event. All proceeds raised at the event support the many programs of Project HOME
Expand the Rising Leaders Committee – help cultivate other Rising Leaders
Be an ambassador for Project HOME and help spread awareness about the organization's programs
Structure of Committee: Committee Chairs, Committee members
Mandate of Committee and Term of Activities: The Rising Leaders Event Co-chairs and members. The Rising Leaders' mission is to engage young professionals and organize an annual fundraiser to benefit the programs and initiatives of Project HOME. Additionally, the event committee raises awareness about poverty, homelessness, and the issues surrounding both to mobilize and educate the broader community on how they can get involved.
Roles and Responsibilities
Recruit additional committee members
Help with community outreach to promote Bring Philly Home and awareness of Project HOME's programs and initiatives
Attend meetings
Join a sub-committee
Purchase or solicit a minimum of one sponsorship or $750 in tickets to Bring Philly HOME
Sign and send letters requesting support
Provide names of contacts not already in the organization database
Follow up with emails and phone calls to secure sponsorships and tickets sales
Collect in-kind donations for auction items
Participate in one volunteer opportunity outside of Bring Philly HOME
Attend Bring Philly HOME